Temitope Titilope, Beautiful Wife Of Nigerian Singer, Yinka Ayefele, Speaks Glowingly About Her Marriage And It Is Captivating
It's always a joyful feeling to bring inspiring stories of beautiful marriages your way. Yinka Ayefele is a popular Nigerian musician who was involved in a ghastly auto accident that affected his spinal cord in 1997. As a result, he became paralyzed from the waist down.
In the midst of that pitiful situation, the then girlfriend and now wife of the Tungba crooner did not desert him.
They officially became an item over 18 years ago and they are blessed with four sons.
"She didn't leave me when I was hospitalised, so why would she leave me afterwards? When things were bad, she was with me all through. We got married after the accident and we are blessed with four boys," Ayefele said in an interview.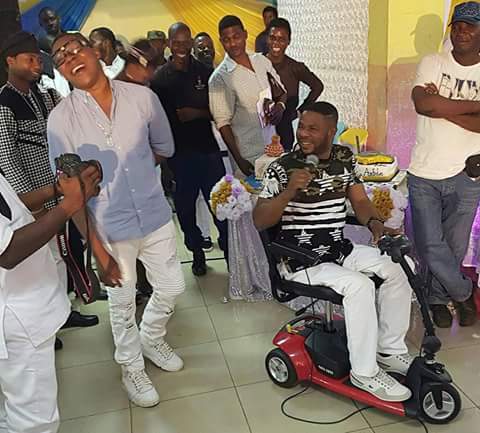 In a chat with CityPeople, the mom-of-4 spoke on her marriage to the famous musician, how she met the musician who has been confined to a wheelchair for over 20 years and why she stayed with him despite all odds.
"My name remains Temitope Titilope Ayefele. I am an Ibadan woman, born and bred. My father is Prof. Mathew Oladokun Fawusi and my mother is Mrs. Fawusi. I am from the popular Laamo Compound in Ibadan. I am from a moderate, cool background, we are not poor and we are not rich but comfortable.

My father was a Professor while my mum, a businesswoman. I grew up at Bodija area of Ibadan. I went to Kings Convent School for primary and my secondary school was Ibadan Grammar School, Molete, Ibadan. Then I went NCE, St. Andrew's College, Oyo then (1992-1995). I later went to U.I to study Economics Education (1996-2000).

Those who really know me would tell you that I am not too loud or gentle, I'm in-between. I have a large heart and I love people around me. I can't afford to be otherwise because of my husband's work. We have to be accommodating and that has been part and parcel of us."
READ ALSO: 'Everyone jubilated the day I got an erection …' – Yinka Ayefele's Story Inspires Hope
On what has sustained her marriage, she revealed:
"God's grace has been sufficient for us in life and our marriage. Enough patience, mutual respect and understanding are part of the key ingredients to a successful marriage. You must not listen to side talks but concentrate on the person you are dealing with.
READ ALSO: Third Time Lucky! Actor Akin Lewis Talks About Finding Love Again After 2 Divorces
Since you have both signed a life contract and it is for better for worse, you must deal with issues together.

All that, coupled with the special grace of God, have sustained my marriage up till this moment. I understand the nature of my husband's work, people are always around him and all that."
On how and when she met the artiste, Mrs Ayefele said:
"I met him in 1996, before he had the accident. I saw in him a hard-working man when we met. Very hard-working, there is nothing he can't do to stay afloat in his profession.

He is someone who doesn't get distracted from his dream no matter what may come his way."
READ ALSO: "I was advised to inject my son with a lethal substance to end the shame" –  Kogi First Lady, Amina Oyiza Bello Speaks on Cerebral Palsy
On what made her stay with him despite all odds, she narrated:
"Why won't I stay?I told you about some of the qualities I saw in my husband that made me fell in love and married him. I have made up my mind to spend the rest of my life with him before the accident.

When he had the accident we there together at the University College Hospital, Ibadan (UCH). I saw in him the determination to survive, to live and to make it in life. Those are the things that also motivated me to stay with him in the time of trouble and up till now.

Nobody is above trial and tribulations and when they come what one should do is to remain steadfast and be prayerful. Bible didn't tell us that trouble would not come, it is bound to come but God has given us a strong assurance, He Is there to give us the grace to overcome."
When asked if her husband is sexually active, she answered:
"Well, that is strictly my private life which can never be discussed on the pages of newspapers for no reason. I am happy in marriage and you can see the signs all over and around me. Thank God for everything."
Photo credit: Olofa Photography