'Smoking Shisha Makes Breasts Sag' -Expert Warns Women As He Identifies Other Risk Factors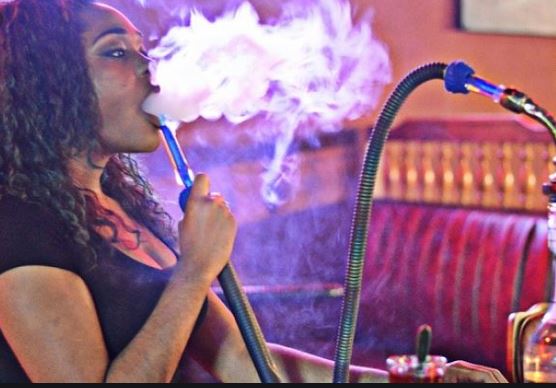 The lust for shisha smoking is hardly a joke in modern Nigeria. Shisha is a glass-bottomed water pipe in which fruit-flavoured tobacco is coated with foil and heated with charcoal.
The tobacco fume travels through a water cavity and is inhaled deeply and leisurely. Smokers claim it tastes silky and smells sweet, making it a pleasurable, unhurried treat.
The age of indulgence plummets as young adults, underage teens and minors descend into the cesspool of shisha addiction.
However, a public health physician, Dr. Chinonso Egemba, has warned women against smoking shisha, noting that indulging in the act can make their breasts sag.
Dr. Egemba popularly known as 'Aproko Doctor' also noted that those smoking shishas are equally more at risk of looking older than their age.
According to him, smoking shisha can trigger the destruction of collagen and elastin which are important for skin health and function.
Egemba further revealed that when shisha breaks down the elastin, it can cause sagging breasts.
In a video on his Instagram page @aproko_doctor, he said,
READ ALSO: #WorldNoTobaccoDay: 'You Risk COVID-19 Infection By Sharing Shisha' -Pharmacists
"I just hope you know that aside from many things that shisha causes, which we have been shouting all around, but it doesn't seem to enter your ear, that shisha can also break down elastin, which is a component of the body that can cause sagging breast.

My dear, before you order that shisha, I hope you now know that there are consequences for your action.

Elastin is a protein that the body naturally produces. It provides stretchiness and strength to the tissues and many organs.

Collagen is a protein that plays a protective role in the human body, found in the bones, muscles, skin, and tendons.

And you, Emeka, you are looking at me in your mind, you're saying 'yes doctor tell them'. I'm talking to you too; that shisha you are joining Nkechi to smoke, I hope you know that it can break down collagen in your skin.

In your mind, 'I'm a sharp-looking guy, my skin is fresh' but it's not, it's looking like that of a 70-year-old man. You've smoked your young age away.

So my dear, you are not created to smoke; if you are created to smoke, they would have put an exhaust at the back of your head."
ALSO READ: Few Weeks After Giving Birth, Davido's Second Baby Mama Spotted Smoking Shisha – PHOTOS
PUNCH HealthWise reports that smoking shisha is more dangerous to health than smoking cigarettes.
Experts have stressed that contrary to the belief held by many people that shisha is less harmful than cigarettes, a puff of shisha contains more toxins than a cigarette.
Shisha, according to experts, is a single- or multi-stemmed instrument for heating or vaporising and then smoking either tobacco, flavored tobacco, or sometimes cannabis, hashish, and opium.