Would You Let Your 7-Year-Old Daughter Wear a Padded Bra? PRIMARK Accused of Sexualising Children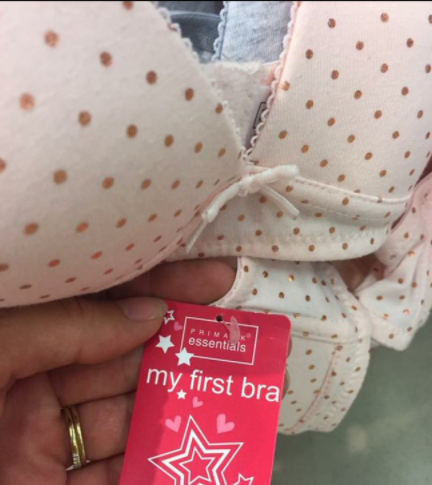 What should a seven year old girl know about padded bra and why would a parent tell them to put a one on?
Well, PRIMARK, the budget high street chain thinks our seven-year-olds are ready to put on a padded bra. They now sell a 'My First Bra' range for girls aged seven to 11 and have been accused of sexualising young children.
READ ALSO: 'Stop advising me on motherhood and face your own children' – Ibinabo Fiberesima Reacts to Backlash Over Daughter's Makeup
It offers the pink polka dot underwear at £5 for two.
Several parents have taken to social media to criticize the shop, accusing it of sexualisation and exposing their girl child to sexual ideas..
According to Sun, Actress Emma Linley, was horrified when she saw the 'My first bra' range for seven to 13-year-olds while shopping for her daughters in London. Emma said the design fuelled young girls' worries about body image.
READ ALSO: Teacher Forces 7-Year-Old Boys to Strip to their Underwear, Threatens to Cut Off Their Penises
She also wondered if Primark sold padded pants for seven to 13-year boys to make their genitals seem bigger, as to what reason they would sell padded bras for girls at such age. She wondered why the girls needed enhancement at such age
Emma vowed to campaign to stop the sale of the bras. She revealed that she had two young girls and would not want them facing puberty with this crap to deal with.
READ ALSO:Skinny and Proud: Super Skinny Nicole Richie Wears SIX-year-old Daughter Harlow's Jacket!
A member of the parliament for Rotherham in South York, Sarah Champion said it is disappointing and this effect leads to the sexualisation of children and increases the social pressure on them to look older.
However Primark denied the bras were padded and said they are in fact moulded. A spokesman said 'My first bra' ranges are designed and constructed purely for support, comfort, and modesty and adhere to the children's' wear guidelines.
Horrified that @Primark are selling padded bras to children aged between 7-13! #Toomuchtoyoung #Children #sexualisation pic.twitter.com/bWTqD999n7

— Ty (@missbelleteach) July 20, 2017