UN Ambassador Angelina Jolie Opens up on Divorce, Kids, Health, Menopause & More
It has indeed been a rough period for Hollywood actress, UN Ambassador and mum, Angelina Jolie following her messy separation with her ex husband, Brad Pitt, and then her health challenges.
Jolie exudes beauty, power and confidence as she covers Vanity Fair's September issue.
The 41-year-old Oscar winner who filed for divorce from her estranged husband in September 2016 (read here) revealed how the past year had been for her, during an interview with Vanity Fair.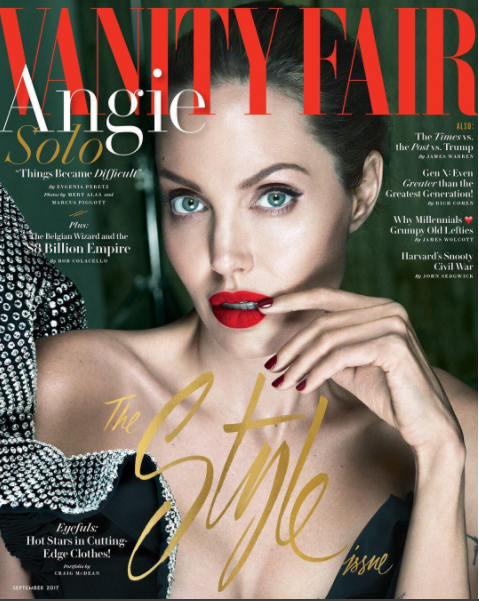 She also spoke about how her six kids have been coping with her split from their father, how she's been managing her health, and the changes that has taken place in her life.
READ ALSO: Mother of Six, Angelina Jolie Shares on Not Wanting to Be a Mum & How That Changed
Jolie and her kids spent the first nine months after her separation living in a rental home out of suitcases. Now she has purchased a $25 million home in Los Angeles and their lives are beginning to get back to normal.
Selecting her words carefully, she said;
"It's just been the hardest time, and we're just kind of coming up for air. (This house) is a big jump forward for us, and we're all trying to do our best to heal as our family."
Jolie also refused to give details of what led to her split with Brad, 53, but she explained that "things became difficult" last summer so she decided to pull the lug on their marriage.
READ ALSO: New Reports Reveal What Could Have Led To Angelina Jolie Filing For Divorce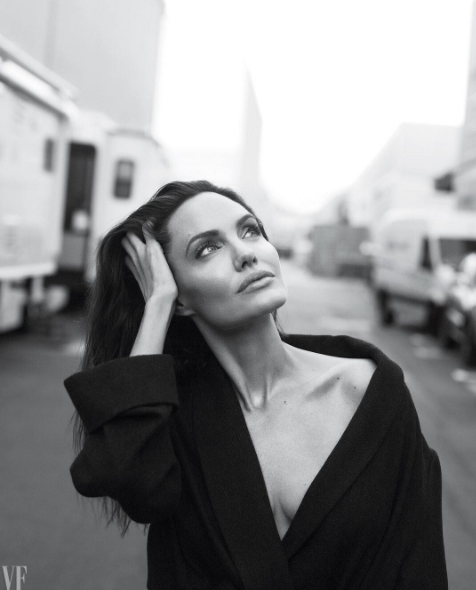 READ ALSO: 'How you get them is how you lose them' Wendy Williams Weighs In On Brad Pitt & Angelina Jolie's Split
She debunked claims that her and Brad's hectic lifestyle is what tore their family apart.
"(Our lifestyle) was not in any way a negative. That was not the problem. That is and will remain one of the wonderful opportunities we are able to give our children…They're six very strong-minded, thoughtful, worldly individuals. I'm very proud of them.

We care for each other and care about our family, and we are both working towards the same goal."
Jolie added that her children have been "very brave…in times they needed to be."
"We're all just healing from the events that led to the filing…They're not healing from the divorce. They're healing from some…from life, from things in life."
On being a single mother, the world renowned actress said;
"I was very worried about my mother, growing up—a lot. I do not want my children to be worried about me. I think it's very important to cry in the shower and not in front of them. They need to know that everything's going to be all right even when you're not sure it is."
Asides the breakdown of her relationship, Jolie's health also suffered in the past one year. She revealed that she has developed hypertension and Bell's palsy. She also noticed extra grey hairs and dry skin.
READ ALSO: Brad Pitt Refuses To Honour Angelina Jolie's Divorce Petition | See Why
"I can't tell if it's menopause or if it's just been the year I've had," she shared.

"Sometimes women in families put themselves last until it manifests itself in their own health. I actually feel like more of a woman because I'm being smart about my choices, and I'm putting my family first, and I'm in charge of my life and my health. I think that's what makes a woman complete.

I've been trying for nine months to be really good at just being a homemaker and picking up dog poop and cleaning dishes and reading bedtime stories. And I'm getting better at all three," she added.
In addition, Jolie said she's beginning to get an itch for travel and adventure in the near future. She further disclosed that she had a conversation with her son Knox some days before her interview with the magazine and she joked that things in their household will never fully be "normal."
"He said, 'Who wants to be normal? We're not normal. Let's never be normal.' Thank you—yes! We're not normal. Let's embrace being not normal."
According to her lawyer, Jolie filed for divorce suddenly "for the health of the family," and announced she was seeking sole custody of the children, three of whom are adopted (Maddox, 15, Pax, 13, and Zahara), three of whom are biological (Shiloh, Vivienne, and Knox).