How A Rare 4-Year-Old, Caleb Stewart Demonstrates The Importance Of Reading & Learning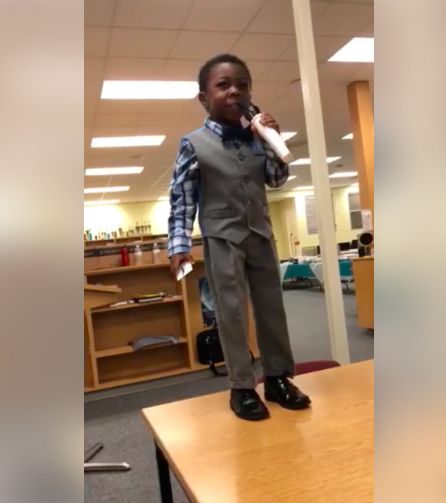 Readers are leaders, so knowing the importance of good reading habit is vital. Caleb Stewart may be just a little boy of 4 but his speaking skills and confidence level are much older than his age.
At a middle school teachers' back to school training, the youngster was called on to talk about the importance of reading and he performed beyond everyone's imagination.
The video of his outstanding performance was shared on Facebook by Kang-Xing Jin.
"Thank you for having me. I'm here to speak to you about the importance and benefits of reading. I personally read everyday and I absolutely love the adventure of reading. I can stand before you and speak with confidence and not be afraid.

Reading everyday has made me smarter. Reading has also strengthened my vocabulary and language skills, allowing me to pronounce new and big words without even thinking about it. Reading has incredibly enriched my long term memory," were the words Caleb said to the teachers.
READ ALSO: 12 Tips To Improve Your Child's Reading Habit
Master Caleb and his sister, Olivia make up the Brilliant Little Leaders community which describes itself on Facebook as
"Kid Dreamers That LOVE To READ/ LEARN and Have FUN Doing It. We are On a Mission To Inspiring Other Kids To Find The Love For Reading, To Dream Big And Know That Learning Can Be FUN.!
Remember: DREAM BIG & BELIEVE IN YOURSELF!"
https://www.facebook.com/kangxing.jin.319/videos/270291087088147/UzpfSTEzOTI0MTQ4NjkwMzEwMDoyNzExMzA3NzAzODA4Mzc/
READ ALSO: 7 Reasons You Should Read to Your Child From as Early as Possible
Watch his inspirational speech on "You Can…"
https://www.facebook.com/brilliantlittleleaders/videos/220659378761310/
Photo credit: Facebook/ Brilliant Little Leaders