Instagram User, Adebola Isaac Rescues Nigerian Woman Allegedly Robbed And Abandoned By Taxify Driver In Lagos | Video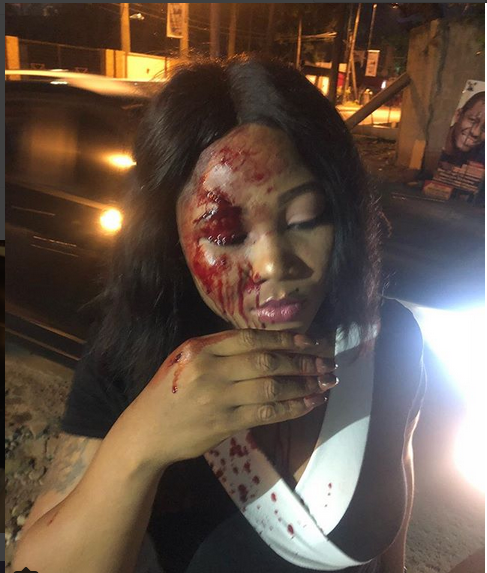 An Instagram user, Adebola Isaac found the woman pictured above on the Island; bruised and abandoned. The 'Good Samaritan' Nigerian man, Adebola wrote that the woman was allegedly robbed by a Taxify driver in Lagos on Friday, October 26, 2018.
According to his story, he found the helpless woman on the road and offered her a helping hand…
Read his post below:
READ ALSO:Another Woman Calls Out Taxify Driver For Trying to Kidnap Her Around 4 a.m.
"Does anybody know this lady? I met her at musa Yar'adua street vi, crying with blood all over her that the Taxify driver she took from ajah robbed her and made away with her belongings, I took her to Reddington hospital beside mega plaza. Anyone who knows her should please check her at the hospital. Pple be careful out there"
https://www.instagram.com/p/BpaaGjUA3Y_/?hl=en&taken-by=adebolaisaac
READ ALSO:"How I escaped being raped by a Taxify Driver"- Shuga Actress, Shola Fapson Tells Her Story
https://www.instagram.com/p/BpabWq1A4Ni/?hl=en&taken-by=adebolaisaac
READ ALSO:Update on Taxify Driver and Dorcas Fapson Saga
One of Adebola's Instagram followers @omodunbeauty made an interesting comment.
See below:
"One taxify driver tried to talk my friend out of going to her destination. Talmbout "why are you going to Lekki? Why not go to VGc" blah blah blah acting all weird and naughty. She got so uncomfortable and told him to stop the trip. Let's just be careful o ????"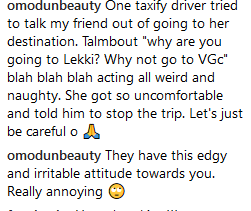 Adebola Isaac concluded his post stating that anyone who knows the battered woman should please check on her at the hospital while admonishing people to be careful out there.