"Please Help Me Get My Child Back" – Distressed Kenya Man, Timon Makswell Cries Out After Late Wife's Family Forcefully Seized His 9-Months Old Daughter At Gun Point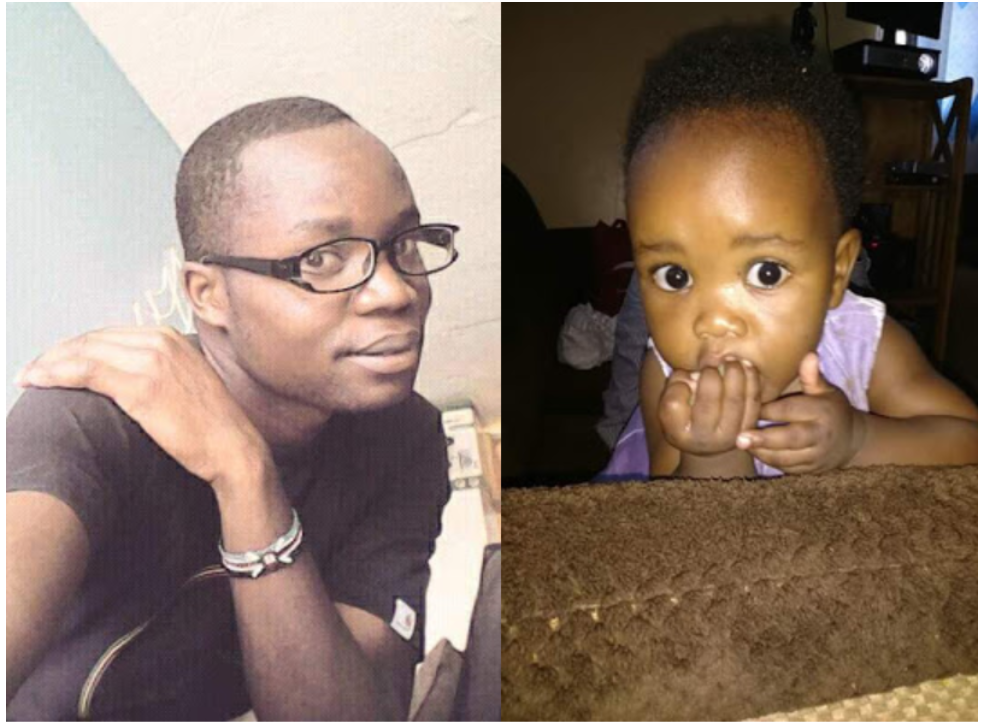 Kenyan man and young father of one, Timon Makswell took to Facebook to narrate a pathetic story of how his wife's strong family seized his 9-month old daughter from him, at gun point.
Makswell, who gave a detailed step by step information on how the issue began, cried out for hep in retrieving his daughter from this powerful and influential family. He claimed his wife's last wish was that he never allow that daughter to leave with any relative and he intends to let it be so.
Talk about the power of social media, Makswell has returned with some hope after those who read his story promised to help him get justice.
Read his full story below:
READ ALSO: Wonders! Pregnant 14-Year-Old Maid Displaces Her Childless Madam in Lagos: 'I'll Not Share Him With You'

"To my late wife Rena, am really sorry I have failed you, I was not able to keep the only last promise I made to you before you left this world of keeping our baby Tamara safe, away from danger and taking care of her.
To my little girl Tamara, dady is really sorry I could not be able to take care of you any longer. I know I have failed you, I was the only person who was to protect you from these people but instead I chose to let them have you.
"Let's shoot him", said one officer as the other four cocked their guns and pointed them at me. This is how I almost got shot yesterday night at Spring Valley police station in Saika. My only crime was taking away my daughter who is currently nine months and taking care of her after my wife died in October 2018.
When I met Rena in 2015 at their farm in Laikipia and started dating her, she was a very jovial and very hard working lady. I did not know that she would someday be the mother of my child and who would later die and leave me with a four months old baby girl to take care of; we started dating as any other young people would but the only difference we had from other people was the kind of love that we had for one another. Then I started noticing Rena getting weak, and when I asked her she told me that she had been diagnosed with some liver problems but she was already on medication and she promised me she will be ok.

I made an effort of making sure that her parents knew about her condition and this is how I got to meet my father and mother in law. Months went by and Rena was now recovering well and could do any work, things never got better in 2016 when we all thought she had recovered fully. This is the time we went to her parents and I asked them to allow me marry their daughter, but before we got home Rena cautioned me that her parents wouldn't like it since they were against their family marrying from other tribes; I did not want this to stop me from marrying the woman I loved, and to my surprise when we got home and it was time to say why we had visited I did not experienced any resistance.

We went back to Laikipia town where we were staying and continued with our daily hustles, and months passed (though we could visit their home frequently) and in August 2017 Rena got pregnant. We were so happy and worked as twice as hard now that we were expecting a baby. Then the sickness returned and we thought it was just due to her being pregnant, this time it did not go away and Rena had to stop working.

At 4months, Rena's health started getting worse. We didn't know what to do, we visited all hospitals in Laikipia to see if we could get some help but nothing changed. Then came the delivery time and since Rena had grown so weak, the doctors at Rimuruti advised that she delivers through C-section. After 3 days of staying in the hospital we were allowed to go home and this is the time when things started getting thick for us. Rena could not sometimes even get out of bed by herself, there was no breast milk and the baby was almost starving. I had to talk to Rena's mother to give us advice on what we could feed the baby on( being our first child) and she suggested cow milk.
Rena's sickness went on for about two more months without a change, I was now the only provider to both of us and sometimes I could not even go to work because I had to look after the baby. Then Rena suggested that since she had about two acres of land that she had bought with money from her business I should call her father to come and help us sell the land so that she can seek medical attention in Nairobi. When her dad arrived in our house that day and we told him why we had called him he almost went mad, he said he can not sell that land even if Rena was dying. All this time Rena was all tears and begging him to just sell the land but he insisted and said no. He then told us that he will talk to his brother who works at Better Living in Nairobi (next to Maxwell SDA) to help us out. A month went by and in September 2018 we got a call from Rena's uncle that we should go to Nairobi.

I went and borrowed some money from one of my friends promising to pay back once we get to Nairobi. We left the next morning and I we carried was a mattress. Rena was so weak, she could not eat anything and would stop to rest after every three minutes of walking. When we got to Nairobi that evening we were given a servant's quarter in the uncle's compound in Harlinghum. The next day Rena was taken to the hospital and the doctor said she should be on drip because she was very weak then return the next day for more tests.

The tests were carried out the following day, and to our surprise the doctor told us that Rena had been bleeding internally from the C-section that she had and that her liver was not improving either. He then gave her some medicine that she needed to take from home. That night I had to talk to Rena's uncle about looking for a job since I didn't want to be a burden to the family. He told me that he would get me some job at Better Living which he did after one week. During this time, I was the one nursing Rena and taking care of our baby and when the time came for me to report to the new job that I had just landed, I requested Rena's aunt to help me with looking after the child while I was at work though I would be returning after every four hours to check on Rena since she could not Annette go to the toilet by herself. She never helped, sometimes I would come back to check on Rena only to find the child crying by Rena's side because she didn't have the energy to lift her.

Rena's health was now worse than it was when we came to Nairobi, her body started swelling and got to a point that the doctors at Better Living had to draw out the excess fluid, this got me so worried. I kept asking God why he gave me a family only to take the mother of my child away then I had this little voice in my head telling me that "this is also how you came into the world", but not exactly because for me and my sister we were raised by our grand mother after our parents passed away when I was 4 years old and my sister was 2 years old. But what about my baby girl, what will happen to her since I don't have parents and even my granny is no more and the way

Rena has been insisting that should she die I should not give our child to any of her relative?

Time was running out so fast for Rena, and in October 2018 she died leaving me with just a 4 months old baby. I got so confused, I did not know what to do or whom even to talk to and what was going to happen to my child. I was so afraid she was going to die and follow her mother. When I called Rena's father and asked what I should do he bluntly told me that he don't know and that I should talk to his brother (this is one of those families where the one who has money makes decision for everyone) but I had no choice to talk to him and ask him if they can allow me to go and burry my wife at my rural home.

It was a rude shock, his uncle told me that I had not performed the customary marital rights to their daughter and that there is no way they were going to allow me to burry their daughter, he told me that none of my relatives are welcome to Rena's burial. I later came to learn that during the time Rena was sick in Nairobi this family was busy making birth certificate for my daughter.

But trouble started after Rena was buried in Laikipia, when we got back to Nairobi with the child Rena's uncle told me that I should leave them the child and go stay on my own, when I inquired with one of Rena's cousin he told me that the family had taken two children from one of their in laws after their mother died and that they use these children to ask for funds from donors pretending that the children are total orphans. This is when I realized why Rena had insisted that our child should not be taken by anyone but should stay with me.

I had to make a choice between losing our only child and betraying the wishes of my wife and leaving the job I had and starting from scratch, and as you guess any parent could have chose to leave and start a fresh and that is what I did. I then moved to Saika and started looking for a job which one of my friends helped me to secure. I then started getting calls from Rena's uncle and Annette Kimuomi her sister that I should return their child or they will frame me and take away the child from me. It got to appoint when Annette Kimuomi gave my number to some woman who told me she was from the DCI office in Kileleshwa and that they wanted me to go to that office with the child and give a statement. But after consulting with a friend he told me not to go since these people were so determined to take my child and that they would anything to have this child.

I continued getting threats to a point I had to go to the police and report but the officer I got advised me to go to children's department and they would be able to help. I visited the office as advised and I was given a letter to take to court so that this family can be summoned, and then something told me to call Rena's father and inform him that I have been receiving threats and that I was taking the matter to court. Rena's father apologized and told me those people were acting on their own without his permission and that he would like us to meet with mediators from both sides so that we can solve this issue at family level. He even gave me a date and I had my guys ready but he never showed up, he did not even call. The threats also stopped, and I got releaved thinking that finally they had decided to leave us alone until yesterday at around 5.30pm when I stepped out to buy Tamara milk (she was a sleep) only to be surrounded by police officers who then hand cuffed me and took me to Spring Valley police station in Kayole.

None of the officers told me why I was being arrested, and when we arrived at the station the first person I saw was Annette Kimuomi! Then one of the officers told me that Annette Kimuomi had reported that I had kid napped Tamara and that I have since stopped her from taking medication. Annette Kimuomi had told the officers that Rena died of HIV and that Tamar was born positive, so the officer told me that these people have money and they can do anything so if I know what is good for me then I should give them the child. I stood my ground and refused to tell them where the child is, I made a few calls to some a few friends who even came to see if they could help but the officers chased them away! It was now 8.30pm am still being held at the police station, no occurrence book was done and when the officers realized that I was not willing to give up the baby one of them went back to talk to Annette Kimuomi and when he came out he called his other two colleagues and talked for a few minutes.
This is when they surrounded me and on of them said, we going to shoot you now as the other four cocked their guns and pointed at me. Then I started thinking to myself, what will happen to my child if I die because it seems these people are willing to got to any extent even if it means killing me so that they can take my child. I gave in, because this is the only way I could have lived to fight this off. I was bundled into the police vehicle and they took my child, that is how I lost my child then one I promised her mother that no one would ever take away from me. I know I have failed but I still ask myself is there justice in this world?, what did I ever do to this family to make them treat like this?, did I have to die to save my child, and had it be the police to take away my child? Why did Annette Kimuomi have to drug the name of my wife in mad lie that when the whole family knows that Rena died because of liver problem and post birth problems?

As I write this am still shaken because I do not know what their next move is going to be, they may even send someone to kill me so that my story is never heard. For those who are reading this please I beg you, please help me get my child back please."
READ ALSO: Sherri Shepherd In Divorce And Child Custody Battle With 2 Ex-Husbands
"Dear All,

Today I have learnt that even if I am an orphan, I still have all of you as my brothers and sister. I just want to say a very big thank you to everyone who has shown their sympathy to us (Tamara and I), you the online family are the only family and friends I can count on to help me get my baby back.

To the lawyers and other relevant organizations who are willing to help I want to also say thank you very much, I will be giving out an email where you can send your support to and I want to apologies for not giving my contact to any of you my brothers and sisters due to security reason.
Finally I want to request all of you to help me pray for safety of beloved daughter Tamara wherever she is, it has been one long night and one long day for me as a father. And please do not give up on me, I need all your support to get her back.

Thank you and God bless you all!"

READ ALSO: Drama as Aminu Atiku Flees With Son After Ex-wife Wins Custody Battle