'21 years of listening to each other's dirty talk' -BBOG Activist & Mum-Of-2, Aisha Yesufu's Romantic Note To Hubby Is Everything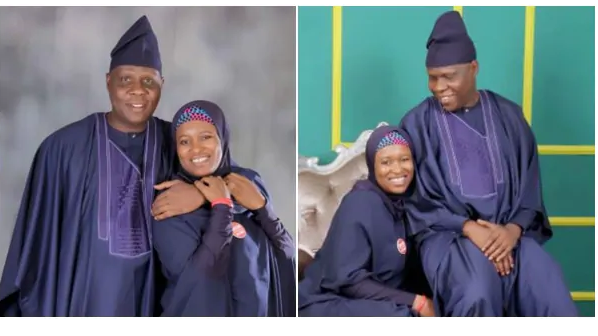 Marriage is an institution that has proven to be a tasking journey for some while others seem to scale through easily as they celebrate milestones as a couple.
Bring Back Our Girls advocate, Aisha Yesufu, has stunned the Nigerian social media with lovely photos of herself with her husband as they celebrated 21 happy years of being together.
In a twitter thread, the activist, who was once told that she wouldn't last long in marriage due to her dislike for house chores and outspoken nature, wrote a lengthy note on how their marriage has remained special even after 21 years.
According to Aisha, it has been 21 years of being with someone who accepts her the way she is as well as living lives on their terms and making marriage fun.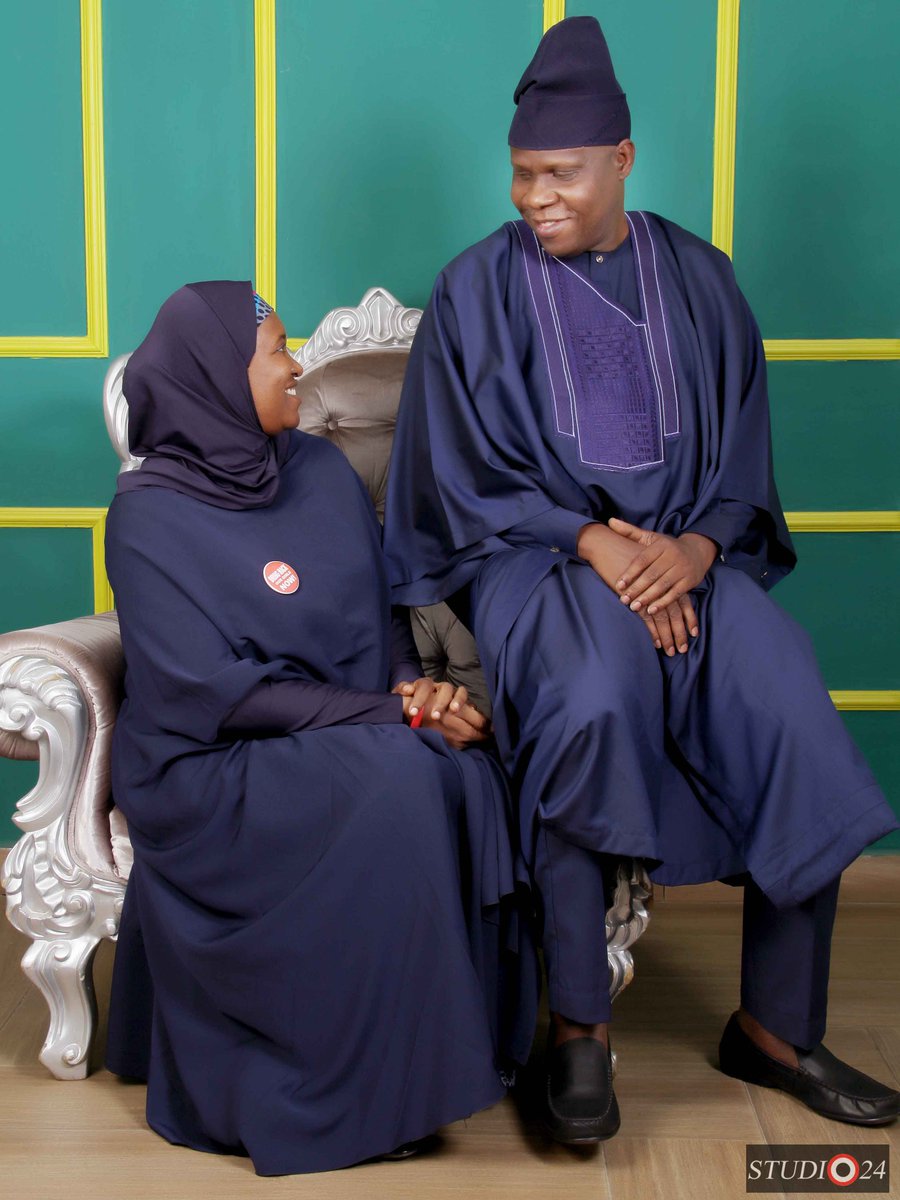 READ ALSO: "Was told I won't last in husband's house….had a big mouth & hated housework" Says Aisha Yesufu as she Celebrates 20 Years Wedding Anniversary 
She posted lovely romantic pictures of her and her hubby and captioned them with lovely note seen below…
"My husband proposed to me 22 years ago. When he proposed i told him I am lazy and always sick. I hate cooking and doing housework. I was told no man would accept me for these. Yesterday was our 21st wedding anniversary.

It's #21Years of being together with one who accepts me for who I am and I accept him for who he is.

#21Years of amazing and unusual love story. Of living our lives according to our own terms and making marriage FUN Here is to many more #21Years

#21Years of listening to each other's dirty talk and not feeling left out of the dating scene

#21Years of hearing the same stories again and again and still listening attentively as if hearing it for the first.

#21Years of being truthful with one another. #21Years of being open and turning one's back and knowing it is protected.

#21Years of fighting like little kids and making up like little kids.

#21Years of tolerating each other's weirdness and allowing each other the space to be who they are.

#21Years of having to accommodate each other's personalities that doesn't fit with ours and understanding it because of love.

#21Years of knowing we can ask anything from each other and knowing the other would do anything to put a smile on the other's face.

#21Years of helping each other go beyond our dreams.

#21Years of motivating each other above and beyond the standard we set for our individual selves.

#21Years appreciating each other and never taking each other for granted.

#21Years of having a shoulder to lean on and an ear for your dry jokes.

#21Years of allowing each other spaces with our different friends and having our own space just for us.

#21Years of making our marriage top priority.

#21Years of both being present to take on the task we committed to.

#21Yearsof being committed to each other and knowing we are worth it.

#21Years of not allowing society dictate how our lives should be.

#21Years of doing what we individually are best suited for and not what society expects us to do.

#21Years of teaching mentoring, learning, advising one another
READ ALSO: BBOG Activist And Mum Of Two, Aisha Yesufu, Shares Inspirational Story Of How Synergy In Her Marriage Helped Her Business
#21Years of being partners in every aspect of life from love to business and everything in between.

#21Years of unfettered laughter and tranquil silence.

#21Years of crying together and laughing together. Of holding our breath of what to expect and celebrating joyously.

#21Years of setting goals beyond our wildest imagination and conquering the unimaginable.

#21Years of fighting over little things and finally learning its no use sweating over the small stuff.

#21Years of learning the futility of expecting my mind to be read and learning to say it pop and plain and also of seeing him do guess right what is on my mind.

#21Years of sneaking to do when the kids were small and now sneaking when they come home.

#21Years of still fighting over who finished the deodorant even when its clearly stated male and female to differentiate.

#21Years of using the same products of almost everything.

#21Years of teaching each other the words i love you and i am sorry.

#21Years of being honest with our feelings. Showing our happiness sadness or anger and doing it one at a time with the other calming at any given time.

#21Years of fighting over TV channels and abandoning dual tv because we love the spats.

#21Years of still asking each other what did you buy for me?

#21Years of bribing each other with goodies and in the last few years with hush smoothie.

#21Years of yabbing each other and getting yabbed in return. Of pulling at each other's legs and playing pranks on each other.

#21Years of staying up some nights and gisting till daybreak and going to our places of work and business with groggy eyes.

#21Years of being able to say to each other i want this position today and getting it.

#21Years of still being angry if one ends a phone call without saying I love you.

#21Years of still calling each other at times just to say i wanted to hear your voice, I just thought about you or I am missing you.

#21Years of still asking each other when last did i tell you I LOVE YOU?

#21Years of saying to each other DO YOU KNOW I LOVE YOU?
READ ALSO: "Dear future daughter-in-law . . ." Aisha Yesufu Pens Moving Letter to Her Son's Future Wife
#21Years of saying to each other all I want is your happiness and I would do anything to keep you happy and both going out of our way to make the other happy.

#21Years of praying for you as you step out of the house and you asking for those prayers when you don't get it.

#21Years of growing older in age and younger in love.

#21Years of yabbing the changes in each other's bodies over the years.

#21Years of sometimes fighting and not talking to each other except for good morning and welcome but looking forward to the love making at the end

#21Years of mischievously giving the other **** while the other is on the phone just to get the person holding it in while having a proper conversation.

#21Years later laughing over the small stuffs like who scattered the wardrobe we used to fight over."
It's #21Years of being together with one who accepts me for who i am and i accept him for who he is. #21Years of amazing and unusual love story. Of living our lives according to our own terms and making marriage FUN
Here is to many more #21Years?? pic.twitter.com/Kvx1szlID5

— Aisha Yesufu (@AishaYesufu) April 17, 2019