NairaBet Owner, Akin Alabi Addresses Patriarchy & How Women's Behaviour Fuels It In New Tweet
In Nigeria and most African countries, marriage is seen as the ultimate thing a woman can achieve. It does not always seem to matter whether she has attained great career heights or made life changing discoveries.
Despite the fact that many women and men are starting to let go of this school of thought, some women still see all their achievements as nothing if they are not yet married.
Well, House of Rep. elect for Egbeda/Ona Ara Federal constituency, Ibadan, Oloye Akin Alabi, has shared his thought on the issue.
In a motivational piece he shared on his Twitter page, the politician and businessman, explained that marriage is overrated in this part of the world and most women think it is the most important thing. He added that this kind of behaviour from young women fuels patriarchy because men can see how desperate they want to get married, so they start misbehaving.
While decrying the rate at which many people prioritize marriage, Mr Alabi mentioned that there are many more important things to achieve in life and marriage should only be the icing on the cake after all the achievements have been grabbed.
READ ALSO: Nairabet Owner, Oloye Akin Alabi, Instructs On Financial Discipline After An Odd Encounter
"Your friend graduates with a first class. You shrugged it off. She got a great job. You were neutral. She posted a holiday picture with her colleagues. You didn't even take a second look. But when she got proposed to, you started jumping up and down excitedly.

For you, all the progress she made all these years are "normal". This is the ultimate. She has found a husband. You now like every post. You comment congratulations and go girl on every picture. To you, that is the only thing that matters. She has a man and must hold him tight.

This is the kind of behavior and attitude that fuels patriarchy. Nigerian men know that for most women, their ultimate life ambition is getting married so they see themselves as gold. They see themselves as the vessel of happiness for women.

Many males do not know that because you have a penis, you don't automatically become a man. Unfortunately, most women don't agree. Any man is a man. Dirty, irresponsible, vile, violent… doesn't matter. They say, at least I have a man."
READ ALSO: Twitter User, @tillytate20, Says She Fakes Being Married To Survive Patriarchy
Explaining further, Akin Alabi added that he is not going to train his daughter to see marriage as the most important thing.
"I am not going to train my daughter to see marriage as the most important thing. I will let her value, health, education, career, finances and other things over marriage. Finding a good man as partner forever will be an icing for her and not the cake itself. She is the cake."
I am not going to train my daughter to see marriage as the most important thing. I will let her value, health, education, career, finances and other things over marriage. Finding a good man as partner forever will be an icing for her and not the cake itself. She is the cake.

— Oloye Akin Alabi (@akinalabi) May 5, 2019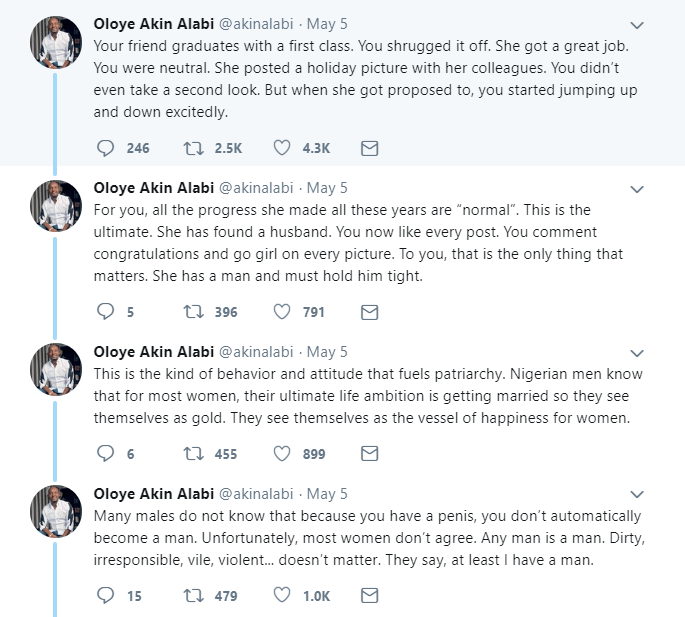 Photo credit: Twitter/Akin Alabi