Famous Rapper & Mom, Cardi B Reveals What She Does 4 Times A Day To Become A Huge Success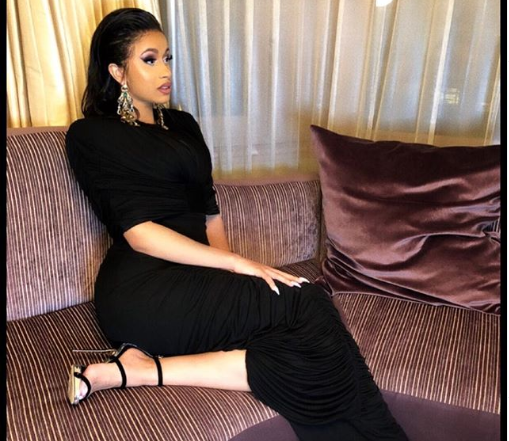 https://www.instagram.com/p/ByihqTVAxNw/
Record-breaking New York rapper, Belcalis Marlenis Almánzar, known professionally as Cardi B, 26, who has held the world spell bound by her music career and motherhood, seems to have a more spiritual side than we initially thought.
In a recent Instagram post, the proud mama-of-one shared her secrets to success. According to Cardi, who has been very open about her cosmetic surgery noted that regardless of her 'razz' lifestyle, she is a very prayerful woman, who prays four times a day, anywhere everywhere she finds herself.
She added that before she asks God for anything, she thanks Him first. She wrote:
"Wanna know my secret? I PRAY! Before I ask God for anything, I Thank Him. I pray for my family, my annoying ass friends and anybody that is associated with me. I ask God to forgive me for committing sins, thinking about sins and judging. I pray about four times a day, anywhere, any time."
READ ALSO: Cardi B's Honest Take On The Not-So-Glamorous Side Of Motherhood Is Relatable
Few months ago, Cardi B became the first solo female rapper to win the Grammy for Best Rap Album at the 61st ceremony. The event was hosted by 15-time Grammy Award winner, Alicia Keys who had a blast hosting the highly acclaimed award show.
Cardi B became the first solo woman ever to win the Best Rap Album Award while Childish Gambino was the first rapper to snag Record of the Year at the Grammys. Cardi B beat the likes of Travis Scott, Mac Miller, Pusha T to win the best rap album, which is her first Grammy, for 'Invasion of Privacy'.
Just yesterday, the first time mom took to Twitter to explain why she has been trying to refrain from travelling. The New York rapper wrote:
"Look how swollen my feet get every time I take flights my stomach gets even more puffy. Reasons why my doctor told me to chill on shows cause my feet and stomach burn when I get puffed up NOT due to ticket sales. Stop talking shit fck outta here."
READ ALSO: So Touching! Watch Beyoncé Knowles Speak About the Power of a Mother's Prayers
She inserted a photo of her swollen feet, along with the tweet explaining why she doesn't take flights due to her surgery. Cardi also addressed the rumours in another tweet writing: