Nigerian Mom, Lily Marama Expresses Immense Joy At Welcoming Quadruplets Against All Odds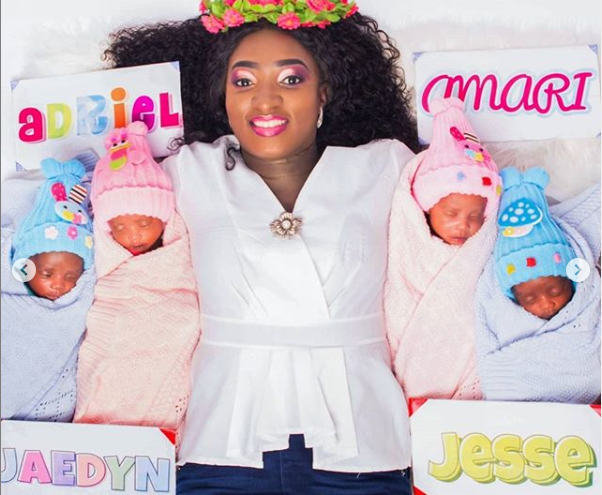 https://www.instagram.com/p/BzJE8-RBXxV/
https://www.instagram.com/p/BzcuVd8gAA4/
There is something about children that no parent can explain- they bring pure joy! Their sound in a home is pure bliss and almost every woman prays to have them. A Nigerian woman identified as Lily Marama on Instagram has expressed immense joy at having given birth to four bundles of joy at once, against all odds.
In a recent post, the excited first time mom who shared lovely photos of her bundles of joy, went all out to celebrate them as they clocked one-month.
Mrs Marama added a caption in which she narrated how she finally welcomed her quadruplets after six years of waiting. According to her, she and her husband had prayed for two children but God gave them four.
The elated mom-of-four extended gratitude to all those who made sure her pregnancy was smooth sailing. Although she had complications along the way, her doctors were on ground to help her through them, and for doing this, she thanked them.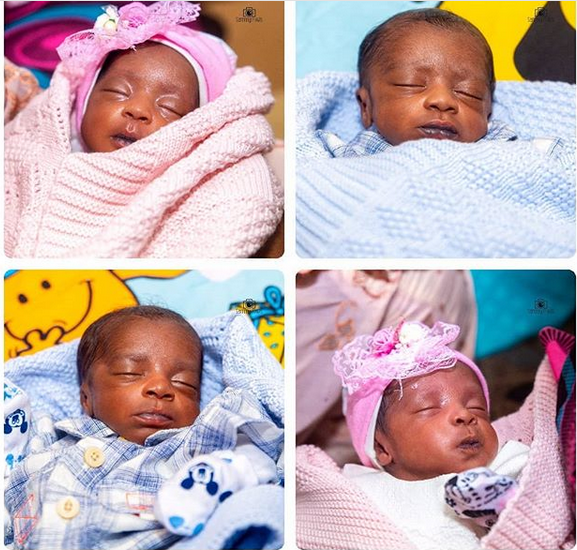 SEE ALSO: Nigerian Woman Called 'Barren' Tells Her Story After Welcoming Quadruplets | See Photos & Videos
Her testimony reads:
"6 years in this journey and now it feels feels like a dream. We prayed for 2 ?? but God gave us 4 ???? and filled our mouths with laughter. I can't believe I carried 4 humans in my tummy for 9 months (well, almost ?) Thank God for a smooth pregnancy despite the little challenges here and there.

Thank God for my ever supportive husband @spencer069 and my wonderful friends and family (y'all know yourselves ??) For those still trusting God for children, hold on to him and keep believing.

Thank you Dr Fache for taking care of me throughout the pregnancy journey ❤️
Thank you Dr Chudi, Dr Jide and Dr Esther for the online consults ?
Also to my ATG family ❤️ Thank you Vessels ❤️
Thank you to my ECWA Maitama family ❤️
Thank you to everyone who has supported and stood by us ❤️ Special thanks to my models ~ Adriel, Jesse, Jaedyn and Amari ??."
SEE ALSO: Be Encouraged! After The Loss Of Their Twins & Years Of Waiting, Arnold & Stephora Are Smiling Again