This Gross Percentage Of Nigerian Children Are Denied Exclusive Breastfeeding -National Survey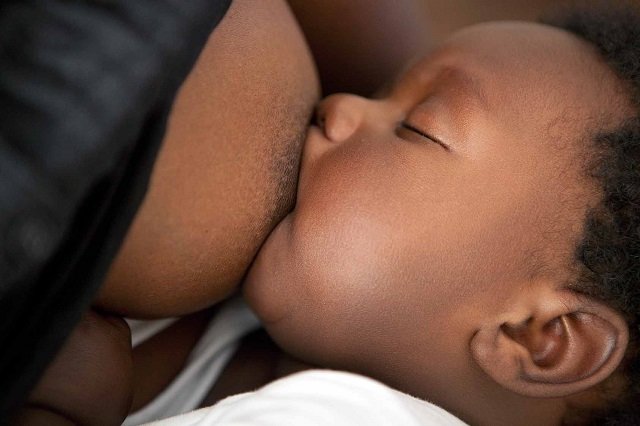 At the inauguration of the National Zero Water Campaign to commemorate the 2019 World Breastfeeding Week, wife of the Nigerian President, Aisha Buhari, lamented that Nigeria today had the second-highest burden of stunted children, with a national prevalence rate of 32 percent among children under five years. The First Lady added that an estimated two and a half million Nigerian children suffered from acute malnutrition with only two out of 10 children affected getting treatment.
The Federal Government through the Permanent Secretary, Ministry of Health, Abdulaziz Mashi, in Abuja on Tuesday during the commemoration also said that a national survey revealed that only 27 percent of children in the country are given exclusive breastfeeding by their mothers, leaving a deficit of 73 percent being denied the right.
READ ALSO: UNICEF And Other Stakeholders Team Up For The Launch Of World Breastfeeding Week In Nigeria Today
The wife of the President also affirmed her commitment to align with all relevant stakeholders to ensure effective implementation of the Zero Water Campaign through her Future Assured Programme.
Mashi said that the national survey showed that at a point, nearly all children in Nigeria were breastfed, but expressed sadness that the same survey pointed out a negative trend with severe implications.
He said,
"According to the National Nutrition and Health Survey 2018, almost 97 per cent of children are breastfed at one time or the other.

However, what is sad is that according to the same  report, only about 27 per cent of these children are exclusively breastfed and about one in five are put to breast within the first hour of life.

A major finding of that report is that one of the biggest threats to exclusive breastfeeding is that many of these children are given water or complementary foods within the first six  months of life."
Mashi added that to correct the practice, the FG, in collaboration with partners, had developed the National Zero Water Campaign to draw the attention of the community, households, and caregivers to the importance of early initiation and exclusive breastfeeding.
He said the campaign was designed to harness the potential of different social mobilisation strategies as articulated in the National Social and Behavioral Change Communication Strategy for infant and young child feeding which was inaugurated by Aisha Buhari in 2017.
Meanwhile, the Director-General of the Nigeria Governors Forum, Asishana Okauru, said at the venue that the body would ensure that more state governors adopted six-month maternity leave for women working in their states.
He applauded Lagos and Kaduna states for approving the six-month leave for women employed in the states civil service, stressing that it would help to promote exclusive breastfeeding among nursing women in the states.
The NGF DG added that if the policy was adopted by other states, it would promote exclusive breastfeeding practice among nursing women throughout the country.
He said,
"At the NGF meeting on August 15, 2018, the secretariat secured the commitment of governors to provide creches across state MDAs to promote breastfeeding among working mothers.

Furthermore, all the members of the NGF committed to promoting policies that would promote good nutrition practices in Nigeria.

In fact, the governors of Lagos and Kaduna states have approved the implementation of six-month maternity leave for pregnant women in their states.

The NGF secretariat would continue to pressure states to comply to this commitment."