Couple, Rebecca And Glen Maxwell Get Married In T-shirts, Jeans, And Trainers To Prove This Point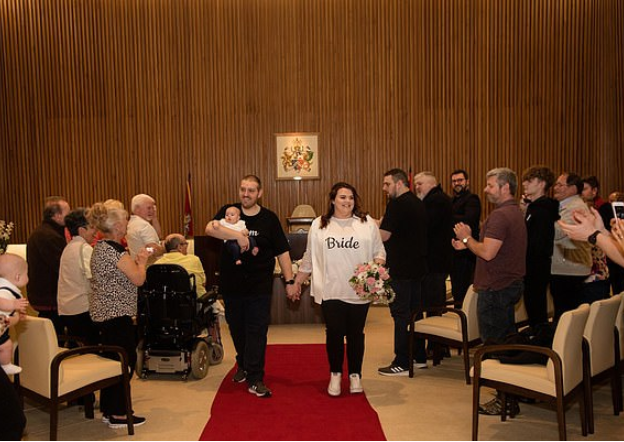 Rebecca Maxwell, 26, from Northumberland and her husband Glen Maxwell,30, an unbothered bride and groom who got married wearing a pair of jeans and t-shirts said they decided to clad themselves in these on their wedding day in a bid to prove point.
The couple reportedly donned their outfits of choice during the church ceremony and the reception to show that they didn't need a dress and suit to make their big day special.
Rebecca said:
'When we were planning our wedding, we started doing everything to please other people. Our guest list was getting out of hand.

You feel like you have to invite people because you don't want to upset them rather than because you want them there.

We had spent hours looking through Pinterest at all the dresses, cakes and decorations and you do get sucked in.

'But at the end of the day, Glen and I just really weren't bothered about all of that. 
Rebecca and Glen, who have a nine-month-old daughter Eleanor, got engaged in August 2016. The couple only prefer casual days and have never enjoyed lavish holidays or date nights.
READ ALSO: Marriage As God Invented And Intended Does not Recognise Church Wedding Or Registry- Reno Omokri
'I had even bought a wedding dress but after having Eleanor I went to try it on again and I ended up crying. It just was not what I wanted at all'

'I felt like I had lost sight of why I was getting married. It was like I was trying to get married like Pinterest had told me to get married.
Rebecca added.
'Glen made a flippant comment, saying "we could get married in jeans and t-shirts and I'd still love you" and that was that.

'Me and my husband, we just like simple things. We don't like big holidays and fancy nights out. We just love each other's company.
Further speaking on their simple wedding, Rebecca said,
'What was special was that we were going to join together and I was going to have the same surname as my little girl. A big dress or fancy day, that all paled into insignificance.

I want to show other brides that if they don't have a big budget, it doesn't matter. They don't have to spend a fortune or put all that pressure on themselves.

As long as you marry the person you love, surrounded by people you love, your day will be special.

Me and my husband are still married just like all those people who are in £20,000 debt. I do really believe that so many people lose sight of the real reasons to get married.
The mum-of-one concluded saying'
'It becomes like a big expensive show, a production for everyone else and the real reasons are lost in all that.

'It should be about how in love you are. I don't know anyone who gets married just because they think their partner is alright.'