Raped At 65 Plus Surviving Everything That Should Have Broken Her, Veteran Actress, Ajai-Lycett Tells Her Story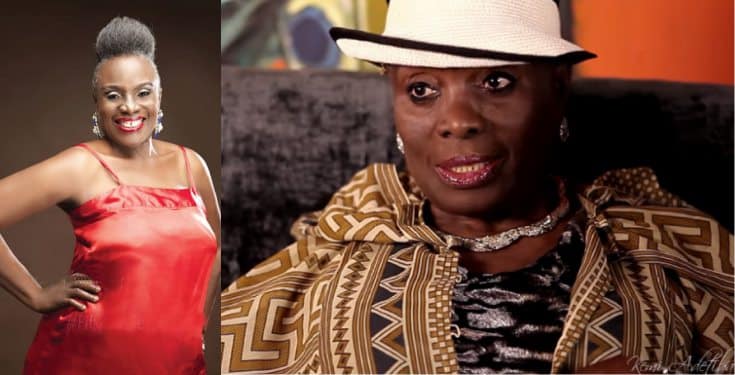 Nigerian journalist, actress and cosmetologist, Taiwo Ajai-Lycett has revealed quite shockingly her many travails as a woman. The 78-year-old recipient of the Officer of the Order of the Niger (OON), made the damning revelations of her unique experiences that are ordinarily capable of breaking a person's will.
The accomplished mum and actress survived it all; from getting pregnant at 15, to being disowned by her family, a divorce and a rape torture at the sore age of 65.
The eloquent actress who became widowed at the age of 52, shared in her interview with TheNation how she became a mother at the age of 15, dropped out of school at 16, became a widow at 52 and how she was brutally raped at age 65.
READ ALSO: COZA Rape Allegation: Biodun Fatoyinbo Explains Why He Shunned Investigative Panel
Ms. Lycett revealed she was briefly married to her first husband in 1959 when she relocated to the UK after her family disowned her for getting pregnant at 15. She revealed that that marriage was short-lived because the man she married abused her. Long after that divorce, she met her heartthrob, Thomas Lycett with whom she enjoyed a blissful marriage until his painful demise when she was about 52-years-old.
In her words:
"I have been through the fire, I emerged fortified. I was 15 years old when I had a child. By 16, I was on my own. I knew I was going to get a good education. I was going to be a lawyer.

But I knew that I was on my own. My family disowned me. I married one David Akinduro in 1959 after I relocated to the U.K, but I left him due to domestic violence.

I met Thomas Lycett long after I divorced my first husband. Eventually I married him. We had a blissful marriage. He died when I was 52-years-old. I remember him everyday. .

He was the one that told me that I was better off being an actor. In 2006, I was robbed and raped in my house in Egbe. I was tied. I was beaten.

I was brutalized. My health was ruined. I was blindfolded and raped. The man who raped me complained that he couldn't gain easy entry into me because I wasn't wet.
I told him;
'widows don't get wet.'
READ ALSO: "Never stop voicing out, awareness is victory"- Celebrity Mum, Busola Dakolo Charges Other Victims Of Rape & Sexual Abuse After Court Threw Out Her Rape Case
Lycett went on to reveal how she was painfully raped at the age of 65 in her Lagos home, with the culprits taping her mouth and everything she did afterwards to put the trauma of that ugly incident behind herself.
In her words:
'I kept talking to them and asked them repeatedly,

Are you doing this to your mother?'

Angrily, they taped my mouth but I remained fearless and prayed all through the attack.

The police came. They expected me to pursue the case. I knew the masterminds. I could have gotten them incarcerated but I simply moved on.

Look at me today, I am over it. See, the mind is a beautiful thing. When you hold on to past hurt, you tie yourself down to grief. You get infected with its poison. .

Rather than wallow in grief and self-pity, I picked myself up and sought medical help, ensuring that they hadn't infected me with any STD. That same year, the Obasanjo government got me the Officer of the Order of the Niger (OON) national honour.

Few years later, One of them came to prostrate before me, pleading for my forgiveness. I told him to seek forgiveness from God. I told him that I had moved on."