Celebrity Mom, Amy Schumer Speaks Out About The Weighty Pressure On New Moms Just To Breastfeed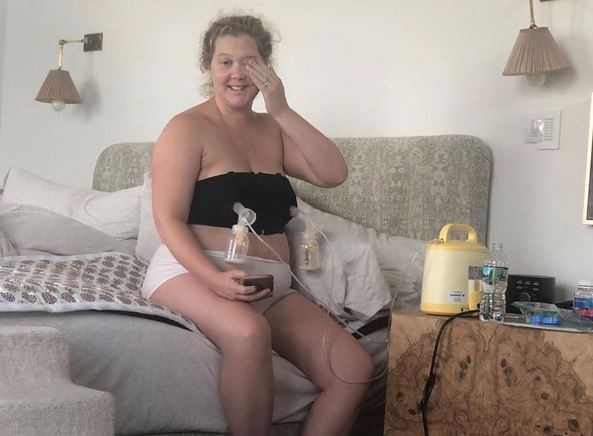 https://www.instagram.com/p/B6rzP_vJhSl/
American stand-up comedian and actress, Amy Schumer is speaking out and giving a voice to what many new moms feel. Mom-shamers would have expectant mothers believe that if they don't breastfeed their newborns, they're somehow failing their child. But it's simply not true in some cases.
In a recent interview on the podcast Informed Pregnancy, the 38-year-old mom-of-one revealed why she chose to stop breastfeeding her son Gene Attell one month after he was born in May. According to her, pumping breast milk "was bumming her out."
During the interview, the star mom also recalled how her experiences with breastfeeding led her to switch to feeding her 7-month-old baby formula. She said:
"I was pumping because I wanted him to get the colostrum. I had a lactation expert come over. He [her son] didn't latch, and I just didn't feel that push to make that happen. Then I pumped for like the first month or something."
READ ALSO: 3 Cool Moms Open Up On Their Breastfeeding Experiences, Struggles, Joys: 'I was losing my mind'
https://www.instagram.com/p/Bxvw6YmluZs/?utm_source=ig_embed
Amy, who shares her son with husband Chris Fischer, added,
"And then I was like, 'Not for me.' … This is not for me and I didn't want to do it."
Schumer also remembered a time when tennis pro and mom, Serena Williams warned her of a certain brand of formula. She added:
"We were giving him Similac and actually Serena Williams kind of yelled at me and was like, 'there's a lot of sugar in that' and even though it was great and he was meeting his milestones on Similac we switched him to Holle [non-FDA approved European brand of formula] with less sugar and he did great on that."
READ ALSO: Celebrity Mum, Serena Williams Talks On How Hard Weaning Alexis Was For Her
She took away one pumping session per week to prepare her body and her son to switch to formula feeding full-time. Also in her conversation, Schumer stressed the importance of new moms choosing what's best for them. She said:
"I really encourage women — there's so much pressure to breastfeed but really, it's all in your head. Some people just absolutely love it and I'm so happy for them, and it was just bumming me out. But then I was also kind of proud doing it and whatever and getting him the milk and stuff.

Then once it occurred to me that I could stop. I was like, 'I'm going to stop.' … And then, every week what I did was just took away one session of the pumping."
READ ALSO: Celebrity Mum, Amy Schumer Opens Up On Her Reservations About Returning To Work 5 Months Postpartum
At the end of the day, Schumer emphasized that her health was just as important as the health of her baby boy.
"You matter and it's going to be better for your baby that you're okay," she said, later adding, "All generations were raised on formula."
Elsewhere in the interview with the Informed Pregnancy and Parenting Podcast, Schumer talked about her son's "really scary" Cesarean birth. She recalled:
"I was throwing up through the first hour of my c-section. It's supposed to take about an hour and a half — mine took over three hours because of my endometriosis, and that was really scary."
Schumer described how her doctors were "amazed" that she was able to carry a baby with the severity of her endometriosis, which indicated "with no question" that she would need the c-section.