Queen Elizabeth, Thomas Markle, Oprah Winfrey And Others React To The Shocking Announcement Made By New Mum, Meghan Markle & Hubby, Prince Harry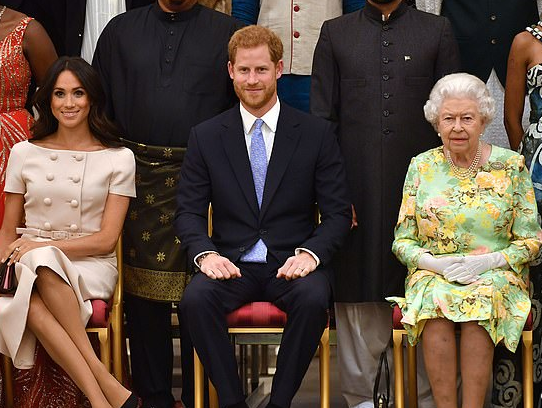 The royal couple, the Duke, Prince Harry and his wife, the duchess, Meghan Markle of Sussex, England appear to have set in motion a series of events whose twists and turns they cannot determine and may not be able to moderate, following their latest announcement.
The couple announced two days ago in an official statement that they are stepping back from their roles as senior members of the royal family as well as relocating to Canada, citing their need for financial independence. The couple appeared resolute in their statement and concerns over whether or not they thought it through was rife but now reactions have followed their action which may make or mar the couple over the years.
First in line to react is Queen Elizabeth herself. Members of the Royal Family reportedly learnt about the Duke and Duchess of Sussex's decision to quit their roles as senior members of the Royal Family and work towards financial independence after it broke on television news channels.
Daily Mail reported that a senior royal source said the Queen and her family were 'deeply disappointed', while another said the royals were 'shocked, saddened and downright furious' at the couple. Queen Elizabeth responded to their announcement with a statement from Buckingham Palace and called it a "complicated issue."
It read;
'Discussions with the Duke and Duchess of Sussex are at an early stage. We understand their desire to take a different approach, but these are complicated issues that will take time to work though."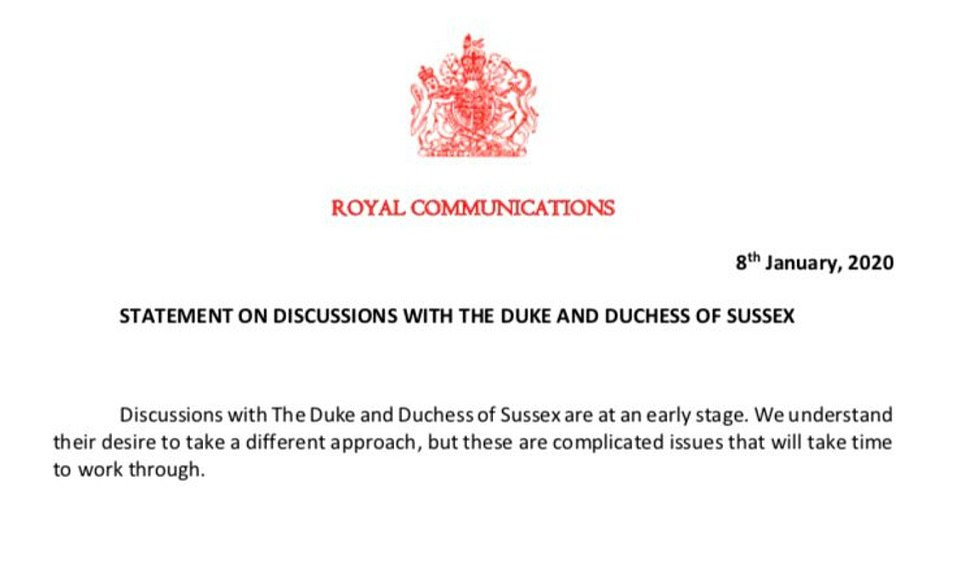 READ ALSO: Prince Harry And Wife, Meghan Markle May Be Courting Trouble With Their Latest Announcement
Meghan has been touted to be the force behind many of Prince Harry's defiance and indiscretion towards the family and royal tradition he was born into. The couple granted an interview where misty-eyed Meghan said tabloids in the UK were attacking her and insinuated as well that the royal family did not care about her or try to help her pull through hard times postpartum. Before then, the couple sued a British tabloid for what it called the victimisation of Meghan and now the 38-year-old's father has also spoken about the royal couple's decision to quit their roles.
Thomas Markle, the estranged father of the Duchess reportedly told US Weekly;
'I'll just simply say I'm disappointed.'
Meanwhile, media Mogul, Oprah Winfrey has distanced herself from accusations that she influenced the couple to take the audacious decision. Page Six published a report that TV icon Oprah Winfrey advised the Duke and Duchess of Sussex about stepping back from the British monarchy.
Winfrey has now denied her involvement in Harry and Meghan's shocking announcement. Oprah Winfrey said in a statement to ET:
"Meghan and Harry do not need my help in figuring out what's best for them. I care about them both and support whatever decisions they make for their family."
Oprah is close to the Duke and Duchess of Sussex. She was at their wedding and is working with Harry on a mental health series for Apple TV+  that will be released later this year.
Meanwhile, Meghan has gone back to Canada where she left baby Archie with a nanny as she and Harry returned to the UK for their bombshell royal exit announcement, a source told Daily Mail. She flew back after being in the UK for just three days, following their 7-week holiday, and left Harry to hold crisis talks with the Queen, Prince Charles and Prince William on their split from the Royal Family.