"They say divorce is a sin until you die or kill someone"- Toke Makinwa Weighs In On Maryam Sanda's Death Sentence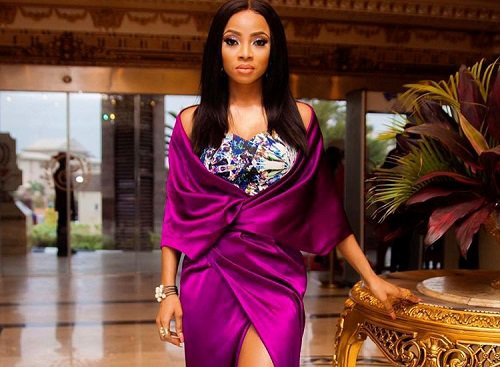 OAP Toke Makinwa has weighed in on the subject of enduring toxic marriages following a court sentence that sent Maryam Sanda to death by hanging. Toke, who was herself married to celebrity fitness instructor, Maje Ayida walked out of her marriage in 2017  on account of Maje's alleged chronicinfidelity and constant emotional abuse. Toke's messy split was hugely criticised as well as messy, but she learned the terrains and rose above all the shaming that came with her separation from her estranged hubby.
In a new Instagram post shared by the media girl, she took the opportunity of Maryam Sanda's sentencing to bare her thoughts on divorce and domestic violence from the standpoint of the Nigerian culture.
READ ALSO: "Maryam Sanda should reap what she has sown…"- Judge Sentences Mum-Of-Two To Death By Hanging For Killing Her Husband (VIDEO)
According to her, people always say divorce is a sin and a breach of our tradition, but if in a moment of anger, you get killed by or kill your partner, the same people who told you to stay will only cry but you would have thrown your life away as a result.
The 35-year-old said in her post that she is aware that the conversation is a tough one to have but insists that people should prioritise their mental health and walk away from toxic marriages.
She tweeted;
"I know some conversations are tough but they must be had, nobody is worth throwing the rest of your life in jail or even worse, a death sentence, anger is evil, choose your mental health and walk away always. It's hard, it's tough but one minute of anger can take away everything

They say divorce is not an option and it's a sin, and it's not our tradition but if you die or kill someone cos of anger, the same people that "said"will only cry with you as you throw your life away, try separation first and if things don't get better, choose you

Life is tough, people are angry, there is frustration in the land. The only sanity you can guarantee is yours. If someone is threatening your peace pls separate from them, at least you can both be alive to raise your kids, and maybe one day find a resolve, stop testing yourself"
See screenshot of her post: