Pregnant Mum-of-Three, Karen Mannering Begs For People To Stay Home As She Battles To Save Herself & Baby After Contracting Coronavirus (VIDEO)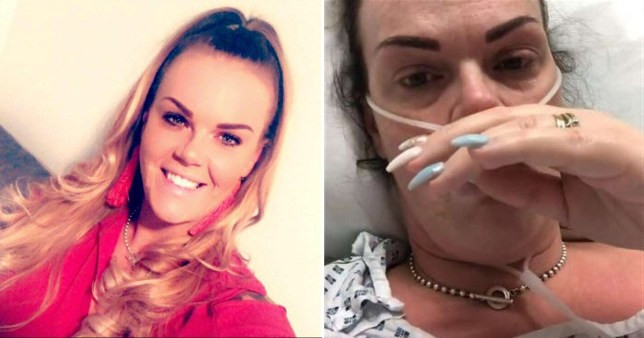 A heavily pregnant 39 year old mum, Karen Mannering, has revealed the anguish she faces as she battles to save herself and unborn child after contracting the deadly coronavirus.
Karen from Kent, UK is bedridden in a British hospital's Intensive Care Unit and filmed an emotional video showing herself struggling to breathe as a result of the attacks to her immune system caused by the virus.
While strapped to a life-saving equipment, Karen warned the public they 'will kill someone' if they decide to meet their friends for a walk in the sunshine or a 'stupid beer', saying such actions increase the risk of contracting the novel coronavirus as the UK's death toll jumped to 477 on Friday.
READ ALSO: Why Divorce Applications In New York Spike In Quarantine
From her hospital bed, Karen said:
'I am 39 years old and I am 26 weeks pregnant nearly with my baby. I have just been told that I have Covid-19 and I have been ill for two weeks.

I have been in hospital now since Saturday and today is Wednesday. I have pneumonia in both lungs and I'm fighting for me and my baby.

It is not worth going out and you might think you wouldn't but you can get another time.'

'I have three kids at home and a husband who I can't see. I don't know where I caught it from but I'm very ill.

'I'm telling you now if you are going to meet your friend for a stupid beer or a sea walk because the weather is nice you are going to take this home and you are going to kill someone, one of your family members.

'Stop going out and listen to Boris, just don't go out it is not worth it.'
Watch video below: