Watch As Teenager Give Heart-Rending Account Of How Her Father, Chimnonso Okonkwo & His Friends Have Raped Her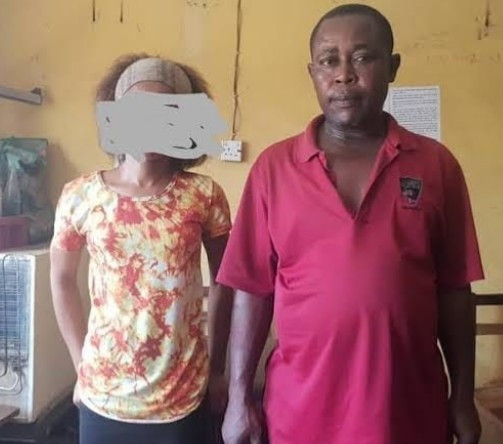 A 44-year -old- man has been arrested by the Imo State police command for allegedly having sex with his 15-year-old daughter in Orji, Imo state. Chimnonso Okonkwo was also accused of by the victim of inviting his friends to have sex with her as he pleased. The incest was exposed by a concerned neighbor of the suspect.
The Police Public Relations Officer (PPRO), in the state, Orlando Godson Ikeokwu, reacted to the news, saying:
"It is noteworthy, that it wasn't the first time this is happening.

"He normally invites his friends who come to his house to have canal knowledge of his own daughter."
The teenager who was only thirteen years old at the time her father began abusing her sexually two years ago has now spoken out about her ordeal.
READ ALSO: Catholic Nun, Kosaka Kumiko Arrested For Helping Five Priests Rape Deaf Children
In an interview with Channels TV, the teenager said she used to live with her mother's sister in the village until her father showed up two years ago to take her away.
"Since that 13 years, he has been sleeping with me up till now.

"He start like this, when I was sleeping, he romanced me. I was asking 'Ahn ahn. What is the problem?' He said that nothing, he just wants me to know that I am his daughter, that he's not going to do anything bad to me. I know said 'no problem, since it's like that.' We now played that time."
She adds:
"The next day, I was not feeling fine so he used me."
She said that from then, he kept raping her whenever he wanted and whenever she refused, he would beat her up until she was too weak to scream.
She added:
"And he did not used to give me chance for me to move and tell people 'see what is happening'. He normally threaten me."
She continued:
"The times that his friends came to our house, maybe, suddenly, they do not go that day and they want to sleep, he'll ask me to go so that they will use me. If I refuse, he will beat me. But I allowed some people to use me, three of them."

"They've arrested him, at least I've have some peace now (sic), "
she added.
The teenager said her mother has now told her that she left her father because he used to beat her everyday, but the last straw that made her leave the marriage was when he tried to rape her sister. The girl said she was saved from her father after she told her landlady and the landlady, in turn, told people in position to help her.
The 44-year-old father, Chinomso who resides in Orji, Owerri, Imo state, confessed to the crime saying he does not know what came over him. He admitted that he raped his daughter but said it happened only once. He said they were "just playing" the other times and that they play well like father and daughter.
Watch the video below: