WORRISOME! Medical Experts Raise Concerns About Coronavirus Posing A Greater Threat To Children | See Details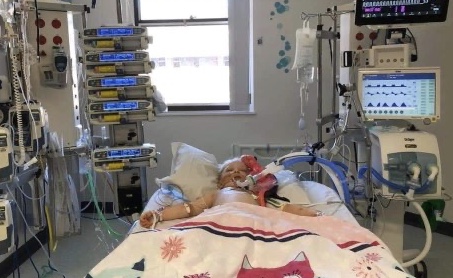 A mysterious disease linked to the deadly coronavirus has been discovered to affect children. Several European countries and North America have reported the disease.
Up to 100 children in the UK have been affected by the disease and studies suggest the same reaction is being seen in children elsewhere in Europe, BBC.com reports.
Also, doctors in 17 US states have reported that at least 164 children have fallen sick with a rare inflammatory illness similar to a condition known as Kawasaki disease– a rare condition that mainly affects children under the age of five. Symptoms include a rash, swollen glands in the neck, and dry and cracked lips.
It was also reported that eight children became ill in London, including a 14-year-old who died. They all had similar symptoms when they were admitted to Evelina London Children's Hospital, including high fever, rash, red eyes, swelling, and general pain.
Most of the children had no major lung or breathing problems, although seven were put on a ventilator to help improve heart and circulation issues.
But this new syndrome is also affecting older children up to the age of 16, with a minority experiencing serious complications.
SEE ALSO: 12-Year-Old Juliet Daly Bravely Recounts Her Battle And Victory Over COVID-19
Dr Liz Whittaker, a clinical lecturer in pediatric infectious diseases and immunology, at Imperial College London, said the fact that the syndrome was occurring in the middle of a pandemic, suggests the two are linked. The medical expert said:
"You've got the Covid-19 peak, and then three or four weeks later we're seeing a peak in this new phenomenon which makes us think that it's a post-infectious phenomenon."
According to a report in a medical journal, The Lancet, the condition called a paediatric multi-system inflammatory syndrome, shares symptoms with toxic shock and Kawasaki disease, including fever, rashes, swollen glands, and, in severe cases, heart inflammation. It is likely to be caused by a delayed immune response to coronavirus in children.
New York state has reported 102 cases of the pediatric inflammatory syndrome so far, with 29 percent of the cases involving children between the ages of 5 and 9 and 28 percent between the ages of 10 and 14.
A 9-year-old in France recently died due to complications from cardiac arrest. The child had tested positive for coronavirus antibodies.
SEE ALSO: COVID-19: How Asymptomatic Mum, Brittany Jencik Unknowingly Infected Seventeen Out Of Her Eighteen Children
At least three children have died in New York from this "new emerging syndrome".
In Bergamo, Italy, between February 18 and April 20, the Hospital Papa Giovanni XXIII admitted 10 children with the syndrome, including eight who tested positive for coronavirus antibodies.
These new reports are worrisome as it has raised concerns that coronavirus could pose a greater risk to children.
A 5-year-old girl is currently fighting for her life in the hospital few weeks after recovering from coronavirus. The symptoms are similar to that of Kawasaki disease and the little girl has be given 20% chance of survival.