New Report Provides Insights Into The Risks Associated With Child Marriage | VIDEO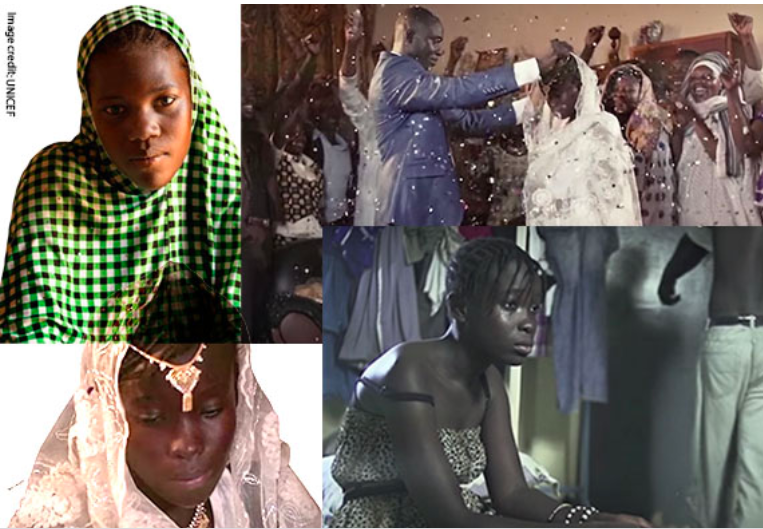 A Global Childhood Report 2019 by Save the Children International has given insights into risks associated with child marriage and the progress made so far in reducing the menace since 2000.
The report show that child brides are at risk of contracting HIV and suffering domestic violence. The report further explained that child brides often experience early pregnancy, thereby putting them at greater risk of dangerous complications in pregnancy and childbirth.
The report, released in commemoration of 100 years of existence of Save the Children, however, showed 25 percent decline in the child marriage rate worldwide since 2000.
The report showed that getting married as a child forces millions of girls into adulthood and motherhood before they are physically and mentally ready.
"These girls, including many under the age of 15, are often isolated, with their freedom curtailed. They frequently feel disempowered and are deprived of their rights to health, education, safety and participation.

"Child brides often experience early pregnancy, putting them at greater risk of dangerous complications in pregnancy and childbirth, contracting HIV and suffering domestic violence.

"With little access to education and economic opportunities, they and their families are more likely to live in poverty.

"Marriage before age 18 is illegal in a growing number of countries and rates are declining around the world. Progress has accelerated in recent years as attitudes change, more girls are educated and governments invest in programs for adolescents.

"An estimated 25 million child marriages have been prevented in just the past decade. If all girls were enabled to complete secondary education, an estimated 51 million more child marriages could be averted by 2030, bringing the world closer to meeting the Sustainable Development Goals target",
the report said.
According to the report, in sub-Saharan Africa, there is evidence of a decrease in child marriage in many countries. The report however, added that some countries have seen little or no reduction.
READ ALSO: Celebrity Mum-of-Three, Hadiza Blell (Di'Ja) Suggests What Must Be Done To End Child Marriage
In Nigeria, evidence shows that child marriage still exists, especially in the 11 states out of the 36 states in the country that are yet to domesticate the Child Rights Act that was passed into law in 2003.
Speaking in an interview with PUNCH HealthWise, a Child Rights Activist, Mr. James Ibor, blamed high cases of child marriage in Nigeria especially, in the north, on religious and cultural practices.
Ibor, who is a Principal Counsel, Basic Rights Counsel Initiative, said,
"For religious and cultural reasons, child marriage is high in Nigeria and many have not appreciated the Child Rights Act which makes it impossible for anyone to legally contract a marriage with someone below the age of 18. Again, patriarchy still holds sway.

"These cultural and religious beliefs are patriarchal and they discriminate against women and girls. There are religious inhibitions into knowing what the problem is and these children suffer sexual abuse.

"If you travel round, you will find out that the rate of child marriage and teenage pregnancy is alarming. We are seeing these cases and they are too numerous to mention."
Ibor who is also a member of the Cross River State Administration of Criminal Justice Monitoring Committee and Secretary Justice Sector Reform Team, said failure of government to implement relevant laws especially the Child Rights Act which makes it impossible for a girl to be contracted for marriage before the age of 18 was also responsible for the problem.
On the consequences of child marriage, the legal practitioner said a child who is married out will drop out of school.
"The girl child will lose her education which is her fundamental human right. A child who is in married will not be in formal education to develop herself. So, she is denied education. She is also denied childhood apart from difficulty in childbirth as well as poverty,"
he said.
Harping on the way forward, the legal practitioner said cultural practices that promote child marriage must stop. He said,
"We must encourage girl child education. The girl child should be in school and not in marriage. Children do not have the capacity to bear children.

"Children are not matured physically, psychologically and mentally to manage the home or bear children. Children who should be in school should not be involved in matrimonial activities.

"Marriage should be a business of adult and not children. Children should be bothered about their physical and mental development. The approved age of marriage is from 18 years and above."
SEE ALSO: Girls In Mozambique & Zambia Forced To Go To Sex Camps In Preparation For Child Marriage
Ibor urged the government to implement the Universal Basic Education Act which makes it compulsory for every child to be in school.
"We have to implement the Child Rights Act to the latter. If we implement the Act, those who contract marriage with children will be punished and then serve as a deterrence to others. We must end gender inequality and pay attention to gender equality",
he said.
Watch video about child marriage, courtesy, UNICEF: