Veteran Singer, Charly Boy Opens Up About Gracefully Parenting His "Stubborn" Daughter, Dewy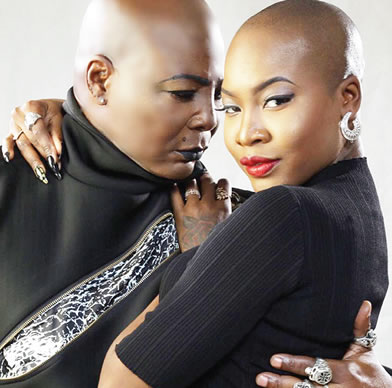 Two weeks ago, maverick entertainer, Charly Boy, and his daughter, Dewy Oputa, had a social media brouhaha over his Instagram post which detailed how he reacted when the latter initially told him she was a homosexual.
Shortly after Charly Boy's post, Dewy also took to her Twitter page to claim that her father actually sent her out of the house and left her stranded. However, in an interview with Sunday Scoop, the self-acclaimed 'Area Fada' noted that Dewy's behaviour reminded him of how he usually tackled his late father, Justice Chukwudifu Oputa, whenever they were at loggerheads.
READ ALSO: Charly Boy Opens Up About His Struggles Coming To Terms With His Last Child, Dewy Oputa, Coming Out As Gay
He said,
"Young people would always act that way.

I remember when I was younger, I gave my father a very tough time and social media was not in existence then.

I really 'showed' him because I was trying to gain my independence and did not want to be under anyone's shadow.

I feel that somehow, that was the battle that was going on between me and my girl, Dewy. I was not born as Charly Boy.

I know all I went through. Kids see their parents as old-fashioned and parents could feel their children are not adults yet.

She knew she was lying and I knew too but because she was hurting, she wanted to throw something back at me.

She called me out because she wanted to make me look bad. Me and my children talk all the time and I did not chase her out of the house.

As I said, when I knew she was a lesbian, I wondered if I had failed as a father. I needed time to digest the news, but what was more important was not her sexual preference but her success in life and happiness.

One can train a child well but parents do not have total control over how a child would turn out. The grouse of my daughter was that she wanted to tell her story her own way.

I also told my story my way. My father eventually accepted me for who I was and even boasted around that he was my father.

I made a success out of my life. I am more popular than he was and even richer but I cannot claim to have more wisdom than him."
When asked if Dewy had apologised for her outburst, her father said,
"The people who can hurt one are those that one loves the most. I was not too angry (at her). I knew what she was trying to do.

She was just angry and bitter. She hasn't apologised because she is stubborn like her dad.

She has her ways of apologising, even if it is not verbal.

That is why I feel I am in the best position to talk to parents."