Seven Helpful Ways To Overcome Heartbreak And Start Living Again | Ezekiel Mayowa's Tragic Story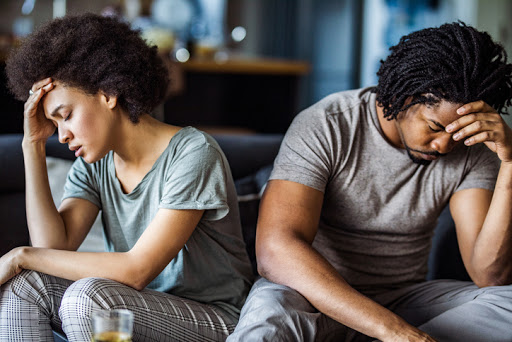 Ezekiel Mayowa resolved to spend the rest of his life with Temmy as he fondly called her. Having dated each other for a period of nine years filled with love and disagreements, Temmy reportedly decided to quit the relationship on the grounds of alleged physical abuse.
Researchers have explained that losing one's lover either to divorce, separation or death could be heart-wrenching and overwhelming. They emphasized how devastating it could be, physically and psychologically, for one to be jilted or divorced.
The emotional stress of a breakup is said to weaken the muscles around the heart, thereby leading to cardiac arrest and even death.
That was the beginning of a pensive mood that eventually led to his committing suicide on May 31, 2019.
A student at the Department of Hospitality Management Technology, Lagos State Polytechnic, 34-year-old Mayowa reportedly took a poisonous substance and died in his residence at Eyita, Ikorodu area of the state.
Moments before he killed himself, he had posted a video on Facebook, explaining why he took the decision. In the three-minute-18-second video, Mayowa bemoaned how Temmy ended the relationship after she commenced her National Youth Service Corps programme.
Amid sobs, he lamented that he had made several efforts to reconcile with his estranged lover, but to no avail. He stated in the video,
"I advise the Federal Government to scrap NYSC because that is where I lost my joy; my love. I am not a bad boy; I am not wicked. Since my woman got into that (NYSC) camp, everything changed. Since last year, we've not been able to resolve anything. My woman is now taking an advantage of the mistake I made three years ago to leave me.

"I am going, I need to go, Bolaji Temmy is the woman I'm talking about. I need to go…. I will miss my mum. Mummy, please don't cry. I have chosen my own path…I will miss you all. Your president is going…I am going. I am going now. I am empty. Bye."
Mayowa died untimely with all his dreams unable to overcome the anguish of heartbreak. As sad as it was, he was among several heartbroken lovers – men and women – who had chosen to tread that tragic path.
A biological anthropologist, Dr. Helen Fisher, argued that heartbreak activates many of the areas of the brain as physical pain. An Associate Professor at the University of Toronto, Geoff MacDonald, affirmed Fisher's claim, stating that the pain centers in the brain cannot differentiate between physical pain and emotional pain.
From the foregoing, it is no gainsaying the fact that the task of healing from heartbreak could be grueling. The circumstance, according to Vicki Tiede, a respected motivational speaker, presents two options: "going through the experience of growing through it."
Mayowa went through the agony of a breakup and unfortunately, it consumed him. However, experts have posited a number of methods to cope with heartbreak and grow through it to be a better person.
SEE ALSO: Woman Tells Heartbreaking Story Of How She Was Left At The Altar On Her Wedding Day
The coping strategies are summed up in seven ways below.
Mourn your feelings
A New York-based psychotherapist, Rebecca Hendrix, noted that it's normal to feel a flood of emotions when a breakup occurs. "It's a trauma. It's a shock to your system. And as with any type of emotional shock, you want to allow yourself to feel your feelings," she said.
She warned that days following the breakup would come with lots of cries amid feelings of grief, denial, anger, bargaining, and depression. Refusing to admit those emotions would only keep them locked inside for a longer period, she maintained.
Dealing with divorce, for instance, is like dealing with death, said a clinical psychologist, Barbara Dydyk, who stated that isn't unusual for anyone in that situation to grieve.
During separation or divorce, one would experience feelings akin to mourning the death of a close relative or friend.
"It's the death of your marriage and the death of all the fantasies you had about the future together," Dydyk added.
So, it is necessary to mourn and let the tears flow. Feeling these low moments serve as a pathway for one to move through the difficult experience, Hendrix remarked.
Overcome your feelings
Although it is important to grieve over heartbreak and its attendant feelings, care needs are taken not to becoming them, Hendrix warned. So if one feels sad, it is not out of place to wallow for a given time, crying screaming, and yelling.
Within that period, an hour, for instance, it is reasonable to let out one's emotions freely, but when the time is up, stop and move on to something else.
Anger and bitterness will erupt from a broken heart at any slight chance of being symptoms of hurt but Dydyk advised people who find themselves in that circumstance to 'reframe' their anger by focusing on the real hurt that underlies the rage.
"Once you acknowledge how you've been hurt you can begin to deal with it on your own rather than expect the offender to fix it,"
she said.
She further noted that when one is in the thick of heartbreak, it can be hard to imagine a flip to feel-good moments. But trusting that the pain won't last forever and that time heals wounds could help one overcome such trying times.
Also, she stated that one needs to cope with the impulses of having to text one's ex, checking their social media handles, or reminiscing every detail of your last outing.
The urges are part of the natural withdrawal process that occurs after heartbreak, but getting obsessed by spending much time over such feelings might be killing. In such a scenario, Hendrix advised that it might be wise to reach out to a coach or therapist for support.
Stop fighting with your ex
Calling out one's ex is likened to keeping an unhappy relationship alive and inhibiting the healing of a broken heart.
"If you're still fighting five or 10 years later, what I'll frequently say to people is 'you're still married!' You talk about being separated but you're married to each other through your anger,"
Dydyk stated.
To deal with this condition, Elle Huerta, the founder of an online community app designed to help people post-breakup, proposed cutting off communication with one's ex.
"When your partner is no longer there, you start to crave those feel-good hormones," she explained. "If you give in to this feeling and see your ex again, you'll struggle to move forward and find yourself stuck months and maybe even years later."
Hendrix described this method as healthy as it allows one to break the attachment to one's former partner. She, however, said the brief, occasional communication is not a bad idea.
"Just be cautious that those innocent check-ins don't become a habit. Every time you talk to them, you open up another energy tie between you, and your goal is to break those energetic ties, not to keep creating them,"
Hendrix added.
SEE ALSO: Ex-presidential Aide, Reno Omokri's Simple Advice To Women Who Want To Avoid Heartbreaks
Find a support system
Another way to grow through heartbreak is by confiding in and hanging out with close, trusted, caring friends and relations.
A clinical psychologist in New York City, Franklin Porter, noted that a number of people had been on the receiving end of a breakup at one time or another, "and commiserating with them, sharing experiences, getting counsel can be highly beneficial."
To feel the voids that breakup may cause, he advised on exploring new routines. In this regard, Hendrix,
"If you and your ex always went to the movies every Friday, now your Friday nights are wide open, but instead of wallowing alone, proactively call your friends and make plans."
Engage in things that give happiness
Focusing on pains occasioned by heartbreak only makes one feel worse; rather, it is good to take time to do things that make one happy. One option is to revisit activities that used to make one feel happy or start doing one small thing that makes one excited every day and build on it.
Also, experts posited that documenting one's experiences is a great way to process feelings, especially painful ones. For healing, they suggested documentation of positive feelings rather than miserable ones.
Exercise
Exercising the body has numerous benefits, including physical and mental strength. Exercise animates the heart and can make someone suffering from heartbreak feel a little bit alive again.
Leisure activities such as jogging, biking, swimming, and dancing can help in reducing the stress level.
"The endorphins produced during exercise will help with the withdrawal symptoms post-breakup, and it also helps you build confidence in yourself,"
Huerta added.
Date again cautiously
After getting your heart shattered, it can be tempting to instantly pick up the pieces and move on. Hendrix warned against dating too soon after heartbreak. According to her, if the wound is still painful, it is not ideal to rush into dating again,
However, the psychotherapist explained that having another shot at dating could provide a healthy confidence boost for a bruised ego.
Some people feel like dating right away.
"If that's how you feel–go for it. But if your friends are pressuring you and you don't feel ready for it, don't do it," Hendrix said.
Sources: www.glamour.com, www.karencovy.com, www.chatelaine.com