For Nollywood Actress Opeyemi Aiyeola, The Popular Saying That The Woman Keeps The Home Is Not The Case For Her And Her Husband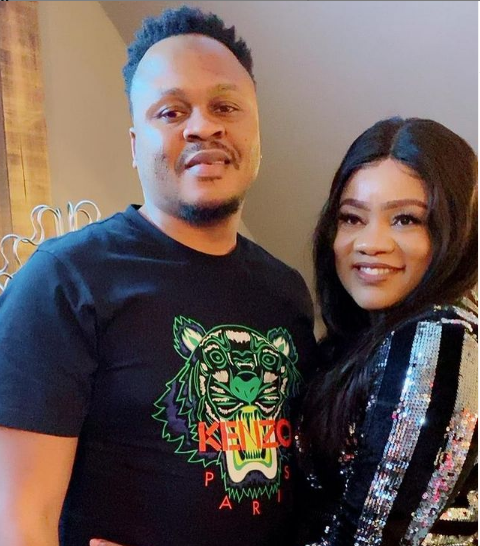 For choosing to love her unconditionally, Nollywood star actress and producer, Opeyemi Aiyeola started her day by praising her husband, Olayiwola Babatunde Abdulwakil, of over 14 years.
According to the actress who credits the success of her marriage to her hubby, Olayiwola has been nothing short of the best loving and caring husband she always wanted and he loves her unconditionally despite her flaws and shortcomings.
The stunning mom-of-three who is currently based in the UK with her family, further described him as someone who has been her dumping ground for years, not because he is weak, but because he is highly compassionate, loving, peaceful, and God sent.
Aiyeola went on to note that there is a common belief that women are responsible for keeping the marriage whole. Aiyeola, however, said in her case she is proud to say that her husband has been the one keeping their home from falling apart.
READ ALSO: Nollywood Actress Opeyemi Aiyeola Speaks on Balancing Motherhood & Career
"Starting my day by appreciating this rare being Olayiwola Babatunde Abdulwakil ?❤️. Forget the height and tough look oooo this guy has been my dumping ground for over 14 years and he knows he will forever be??. He gets the good ( which is rare ?) , bad and ugly side of me regularly and guess what?

He has chosen to love me unconditionally. He acts like mumu every time I start my Sagamu ijogbon not because he's weak but because he is highly compassionate, loving, peaceful n my Gods sent??❤️.

People say the woman keeps the home but not in our case ooo. I am proud to say my @olasexcy is the glue holding my home together and for that Oluwa o Seun mi???.

So please never praise me for my successful marriage cos if you do only God will forgive you, it's all thanks to God and @olasexcy ???❤️ Pls guys help celebrate n say a prayer for him. Daddy SDnB is world's best ???."
READ ALSO: Nollywood Actress, Opeyemi Aiyeola Shares Son's Survival Story as He Turns 5
Some weeks ago, Aiyeola took to Instagram to express excitement on the adoption of a little girl into her family of four. According to the sweet mother, herself and her husband decided to adopt the girl in addition to their two boys.