A Look Back At Queen Elizabeth And Late Husband, Prince Philip's Love Story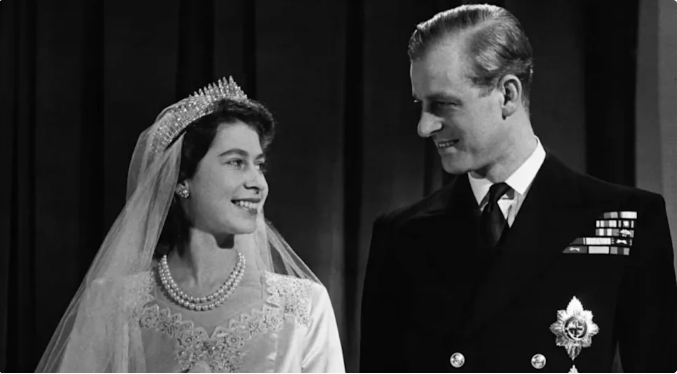 Queen Elizabeth II and Prince Philip's romance is a love story for the ages.
Yesterday, April 9, Buckingham Palace released a statement on behalf of Her Majesty announcing the Duke of Edinburgh died "peacefully" at Windsor Castle at the age of 99.
As the Queen's husband for more than 73 years, Prince Philip served as the longest-serving Prince consort in British Royal family history.
The royal pair led a public life of service to the United Kingdom and the Commonwealth and remained committed partners and parents to their four children, eight grandchildren and 10 great-grandchildren.
In a past interview, Queen Elizabeth (then Princess Elizabeth) recalls meeting Prince Philip in 1939 when she was only 13 at the Britannia Royal Naval College in Dartmouth. At the time, Philip was an 18-year-old cadet in the Navy and served the British forces during WWII.
Philip is said to have caught the young princess's eye by jumping over tennis nets and entertaining her.
"This was the man whom Princess Elizabeth had been in love from their first meeting,"
official royal biographer, Sir John Wheeler-Bennett has said.
Although the war made it difficult for them to see one another, Philip was invited to celebrate Christmas with the royal family at Windsor Castle in 1943, causing the press to speculate about the relationship between the young officer and Princess Elizabeth.
While it's been reported that the two were secretly engaged a year prior, Princess Elizabeth and Prince Philip of Denmark and Greece officially announced their engagement on July 9, 1947, shortly after Elizabeth's 21st birthday.
Since Britain was still recovering from WWII, Elizabeth began saving up her clothing ration coupons to purchase her wedding dress, and was granted 200 extra coupons.
In a touching sign of affection, British admirers began mailing their coupons to the young Princess to help pay for for an elaborate gown.
Elizabeth sent each coupon back with a note, since it was illegal to transfer ration coupons — and maintained a tight budget for the wedding planning.
READ ALSO: BREAKING: Duke Of Edinburgh, Prince Philip Passes Away At 99
Sir Norman Bishop Hartnell, the royal dressmaker at the time for the then Queen Elizabeth (The Queen Mother) and Princess Elizabeth, submitted several designs to the bride-to-be. Once the winning design was chosen in mid-August, there was less than three months for the dress to be made.
The dress took 350 women seven weeks to make the gown that featured a fifteen foot train and 10,000 seed pearls imported from the United States. Made from ivory duchesse satin, Hartnell drew inspiration from Botticelli's 1482 painting Primavera.
Matching duchesse satin high-heeled sandals were made for Elizabeth by Edward Rayne, featuring silver trim and seed pearl buckles. Hartnell added a secret good luck charm to Elizabeth's gown, a four leaf clover hidden among the floral emblems of the skirt.
Princess Elizabeth wore two pearl necklaces on her wedding day, that were gifted to her from her father, King George VI.
However, on the morning of the wedding, the necklace was nowhere to be found at Buckingham Palace. Jock Colville, Elizabeth's private secretary had to travel to St. James's Palace and retrieve the necklace that was on display with the couple's wedding gifts.
SEE ALSO: Why Prince Harry and Meghan Say The Queen Does Not Own The Word 'Royal' In A New Statement
Colville took a car still carrying the King Haakon VII of Norway, but due to traffic, made the rest of the trip to St. James's Palace, back to Buckingham Palace on foot.
More jewellery drama occurred — the diamond tiara that belonged to Elizabeth's grandmother, Queen Mary, broke in two, and had to be quickly repaired. With only two hours before the wedding, a royal court jeweller quickly repaired the tiara — although in wedding photos, you can see a large gap between the centrepiece and the diamond spike to it's right.
More than 200 million people tuned in to listen to the radio broadcast of the November 20 1947 wedding of Princess Elizabeth to Philip (the newly appointed Duke of Edinburgh) at Westminster Abbey in front of 2,000 guests.
The cake, which was nine-feet-tall, had four tiers and was made from ingredients from all over the world. Sugar was brought in from the Girl Guides in Australia, giving the cake the nickname, the "10,000 mile cake."
Decorated with the coat of arms of both families, Philip cut the cake using his wedding gift from King George VI, a sword.
The couple received more than 10,000 telegrams congratulating them, and more than 2,500 gifts. Princess Margaret gifted her sister a picnic basket, while Queen Mary chose a bookcase. Mahatma Gandhi gifted the newlyweds a piece of cotton lace that he spun himself, with "Jai Hind" (Victory for India) embroidered on it.
The couple left to honeymoon at both Balmoral castle in Scotland and Philip's uncle's home, Earl Louis Mountbatten's in Broadlands, Hampshire. Elizabeth brought along her favourite corgi, Susan.