'I Dare Annie To Bring Out Any Evidence…' -Tuface's Baby Mama, Pero Finally Breaks Silence In Explosive Interview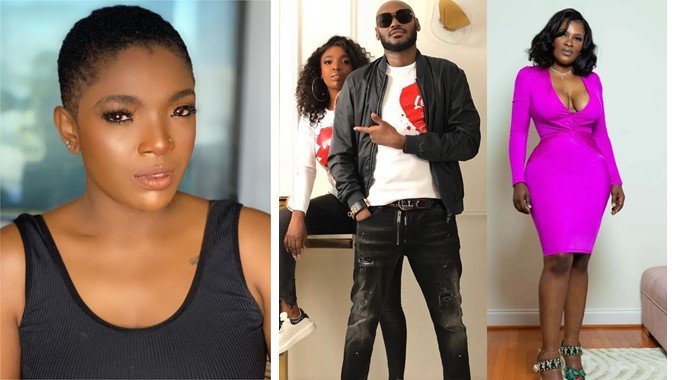 Tuface Idibia's baby mama, Pero Adeniyi has finally spoken up after the singer's wife, Annie Idibia called him out for sleeping under same roof with her (Pero) while visiting the kids they share.
Annie who noted that she has made many sacrifices for Tuface, had claimed that his baby mamas "use their kids as an excuse for all sort of rubbish". The mom-of-2 wrote at the time;
"I am a patient woman. I am not a fool innocent. Your family never loved me from the beginning. No matter how hard I tried. I was never worthy to them. I have made so many sacrifices for you and all your children. God knows I have I tried.

Your baby mamas constantly use your children as an excuse for all sort of rubbish. I try to stay gracious. You are not the first man on the planet to have kids by different women. You can do better.

Everything I do is to show the good human that you are. But today, this move done by you, Efe, Frankie and your family is unacceptable.

What kind of man takes his kids to Disney and spend nights in the same apartment with his kids and their mother? How many times have you gone to see your kids with Pero? and she stay with you and the kids under the same roof?"
Pero, mom-of-3, who is currently in Abuja, has now put out a post, addressing the claim she described as a "lie". Also responding to alleged calls for her to speak her truth after Annie's outburst and after her friends described her (Pero) as "Tuface's first wife", she stated that she will be guarding her truth as people will still poke holes in it if she speaks.
She also alleged that the "liar who started all these madness" knows the truth and needs the lie to stay relevant. Claiming that the truth will soon be out for everyone to see, Pero averred that even though she has been insulted and dragged online, she is yet to see anyone insult has killed.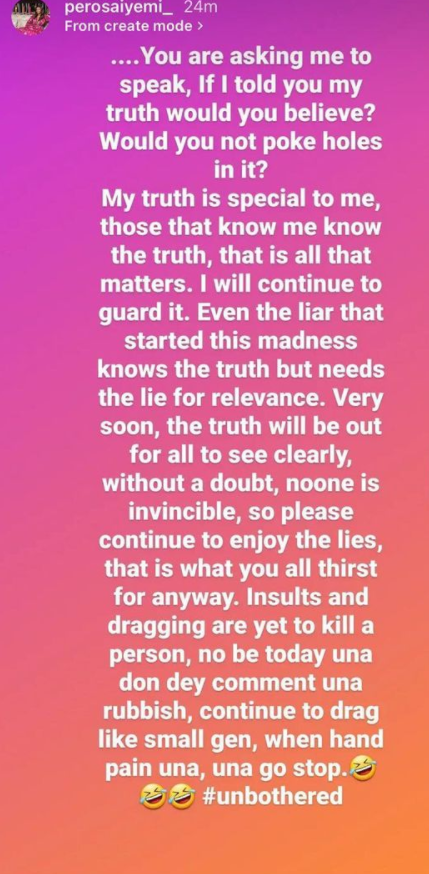 Annie and Pero's rift can be traced back to 2015 and 2016 when they both called each other out on social media.
Their relationship took a different turn when photos of 2Face reportedly kissing Pero at his nightclub back in 2015 broke the Internet.
In a very recent interview, Pero stated that she is not the one behind the crisis in the home of the Idibias and as a matter of fact, she claims she hasn't spoken to 2face Idibia in 4 months now. She added that she advised Annie Idibia in 2019 to focus on making her marriage work by being a good wife.
Read excerpts from Pero's interview with SDK earlier today, October 16, 2021 below:
Did 2face run off to America to stay with you?

I heard he came to America in August but we didn't see. its not every time he comes to America that we see. His brother lives there, so its possible that he may have gone there to stay with him…
My boyfriend was even with me the last time i heard 2face was supposed to be with me and I was quite shocked and wondered if there are two Peros.
When that story broke, I got so many calls that woke me up that I had to make calls to find out what was wrong and I called his manager and he told me 'Pero this is not about you'
If it was not about me, why is my name mentioned?
What is your relationship status with Tuface?
I had not even spoken to him for about four months before I was woken up with calls to go and see I am trending online because Annie mentioned that he had run off to stay with me in America.. We don't really talk and we are not friends. It is because of this same reason that I have stayed away from him.
When last did you see Annie
The last time I saw Annie was in 2019 and I had a convo with her and advised her to try and be a good wife and work on making her Marriage work.
She knows I am not the issue in the marriage and I wonder why she would mention my name.. She knows Tuface and I are not in contact because she keeps a tab on my activities from what I hear… The truth is that I am too busy with my life and kids to be running after Tuface.
This dragging on the Internet and all these lies are uncalled for really.
You and 2face were both allegedly spotted in Abuja…
I left America with my boyfriend and we landed Abuja and I have been with him since then… I am always amazed to read these things but people who know the truth know it.
I am always told to keep quiet and not involve myself in any drama but for how long will i keep quiet?
There is a viral video where two Ladies referred to you as Tuface's first wife..
Those two Ladies in the video, one of them is Tuface's cousin and they know the truth…they wonder why I have been on my lane and I keep getting dragged into Annies marital drama. They are the only ones who can explain why they said what they said in the video.
I am at peace with everyone. I have three kids for their brother so visiting me when I am in the Country should not be an issue or make headlines… I cannot answer why they made the video and posted it
I was upset at first but then I had to let go, I am a happy person and have no time to waste on anger of any kind.
So why Did Annie mention your name in the voice note that leaked?
Help me ask Her why she dragged me into her marital drama when she knows well that I do not have contact with her husband? she knows. Why am I her easy target to gain sympathy online? Why try to make me responsible if your marriage is failing? I dare her to bring out any evidence of me and Tuface together as a couple? There is even no relationship at all.
I have stayed out of their lives to avoid drama even to the detriment of my three kids with Tuface, so why always drag me into it? Don't you think I will be mentally sick if I am still after Tuface at this point in my life? I have everything going so well for me.
I am in a relationship and I am happy and at peace…My boyfriend is even with me right now and is really surprised at all this stories that are not true….
I heard that anybody around Tuface that calls my name becomes an automatic enemy to Annie….Is everyone supposed to hate me because she does?
She fights his friends who are nice to me…I am like for Christ sake, you are a wife, face your marriage and leave me out of it. I am a private person and don't do my things on the Internet so how am I supposed to come online and start dragging with her that she things she has said  are lies? I would rather spend that energy making money.
Why are you in Nigeria?
I am in Nigeria to attend my cousins wedding today and I am attending with my boyfriend.
What about the wedding rings spotted on your finger?
Wedding rings? I had on fashion rings.
Any closing words?.
I really was not going to pay any attention to all these talks but since you called to hear me out, I have no choice but to respond. I read all the comments Online and I am quite shocked how easily people can be manipulated and how easily lies can be believed….
I am not the reason Annie's marriage is troubled, let her look for the cause and fix it and leave me out of it and stop mentioning my name anytime there is a problem. I wish them both all the best and I pray I will be left alone. This is my truth and it remains so… Thank you.