'Some Of You Men Are Wicked' -Nigerian Man Tells His Family's Experience In Reaction To Man Who Complained That His Wife Has Refused To Take Care Of His Blind Mum
A Nigerian man has taken to Twitter to share his family's experience in reaction to a man who complained that his wife has refused to care for his aged mother.
The man, @WarriorsAbia stirred reactions on Twitter days ago when he shared a marital issue he is currently going through.
According to the man, his wife wants him to abandon his mother who is aged and blind. He noted that he is living abroad and his wife is in Nigeria taking care of their two young kids.
He added that he invited his mother, who is aged and almost blind, to stay with his wife so she can care for the elderly woman but his wife has a problem with his decision.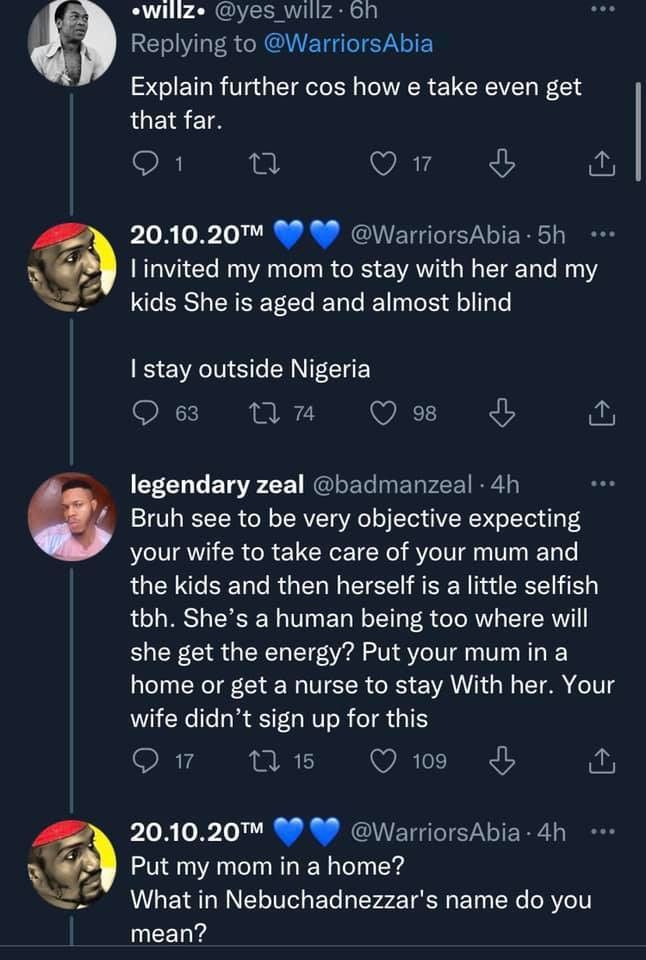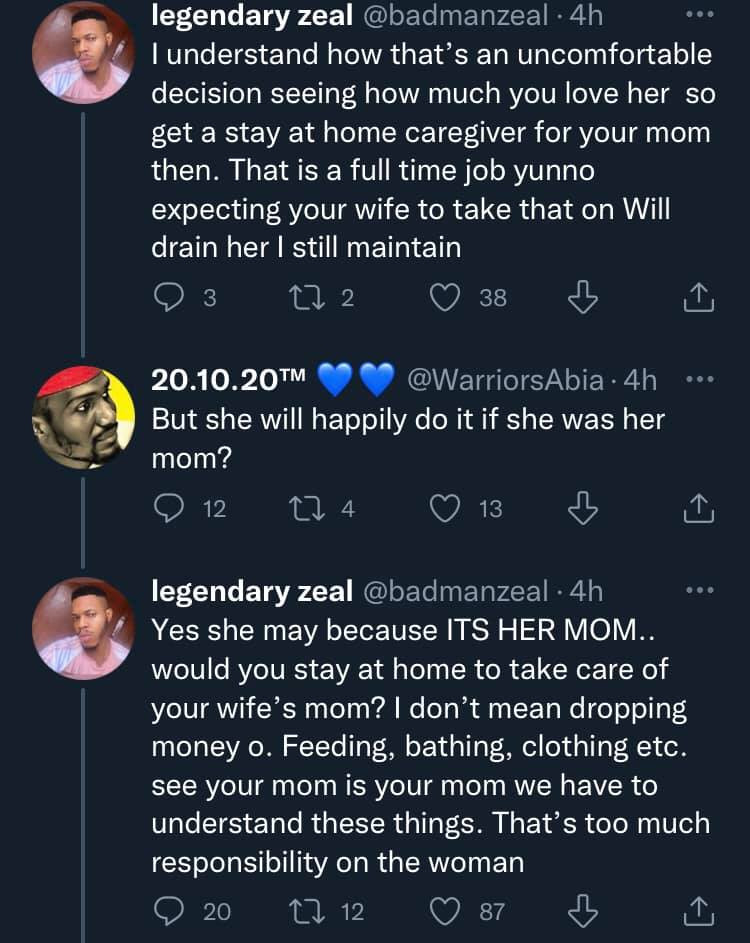 His post led to a debate. A particular Nigerian man named Ugwunna Ejikem shared a counter opinion stating that most Nigerian men are wicked and love to see their women suffer.
Ejikem queried the man for asking his aged mother to stay with his wife who already has kids she's taking care for, when he could have gotten a caregiver instead.
SEE ALSO: Nigerian Doctor, Ugwunna Ejikem Reveals How People Solicit His Help To Jilt Their Partners
The doctor went on to share his personal experience of how is elderly grandmother came to live with them and how it was hard for every family member, despite them employing professional caregivers.
He noted that in a short while, a number of caregivers left because the job was overwhelming. He asked why a man will expect his wife to be comfortable with single-handedly caring for two young kids and an aged mother while the husband is abroad.
Read his tweet below,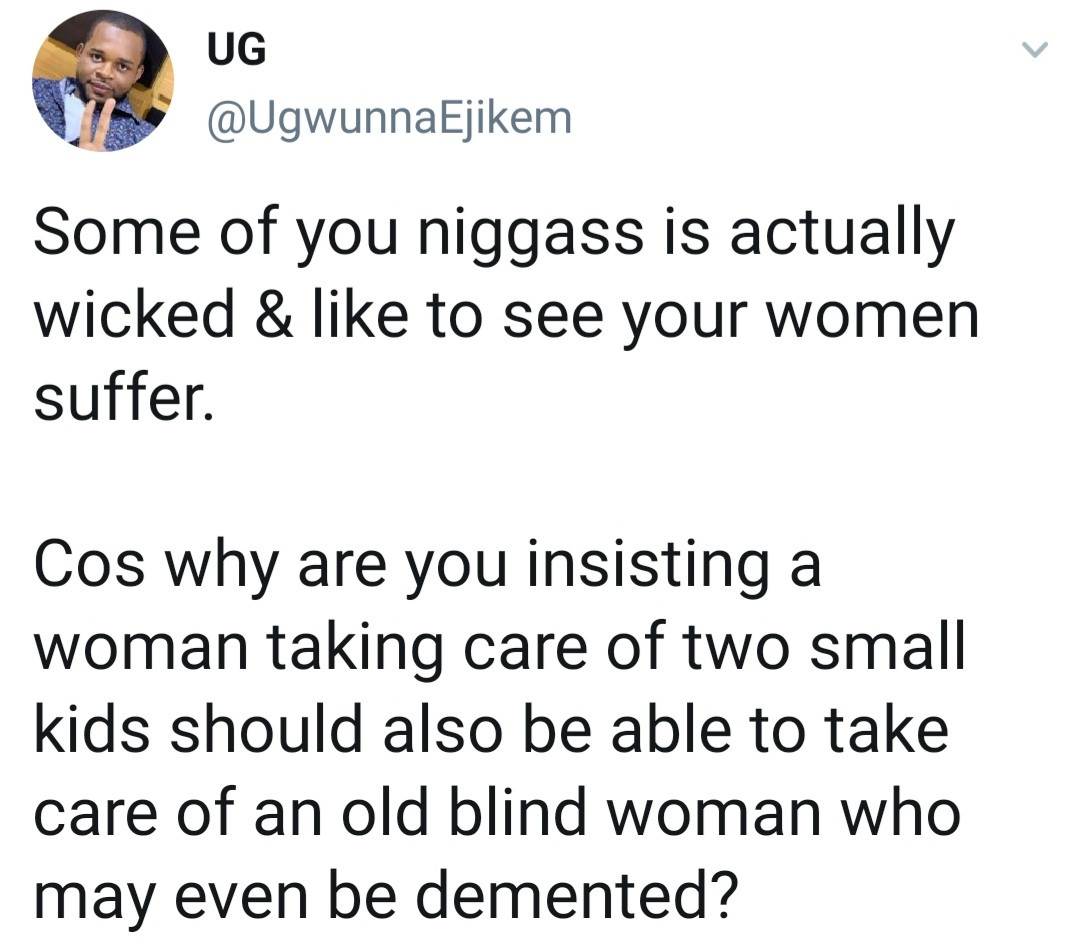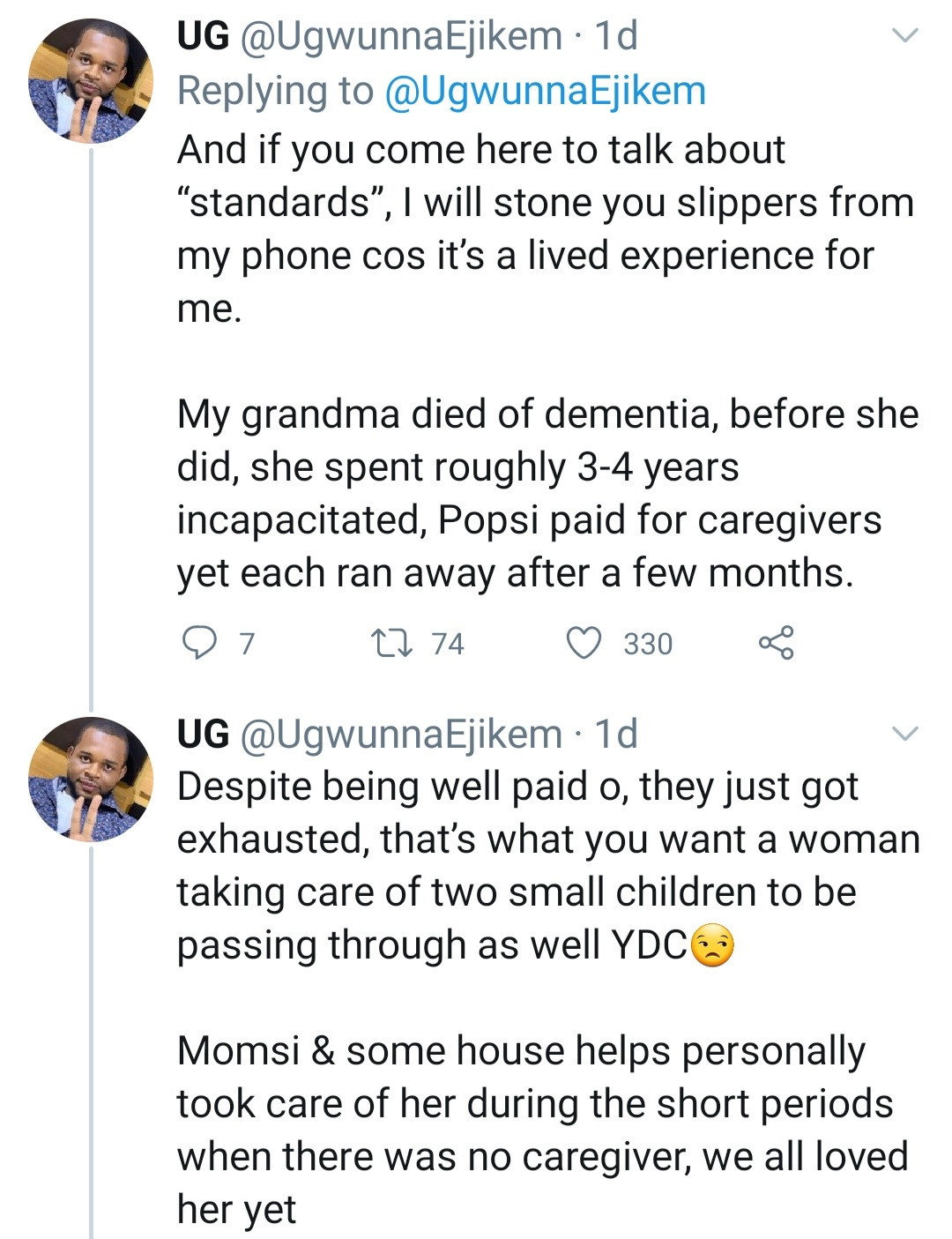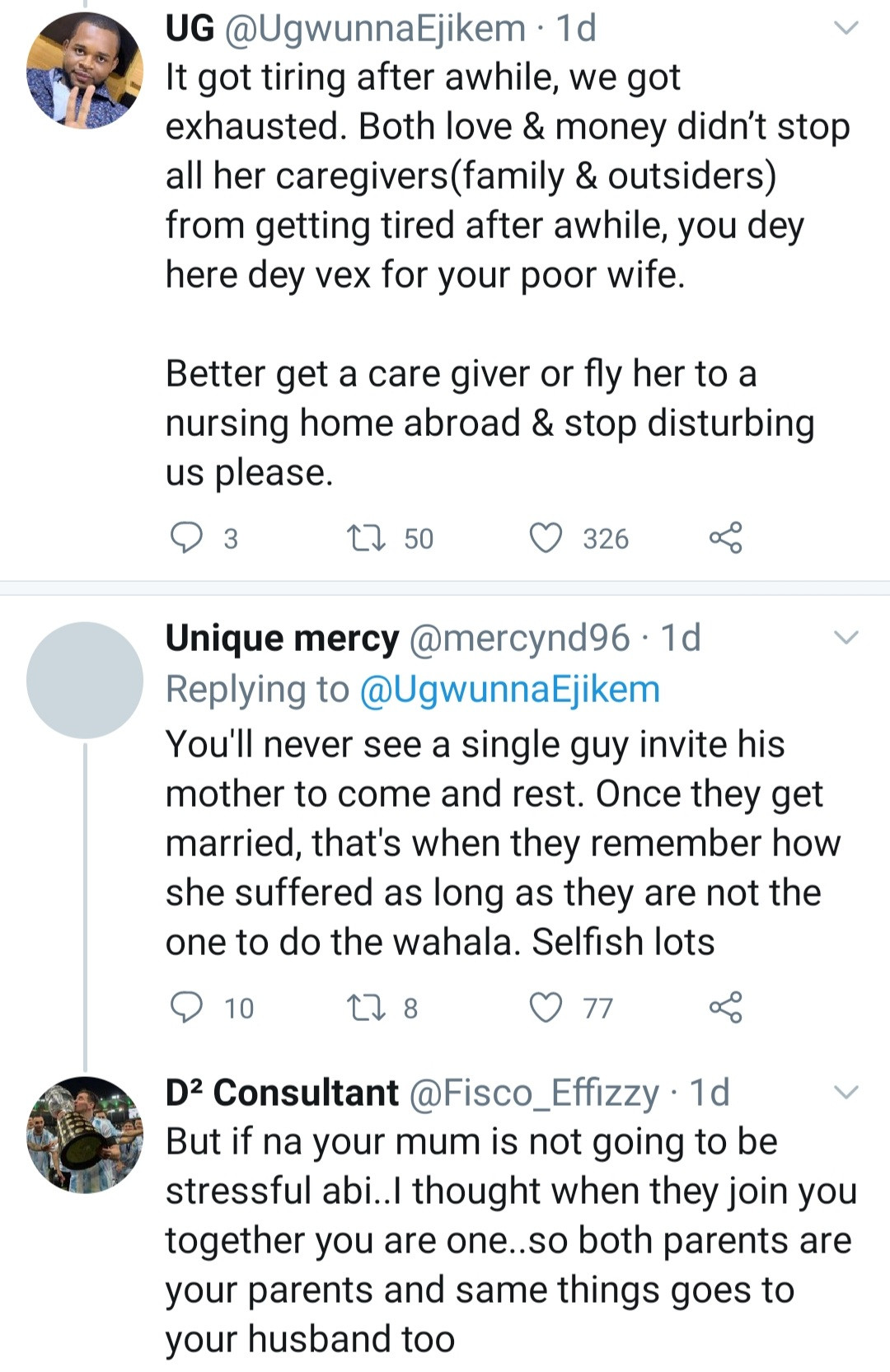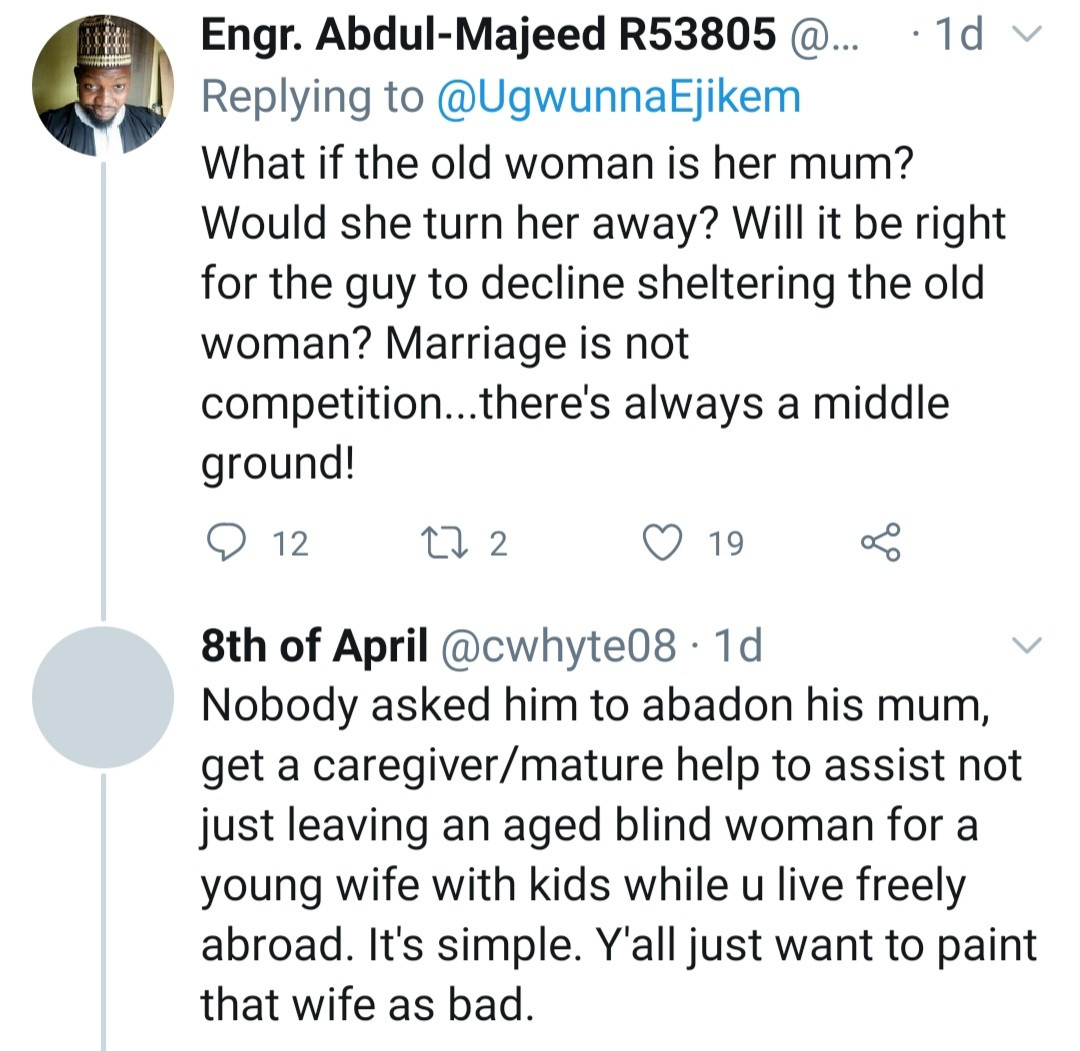 See more reactions below…
Your mother suffered for you not for your wife na. When she was breastfeeding you, did your wife join you? If you have money to live abroad, I am sure you have money to get a caregiver. By the way, what are you doing abroad without your wife and kids? My friend, will you come back home and take care of family and your mother that suffered for you! Stewpid
Paul