Tragic Story Of How 12-Year-Old Dowen College Student Was Allegedly Murdered By His Classmates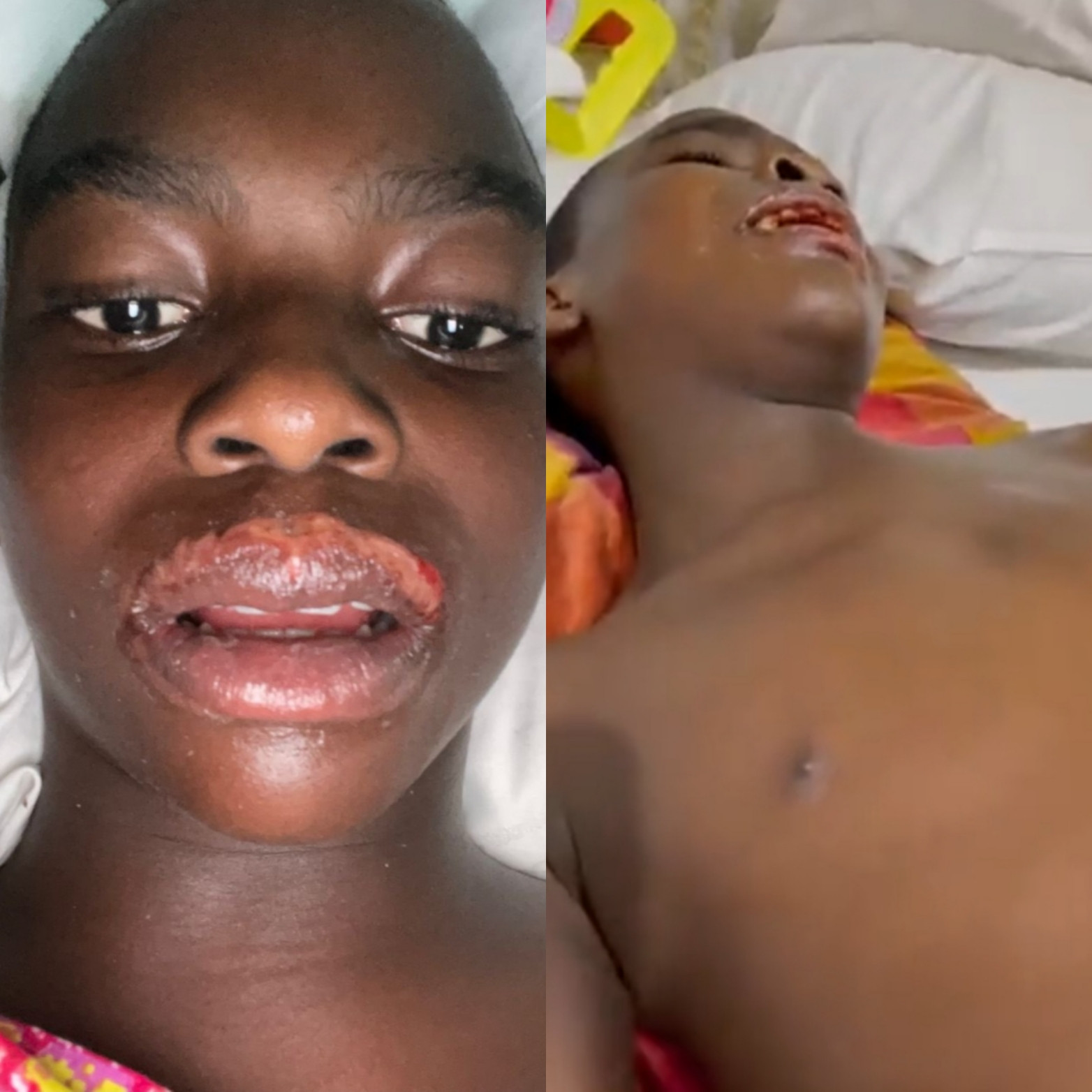 A heartbreaking story has been told of how Sylvester Oromoni, a 12-year-old student of Dowen College, located in Lekki area of Lagos State, was allegedly murdered by some cult groups.
The deceased was said to have been assaulted by some cult groups, who he identified before his death, as students of the college for refusing to join the fraternity.
Sylvester was admitted in a Lagos hospital on Friday following the attack and confirmed dead on Tuesday.
A relation of the deceased, Perrison Oromoni, took to the micro blogging site, Twitter on Wednesday, to announce his demise.
He revealed that the 12-year-old passed away on Tuesday after a series of tests and X-rays indicated that he sustained internal injuries from severe beating.
Subsequently, Dowen College released a statement, denying this report and stated that there is no cult group in the school. The school's management added that Sylvester injured his lips while playing football and, after initially administering first aid, his family was called to pick him.
Speaking further on the issue, Perrison said:
"We're from Delta State, but he goes to Dowen College in Lekki. They called my uncle because his son was injured when he was playing football. Reaching the hospital, it was confirmed that he was being bullied and beaten up, causing internal damages.

After tests and X-rays, it was confirmed he was beaten up badly. He died yesterday (Tuesday) morning, and his entire body was swollen.

Before his passing, he said they had been pressuring him to join a cult group.. He said they were going to kill him if he talked."
In a screenshot shared on  his blogging site, Perrison said the late Sylvester mentioned a few names of the students, who pressured him to join their cult group before he died. He said:
"Anybody that can kill me should kill me now. My brother won't die for nothing, Anslem Temile, Michael Kashamu and Benjamin Favour and Dowen college, just know he called your names before he died."
According to a media report, a representative of Dowen College, Ayomide Falona, said investigations have begun into the matter while refuting the claims of assault.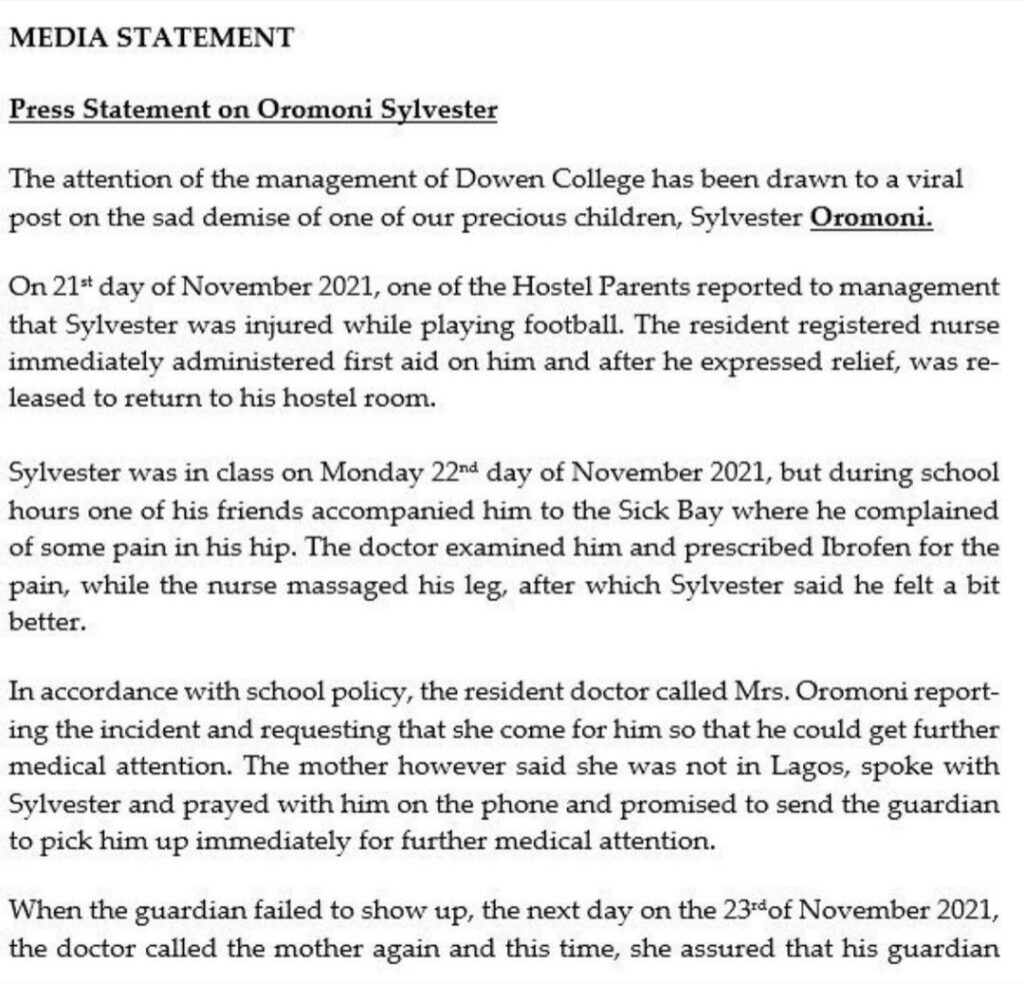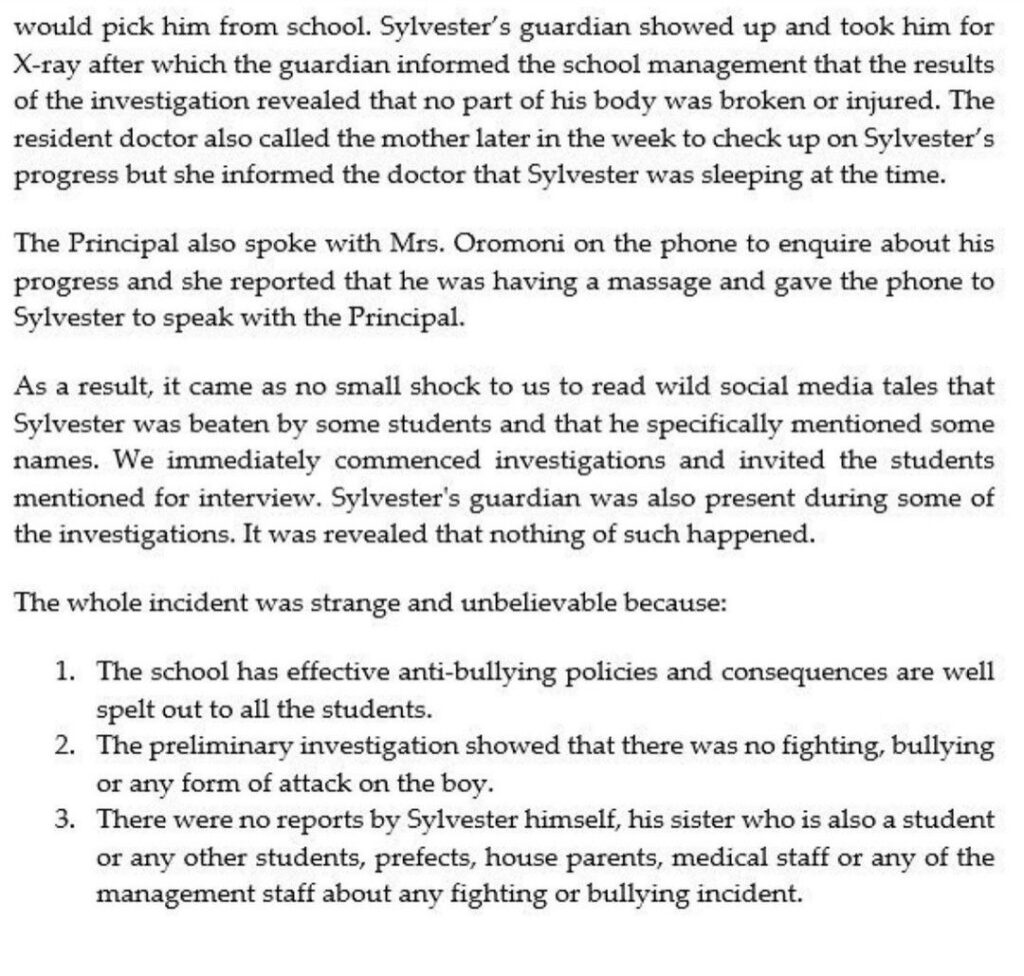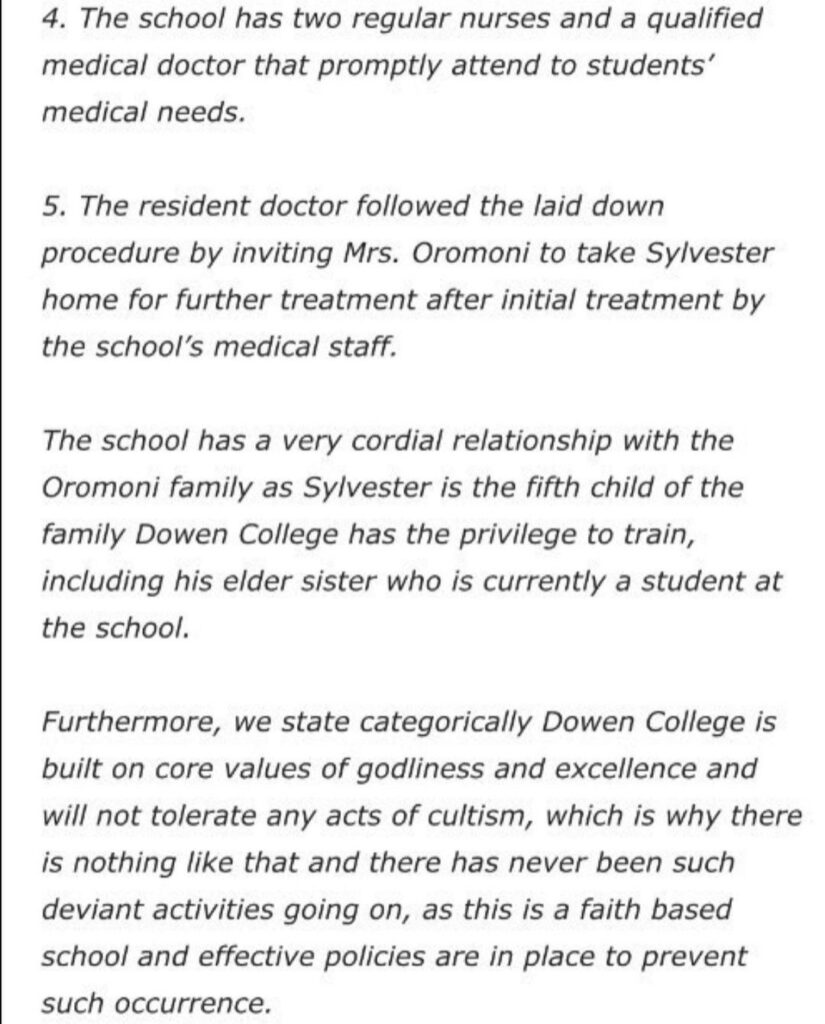 But the boy's family has released videos and a photo to show that it wasn't just a hip injury that killed their son.
A photo shows Sylvester with bruised lips and the family said he got that after being forced by the boys at school to consume a substance.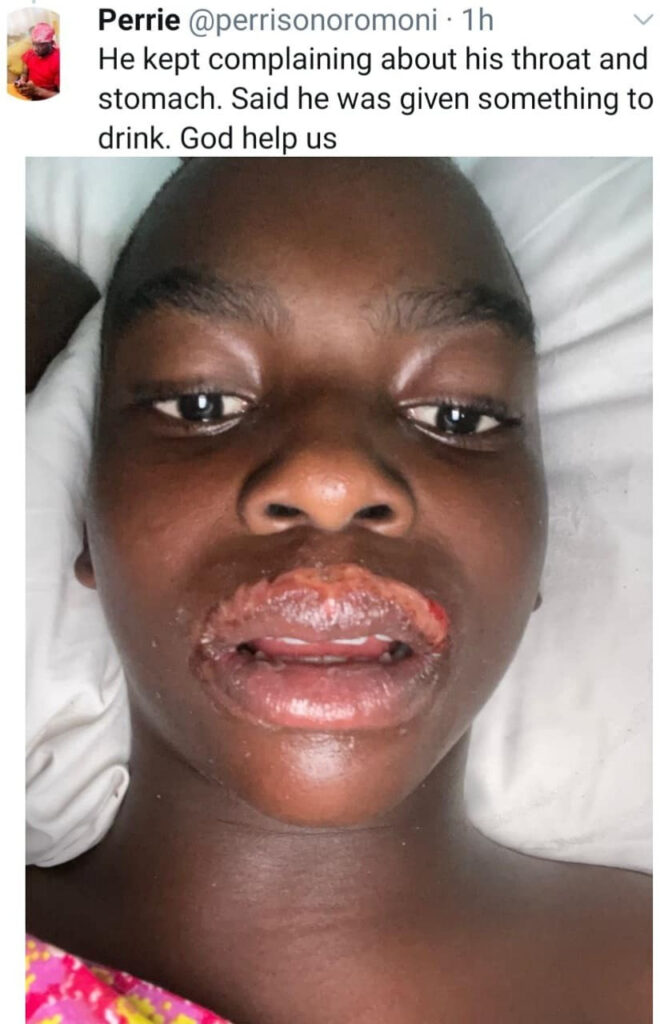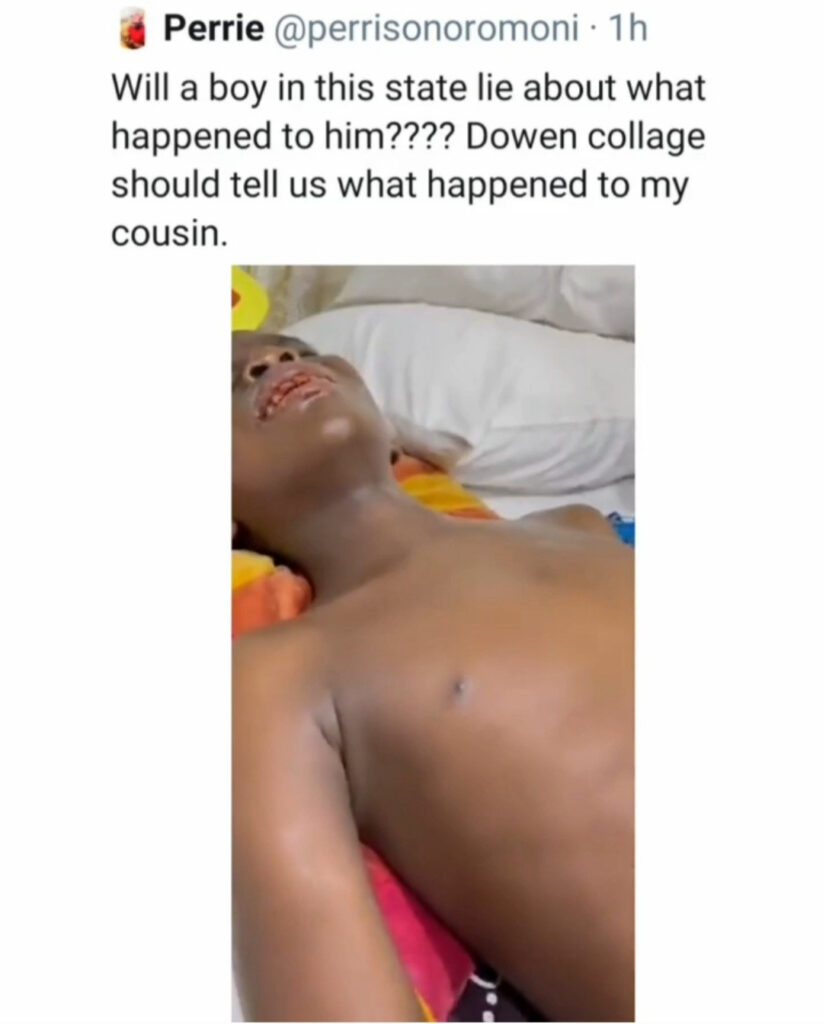 His family members are heard cursing the people who inflicted such injuries on their son.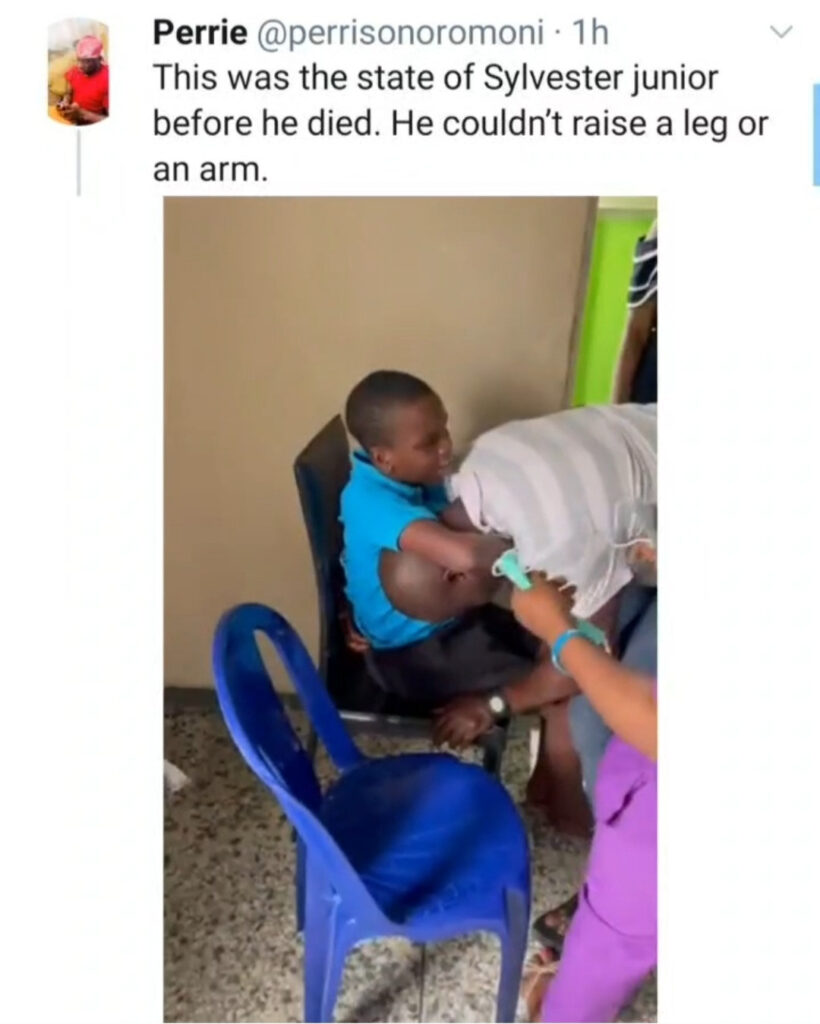 Condemning the act, Nigerians on Twitter have called on security agencies to look into the situation while urging parents to monitor their wards who are boarders.
A Twitter user @Shelleofficial who did his National Youth Service at the school said parents whose children attend the college contribute largely to children's waywardness as many refuse to allow their children to be corrected by teachers.
"May God rest his soul. I served in Dowen College and the problem mostly is that parents don't want their children scolded by a teacher, teachers don't want to lose jobs, schools don't want to lose money! Business for school, jobs for teachers and spoiled brat for parents!"

"This day there is no difference between a Christian boarding school and a normal school. The atrocities that happen are the same. The country is hard and most women now work, that's why people choose boarding for their kids. But is it the way to go? Things are happening faa,"
@purity_gifts.
Nollywood actresses and moms, Tonto Dikeh and Caroline Danjuma, also joined other Nigerians in reacting to the quite tragic story.
Caroline in her reaction, called for the closure of the school until an investigation exonerates them while Tonto in her reaction said children shouldn't be sent to school and end up dead.
See their reaction,