Chronic Pelvic, Menstrual Pain In Teens: Here Are What Fertility Experts Want Parents To Know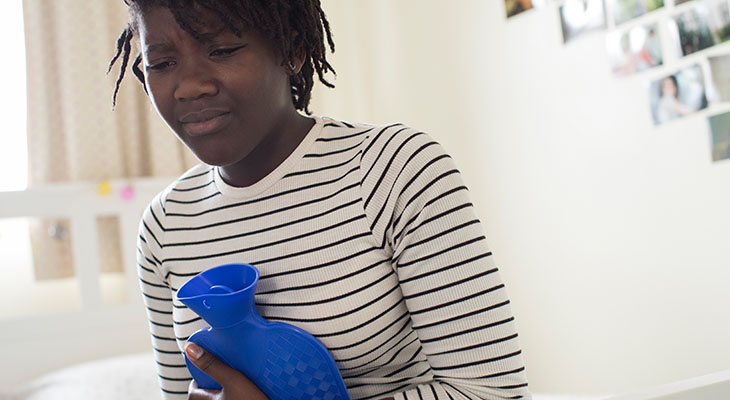 Period-related pain, medically known as dysmenorrhea, colloquially often called "cramps" can be very debilitating for any woman.
Speaking with PUNCH HealthWise, fertility experts, Prof. Oladapo Ashiru, Dr. Faye Iketubosin, and Dr. Mojisola Aderonmu, have urged parents to pay attention to pains their daughters experience during menstruation, noting that it could be an indicator of a more severe health condition known as endometriosis.
The experts cautioned parents against ignoring menstrual pain in their teenage children, stressing that it is wrong to assume that such pain is normal.
According to the experts, early diagnosis of endometriosis is crucial to the management of the health condition. The experts noted that endometriosis can now be diagnosed in teenagers, adding that the condition is often characterised by lower pelvic pain as well as heavy bleeding during menstrual periods.
According to mayoclinic.com – an academic medical center focused on integrated health care, education, and research, endometriosis is an often-painful disorder where tissue similar to the tissue that normally lines the inside of the uterus grows outside of the uterus.
It is a disease that affects the reproductive health of a woman. The site noted that endometriosis usually affects ovaries, fallopian tubes as well as the tissue lining the pelvis.
The experts, however, noted that endometriosis can be successfully managed and treated when diagnosed early.
Ashiru, who is the Chief Medical Director of the Medical Art Centre Clinic, stated that endometriosis is a condition that affects one in 10 women within the reproductive age, adding that 176 million women are estimated to live with the condition globally.
The fertility expert noted that endometriosis can be found in 35 to 45 per cent of women who are trying to conceive but are dealing with infertility, noting that It occurs in about 20 per cent -25 per cent of females of the reproductive age (15-45 years).
SEE ALSO: Do You Know That Persistent Genital Itch, Severe Menstrual Pain May Be Signs Of Cancer? Read On As Three Women Relate Their Experiences 
He urged parents to pay attention to the symptoms their teenage daughters have during menstruation. He explained:
"Endometriosis occurs from the age of 15. It is also true that early diagnosis can help in the management."
Explaining the condition, Ashiru said that endometriosis is the occurrence of tissue that lines the womb outside of the womb which should be its natural place.
Ashiru, who is also the president, Academy of Medicine Specialties urged parents to pay attention to the severity of pain their teenage daughter experiences during menstruation as it could be an indicator of the condition.
He noted that endometriosis is a puzzling hormonal and immune disease affecting girls and women from as young as eight to post-menopause. He added:
"The name comes from the word endometrium, which is the tissue that lines the inside of the uterus and builds up and sheds each month in the menstrual cycle. It's a benign gynaecological condition."
He noted that previously the condition was mostly diagnosed in adulthood at an average age of 27 but with people showing more interest in their reproductive health, "endometriosis is now seen as early as age 15 to 18 unlike before at age 27 and above."
Speaking further, he said,
"The major impact of endometriosis is pain, menstrual disturbance, and infertility. With people showing more interest in their reproductive health, endometriosis is now seen as early as age 15 to 18."
While there is no clear cause for the condition, Ashiru said that the risk factors for the disease include; first-degree relatives affected, short menstrual cycles, cosmetics induced skin bleaching in women, long duration of menstrual flow, low parity, environmental toxins, and infertility.
Also speaking, Dr. Iketubosin, who is a Fertility Specialist at the George's Memorial Medical Centre, Lagos said that the most significant sign of endometriosis is severe menstrual pain that could cause the child to skip school.
"The most significant symptom is severe menstrual pain that makes it impossible for the teenage girl to go to school."
He acknowledged that sometimes this symptom may be overlooked because the pain is usually treated with painkillers, adding that the condition could go on for several years in patients before it is diagnosed. He said:
"Most young people have period pains but it will be treated with painkillers and so on and it can go on for several years.

"It is only when the child is not able to go to school, is vomiting, or in severe pain that the condition is taken seriously. That is when the parents often decide to see a doctor and even the doctors usually would manage the child for other things before even thinking about endometriosis.

"However, nowadays because people are more conscious of the fact that you can have it in young people, the diagnosis period is shortening." 
ALSO SEE: Painful Periods Can Play A Role In Infertility -Renowned Gynaecologist And Obstetrician, Dr. Abayomi Ajayi Explains
He posited that once a diagnosis is made, endometriosis can be treated successfully at any age.
Also speaking, Dr. Aderonmu explained that the commonest sign of endometriosis in a young girl is worsening dysmenorrhea. She said:
"The young girl may then notice that the pain is gradually worsening compared to when she first experienced her menses." 
Regarding the treatment, Aderonmu said that the long-term management of the condition would be based on the woman's goals.
"Management of endometriosis is based on extensive discussions between the doctor and the woman about her goals: pain management, menstrual problems, or fertility. These goals will be in flux and depend on what is most important to the woman at each point in time,"
Aderonmu added.