Pastor Ituah Ighodalo Talks Life After Wife, Ibidun's Death, What He's Learning From Being A Single Parent In New Interview
The senior pastor of the Trinity House Church, Ituah Ighodalo and his kids Unuakemonyi Olajumoke Ighodalo and Ehizenan Akintunde Ighodalo cover the January issue of Media Room Hub Magazine.
In his interview with the publication, the cleric gives details about his late wife Ibidunni Ighodalo, life after her death, what he is learning from being a single parent among other things in this no holds barred interview.
Recall that the cleric lost his wife, Ibidun Ighodalo in 2020 from a heart attack in her sleep.
Before her untimely death on June 14, 2020, Ibidunni was married to Pastor Ituah. They got married in Ibadan, Oyo State on 26 February 2007, followed by the traditional wedding three days later.
They courted for four years while their marriage lasted for 13 years and they had two adopted children, a boy and a girl before her sudden death at age 40.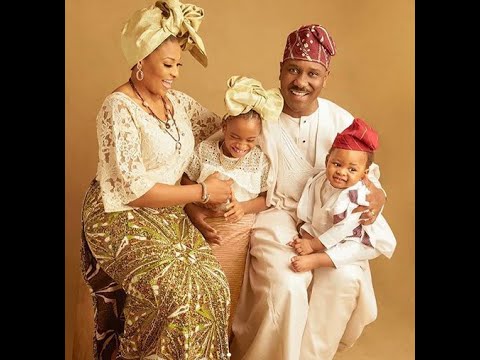 In a recent interview, the clergyman said although his late wife inspired him on parenting, he has amplified the process of raising their children on his own. He said:
"There is nothing that I didn't know when my wife was around, most of what I am doing, I did it when she was around because I was going to be a hands-on father, but now I have intensified it to compensate for the thing my wife would have done.

"My wife helped me, she trained me well and I also helped myself because I wanted to be a hands-on father, to be as involved in their life as I could and we had a very good partnership and relationship, but there are some things she used to do, but now I do them with joy.

"It's a privilege to have them in my life, it's a privilege for me to be part of their life."
READ ALSO: Ituah Ighodalo Speaks On Life Since The Untimely Death Of Wife, Ibidunni Ighodalo
Pastor Ituah and Ibidun clearly share an inseparable bond that even death couldn't break. Speaking further, Ituah stated that remarrying isn't in his thoughts for now, although he there's no assurance of what could happen in 10 or 20 years time.
The cleric also said that emotionally, he has given everything to his late wife, adding that he has nothing left for any other woman at the moment.
In his words:
"I loved Ibidun very much, I still love her. I gave her everything that I have, I don't think I have anything to give anybody again as I speak to you. I don't have it and it would be unfair to marry somebody who you cannot give everything.

"I gave Ibidun everything that I had to give in terms of love and looking after a person. I married her intentionally to look after her. I don't have that energy anymore and I don't want my life complicated with anything. I also don't need anything from anybody, so I'm okay as I am.

"I don't know what will happen in 10 years time, in 15 years time, in 20 years time, I don't know. But as I am now, it is not anything I think or desire.
ALSO SEE: Pastor Ituah Ighodalo Responds To Questions On Remarrying 10 Months After Wife, Ibidunni's Death
"I'm not looking for anything from anybody or any woman, I'm not looking for anything from them, I'm okay as I am. Ibidun tried and I tried for her and I'm okay. I just want to be at peace and fulfilled."
The cleric had last year said he might not marry again following the demise of his wife.
Watch his interview below: