36-Year-Old Woman Who Carried Ectopic Pregnancy For 9 Months Without Knowing And Delivered A Healthy Baby Girl Recounts Her Ordeal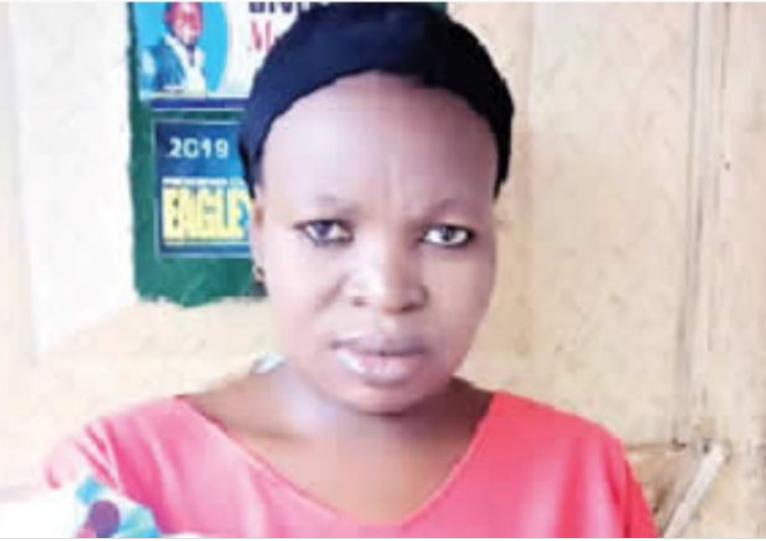 Ectopic pregnancies are pregnancies that occur outside the womb. It can be fatal for a pregnant woman and her unborn baby. This is because foetus (baby) rarely survives longer than a few weeks outside the womb.
A rare form of this pregnancy complication is abdominal ectopic pregnancy – one of the leading causes of maternal mortality and morbidity in the first trimester of pregnancy.
However, Mrs. Veronica Musa, a 36-year-old woman who carried an ectopic pregnancy to term without knowing, shares the extraordinary story of how she achieved the rare feat.
Veronica's face was a canvas of joy when the doctor told her she was pregnant. But for the firm hands of her husband, she would have turned the office into a dancing hall. It was her first pregnancy after two years of marriage.
She said:
"I was elated because I was well into my thirties and the pregnancy was a confirmation of my faith. I had prayed and trusted God, and when I saw the result, I broke out in joy."
Little did she know that it would be a journey filled with pains and confusion. It started with tummy pangs a couple of weeks into the pregnancy. At first, she thought it was the occasional discomfort associated with pregnancies.
But when the pain persisted, she went for medical clarification, which began her endless hospital visits and relentless fear that something could go wrong.
Veronica, however, noted that despite her worries that something was not right, she never knew that the baby was not growing in her womb all through her 37 weeks of pregnancy. She said:
"I never knew that the baby was growing inside my stomach and not in the womb." 
At the first scan clinic she visited, she was told that her womb was empty and there was no baby inside, instead they said she had multiple fibroids.
This deflated her joy, but she remained resolute with her faith that she was pregnant. 
With advice from doctors to go for further tests, she said that she visited about five more hospitals, adding that all the hospitals confirmed that she was actually pregnant. She noted that while this gladdens her heart, she was worried because she was always in pain.
Sharing her experience with PUNCH Healthwise, Veronica who hails from Edo State, said,
"During the course of the pregnancy, I was always having stomach pains.

"For some days, I would not be able to walk or stand straight. I was always going to the hospital and, the doctor would always treat me for malaria. 

"However, when my complaints persisted and I was not getting better, the doctor asked me to go for a scan.

"So we went for a scan. The first place I went to, they said I was not pregnant. The doctor said he was not seeing any pregnancy but rather multiple fibroids in the womb. 

"So, I went back to the hospital and the doctor asked me to go for another pregnancy test which I did. It was positive this time.

"He later referred me to another scan centre for examination. I went there and the doctor said there was a baby in my womb, but also confirmed that I had multiple fibroids.

"I did about five scans and they were always showing that the baby was in the womb. There was none that showed that the baby was in the stomach. So, the doctors also thought it was a normal womb pregnancy."
According to Veronica, there was nothing special about her pregnancy, adding that she did not even have special cravings like some pregnant women used to talk about.
She, however, noted that her husband was very supportive during her pregnancy. She said,
"He was very caring and supportive during this period. He has always been supportive, but during that period, he was extra supportive and caring. I also got the support of our family."
According to experts, a fibroid can block the opening of the uterus, or keep a baby from passing into the birth canal. 
Veronica said this was what happened in her case. She disclosed that even though she did not know she was carrying an abdominal ectopic pregnancy, the doctors had mentally prepared her for a caesarean session delivery because of the fibroid.
Veronica said,
"The doctor told me that I won't be able to give birth on my own, through my vagina and that we would have to do CS because the fibroid is blocking where the baby is supposed to pass through not knowing that the baby was not even inside the womb."
Dealing with constant pain
According to her, the doctors couldn't find a way to alleviate her pain. The pain, she said, was the elephant in the room, adding that it was constant in the lower part of her tummy. 
She disclosed that it was only on the day of her delivery that doctors found out she was carrying an abdominal ectopic pregnancy.
She shared further,
"On the day of the delivery, April 20, 2022, we were in the theatre. The doctor, a consultant-specialist from another hospital, opened my womb and did not see any baby there.

"The specialist asked the doctors if I was really pregnant. They went back and forth until the specialist saw movement in my stomach. 
"It was then that he closed up the womb and opened my stomach and saw the baby lying in my stomach. He was the one that said I had carried an abdominal ectopic pregnancy. I was surprised as I had never heard that before"
An abdominal ectopic pregnancy, according to experts, occurs when a developing embryo implants and grows within the peritoneal cavity. 
In this type of pregnancy, the placenta is often attached to some part of the peritoneal cavity other than the uterus, ovary, or fallopian tube.
Veronica's ordeals were, however, not over yet. She said doctors told her after her delivery that they could not remove the placenta because it was attached to a delicate vessel in her body, and any attempt to remove it could kill her.
Left placenta in her body
Veronica said,
"The only thing I was concerned about was when they told me they left the placenta inside my body.

"I was scared and I started thinking how will the placenta come out, hope this one will not cause another problem for me, that's all that was on my mind. I was placed on antibiotics and I am still on the drugs up till now."
SEE ALSO: Identifying The Risk Of An Ectopic Pregnancy + Everything Else You Should Know About It
According to her, she could not eat after the delivery, as food weakens and caused her discomfort. She said her family members were shocked when they heard how her delivery went. She narrated further:
"An abdominal pregnancy is very rare and usually people talk about the womb being the appropriate place for babies. 

"My family were all very surprised. To date, when people hear the story, they are always surprised because they have never witnessed it before and they have never heard of this kind of thing before." 
When Veronica was asked if she was surprised she was able to deliver safely, she said,
"No I was not surprised, I knew it was God because all through my pregnancy I was going for prayers. So, I knew it was God's doing."
According to experts, the most common type of ectopic pregnancy is tubal pregnancy which occurs in the fallopian tube.
The health experts said that there is also ovarian pregnancy, which occurs in the ovary, a cervical pregnancy, which occurs in the cervix. They, however, noted that an abdominal pregnancy, which occurs in the abdomen, is the rarest form.
The experts noted that ectopic pregnancy is about one to two per cent of all pregnancies, adding that such a pregnancy rarely gets to term because a baby hardly survives in an abdomen.
Speaking in an exclusive interview with PUNCH, the specialist who operated on Veronica, a consultant obstetrician and gynaecologist, Dr. Mark Ogbiti, said,
"I never knew about the patient. My first encounter was on the day of her delivery. When I came in, I was told it was an intrauterine pregnancy. I was told that the woman has a lot of fibroids, so they want an obstetrician to come and operate. 

"I noticed something was wrong, it was as if there was a demarcation in the uterus, but they did not have a scan in that general hospital. So I asked for the scan result.

"The scan result was saying it was a pregnancy in the uterus, so we opened her up. Upon opening her, the uterus was empty, I brought it out and nothing was in there, so I asked where the baby was but I also noticed some movements while asking that told me that the baby was not in the uterus.

"I proceeded to open up her abdomen and ruptured the membrane which contains the liquor and found the baby lying in there, alive."
Liquor is the Latin word for amniotic fluid which is a clear, slightly yellowish liquid that surrounds the foetus during pregnancy. It is contained in the amniotic sac.
Challenges faced during the delivery
Speaking about the newborn, Ogbiti stated that although the baby came out alive and well, the baby was lucky that the operation was performed early.
He said,
"There is something we call Apgar. It is a quick test we perform on a baby a few minutes after birth. That is what we used to score the baby to know how well they respond to life outside the uterus.

So at the time, we delivered the baby, her Apgar score was not too good. The paediatrician came and resuscitated the baby, and then she picked up and was okay. 

We checked for every deformation and there were no abnormalities. The baby was very okay and weighed 2.6."
For Veronica, the expert explained that the placenta had to be left in her because if removed, she would have bled to death. He said,
"We could not bring out the placenta because of the point where the placenta is attached to the upper part of the liver, the abdominal aorta. So if we removed it from the abdominal aorta, the woman can bleed to death on the table. We had to leave it inside the abdominal cavity and start antibiotics.

"I told her with time, it will disappear on its own, and we call it degeneration. Because it is not actually a part of the body, there's a way the body would absorb it and it will disappear." 
Carrying ectopic pregnancy to term
Dr. Mark Ogbiti, said, unlike the fallopian tube which has limited room for expansion, an abdominal pregnancy usually has space for a baby to grow. He said,
"There is room for baby to grow and a blood supply was gotten from the abdominal aorta. The attachment of the placenta was in the abdominal aorta, so the baby got enough nutrients."
Speaking further, Ogbiti who works at the Irrua Specialist Teaching Hospital, Edo State, however, noted that an ectopic pregnancy poses risk to the baby.
He said that the babies from ectopic pregnancy could have some health issues because the uterus is the appropriate place for a baby to grow and not the peritoneal cavity.
The baby, he said, may not get as good enough blood supply and nutrients which would affect the growth of the foetus. 
Babies from ectopic pregnancy, he added, may have limb deformations, congenital anomalies, anaemia and could die. He added,
"Where the baby is staying in ectopic pregnancy is not the appropriate place for a pregnancy to stay, so no matter how it is, it will be toxic for the baby.

"The baby could also be exposed to a lot of vices, there are some toxins that are going to be released. 

"The mother's body will be seeing it as a foreign thing, so on its own it may release some toxins that will fight against the pregnancy.

"Also there could be a reduction in water production. When this happens, the baby may suffer from compartment syndrome, it's like you are in a tight closure."
Ogbiti explained why the placenta had to be left in Veronica's body. He said:
"In the case of Veronica. I recall that the placenta had to be left inside. If I had removed the placenta, she may bleed to death on the table." 
Also speaking about Veronica's rare story, Dr. Olajumoke Ogunro, an Obstetrician and Gynaecologist at the Alpha Assisted Reproductive Klinic, Ikoyi, Lagos, said in her 22 years of practice, she has only ever come across one case of an abdominal pregnancy asides Veronica.
She, however, noted that it may have been the fibroid that caused the implantation of the foetus to take place in the abdomen.
Abdominal pregnancy, she said, is a threat to both the woman and the baby because it is a high-risk pregnancy. She said,
"Imagine if the diagnosis that made them decide a CS delivery for her was not made, and they are waiting for her to fall into labour. 

"If she did not fall into labour, they will have had to induce her and because the womb does not have the baby nothing will come out."
ALSO SEE: Heard About False Pregnancy? Here's What Gynaecologist, Dr. Philip Ekpo Wants Us To Know About The Condition
Causes of ectopic pregnancy
On what could cause ectopic pregnancy, Ogunro said,
"When you have things like tubal damage as a result of infection or anything, it can cause the narrowing of the tube such that if the fertilised egg is passing through from one end of the tube, the place may be a bit narrow and the fertilised egg may get stuck and it.

"So anything that will cause narrowing of the tube, can predispose a woman to having an ectopic pregnancy.

"Also, some people may have had a type of family planning where we call it tubal ligation; it is the tying of the tubes. 

"If it is not properly done, sometimes it will open and be narrow, which can predispose a woman to have an ectopic pregnancy.

"Some other people have talked about the hormone progesterone. It is a hormone that relaxes the muscle in the womb and the tube. 

"Sometimes it can affect the movement of the fertilised egg within the tube and it may begin to grow and implant there, so they say if a woman is taking anything that contains progesterone it might predispose her to that.

"People who use an intrauterine contraceptive device, the coil, when they get pregnant may also be at high risk of having an ectopic pregnancy. 

"The coil is in the cavity to prevent implantation, so if for any reason implantation occurs, it may be an ectopic pregnancy. 

"Mark my words; I said may because it is not a major cause. People who do IVF are also at risk." 
Why ultrasound scan can miss ectopic pregnancy
The gynaecologist said the expertise and experience of the person scanning is always important. In her words:
"The older the pregnancy, it is more likely that sometimes there may be overlapping so they may think it's in the womb when it's not."