Abuja-Kaduna Train Attack: Terrorists Flogs Victims Mercilessly, Threaten To Kill, Sell Them And Do More In Heart-rending Video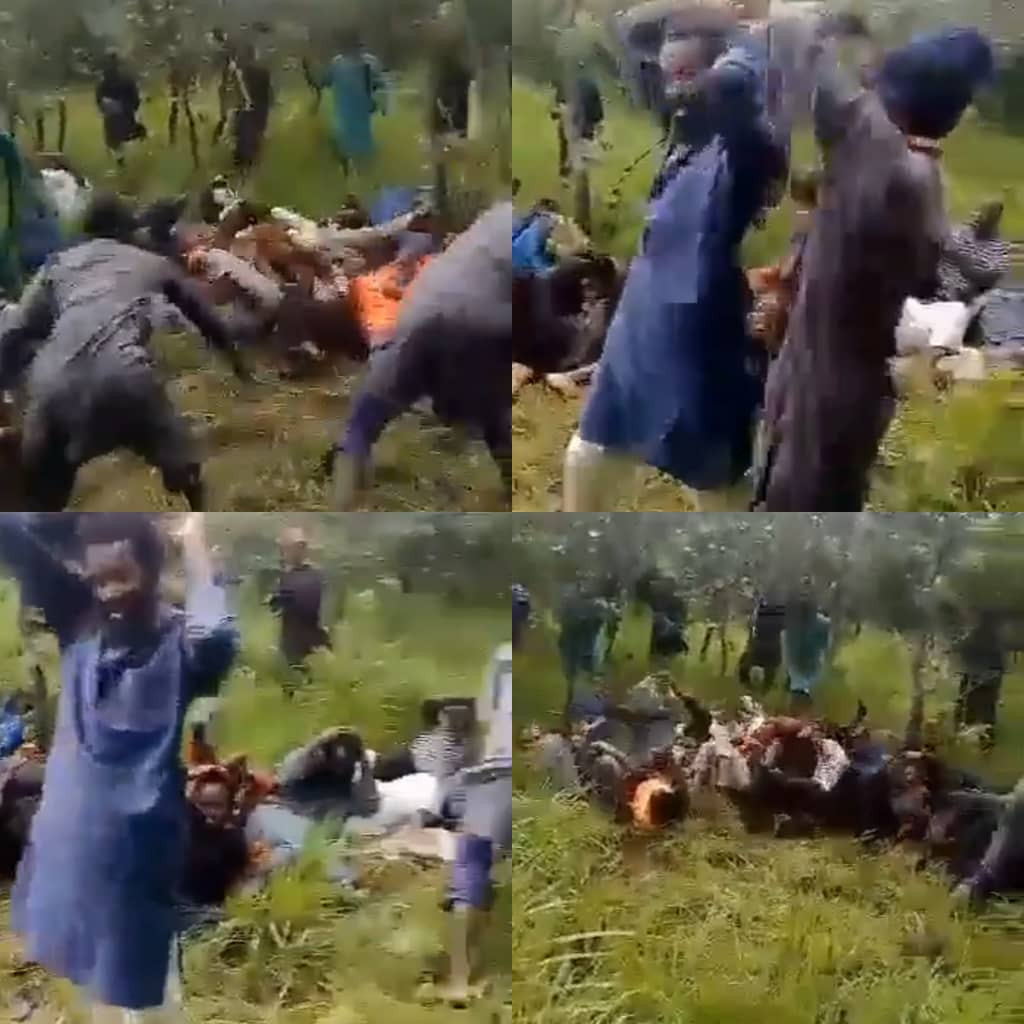 A heartbreaking video showing terrorists who attacked and kidnapped the Abuja-Kaduna train in March has been shared online.
On March 28, 2022, terrorists attacked a Kaduna-bound passenger train, killing 8 people and abducting 63 others including pregnant women and children. Many others were wounded.
One of the abducted victims, the managing director of the Nigerian Bank of Agriculture, Alwan Hassan, was released about a week later, after reportedly paying a ransom of N100 million.
A pregnant woman was also released, before another 11 were set free early June. On July 9, Seven of 50 remaining abductees were released.
However, in the new video, the terrorists vowed to kill some of the remaining victims and sell others as slaves unless the federal government complied with their demands.
The daredevil gunmen were also seen threatening to abduct President Muhammadu Buhari as well as Kaduna State Governor, Malam Nasir El- Rufai, as they will be brought before them and suffer the same fate as their captives.
In the eleven-minute video released by the insurgents, the male victims were separated from the women, after which they were flogged mercilessly with make-shift canes.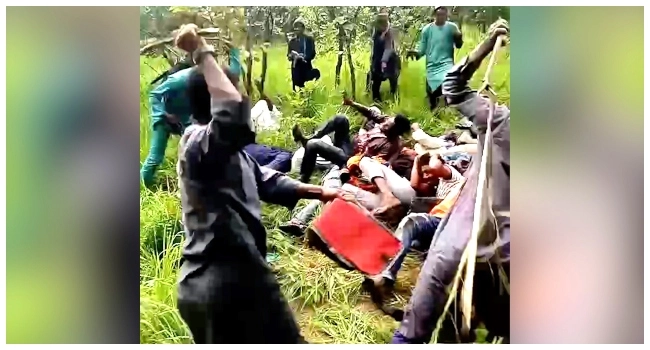 The exhausted victims who were seen wailing appealed to the international community such as the United Nations, African Union and Saudi Arabia to come to their aid since according to them, the Nigerian government has failed to rescue them from the hands of the terrorists.
An inconsolable woman was also seen screaming at her captors saying:
"This is all you can do. You will not end well for humiliating us like this. God will bring an end between us. What did we do to you?"
SEE ALSO: Boko Haram Terrorists Claim Responsibility For The Kidnap Of Over 300 Schoolboys In Katsina | Give Reasons
A male captive stated that the terrorists had no intention of keeping them for more than a week if the demands of the kidnappers were not met by the Federal Government.
One of the captives who spoke in Hausa on behalf of other victims said,
"I am one of those involved in the train mishap. That train belonged to the Federal Republic of Nigeria. The Government has the responsibility to rescue us, but has failed.

We  called  on our relations who were willing to rescue us but the Nigerian government due to being insensitive to our plight did not allow our relations to rescue us .

This is why we are calling on the big nations of the world such as England, America, France and the remaining international community, the likes of Saudi Arabia, to intervene in this matter with a view to finding a solution.

Truly, these people (terrorists), their intention was not for us to even spend one week in captivity. They wanted their demands to be met so that they release us but Nigeria showed no concern over this matter, showing no care.

We are therefore calling on these big  nations of the world, France, Saudi Arabia, England and America, the international community, ECOWAS, AU, they should please help and intervene in this matter. They should come and help us so that a solution could be reached that will enable us reunite with our families."
Amidst wailing and crying, one of the terrorists wielding an AK 47 rifle, who spoke in Hausa, said,
"You should understand, look properly it's not our intention to, but it's the outcome of what the Nigerian government is doing, setting a committee, a tea party in Kaduna to deliberate on how to rescue these people. They are there, enjoying the tea.

You should know that there is nothing that the committee can do. They can't do anything. Are you not relying on guns? Your aircraft and your guns are like spiders web to Allah."
The terrorists also said their act was the will of God and will not hesitate to make slaves of the captives just as was done to the Chibok school girls who were abducted in 2014. He said in Hausa:
ALSO SEE: Information Minister, Lai Mohammed Explains Why Nigeria Is Still At The Mercy Of Terrorists
"We are for Allah, we are doing it for Allah. We are not afraid of anybody. We're doing the will of God and this is small compared to what you will see if you don't grant our wish.

You should know that this is a little that you've seen. Know that, if our demands are not met, this place will become an abattoir.

This is our message to the government of Nigeria and just as you have seen these people here, by God's grace, you will see your leaders; your senators and governors will come before us.

These ones you are seeing here, we will keep some as our slaves and sell them off just as our Imam told you in the past. Just like the Chibok girls that were sold off, we will equally sell these ones as slaves."
The terror group has since released several videos and images calling on the Federal Government to negotiate with them or asking the victims to negotiate for their lives.
In a video released in April, the terrorists were seen putting on military camouflage and uniforms. They made their captives call on the government to come to their rescue.
One of the victims is a young lady who identified herself as a student of Kaduna State University.
An unidentified captive said he was on his way to Kaduna for eye treatment. The victim pleaded:
"We're the passengers from Abuja heading towards Kaduna and were abducted. We have sick ones, old and young; a mother and her children. Only God knows what we have been through here.

"Please, we are pleading that the government meet their needs and rescue us."
Also in the same month, a photograph released showed 62 victims in four groups, including children, aged women and men.
Amongst them was an 83-year-old woman who was said to be suffering from diabetes.
Watch below…