'On Our Wedding Anniversary, I Wasn't Happy' -Actor Stan Nze Speaks On Marital Issues With Wife, Blessing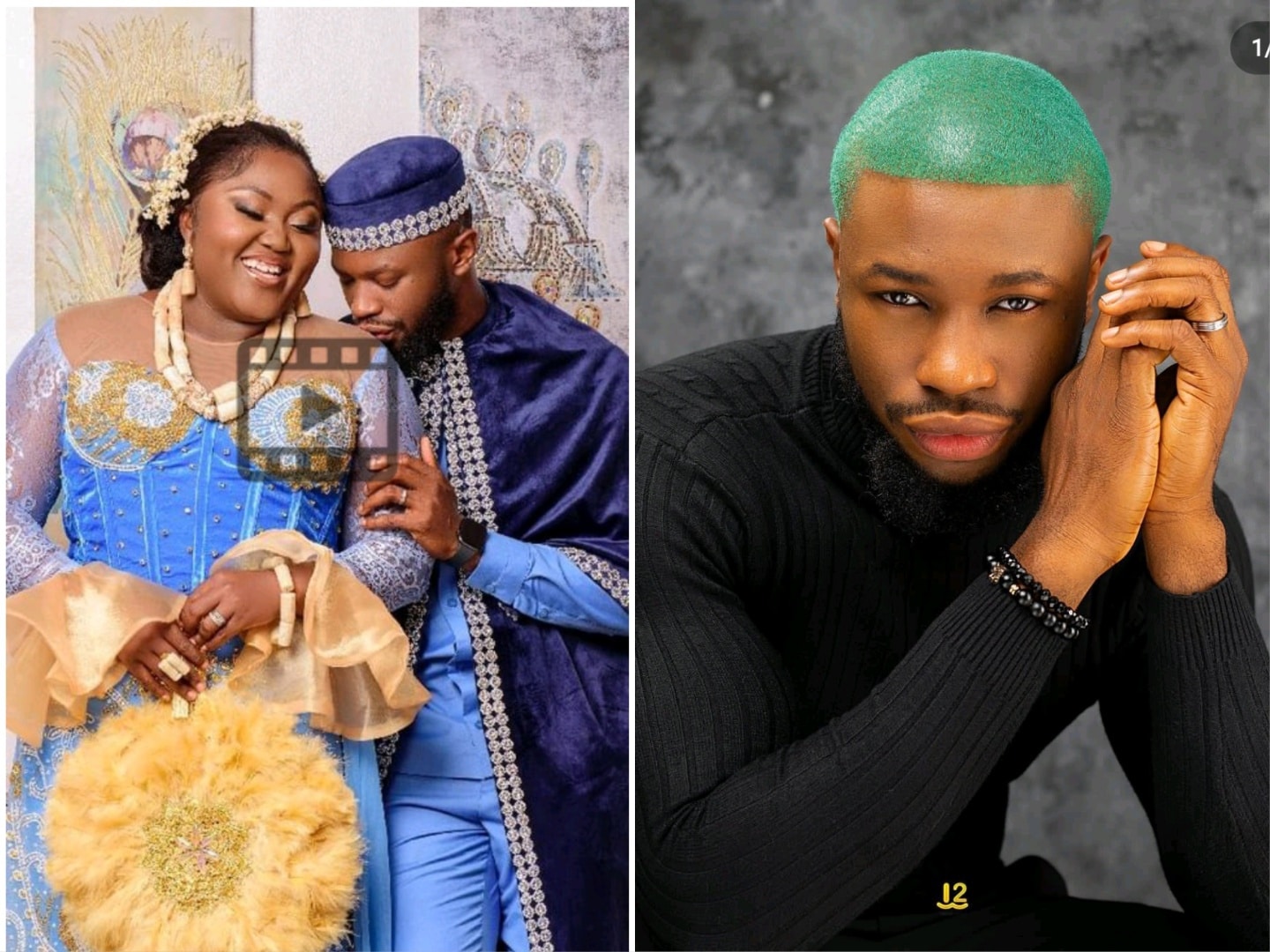 Nigerian actor, Stan Nze has made a new revelation on his marriage to colleague, Blessing Jessica Obasi.
The celebrity couple recently marked their first anniversary and Stan opened up on how things went that day.
While their fans who pampered the couple on their special day, thought that the day was a joyous one and worth celebrating, it was the opposite for the couple.
Speaking in a recent interview on TVC's Black Table, Stan opened up on how he and his wife were in sour moods despite the love that surrounded them.
Stan disclosed that the major fallout between him and his older wife was because they had argued and neither was ready to compromise.
He added that he and his wife went to church not speaking to each other and their loving fans surrounded them with numerous gifts. He continued by saying that he looked obviously unhappy in the video which went viral and couldn't fake that all was well between them.
To cover up, his wife attributed his soured mood to being emotional and he felt sad knowing he couldn't say the truth.
READ ALSO: Star Actress, Blessing Obasi On Why She Married Her Younger Lover, Actor Stan Nze And Her Greatest Fear As A Married Woman
In his words:
"The times me and my wife have had like some fall out is because you know you dey vex, I dey vex, I no gree today.

On our anniversary day, we went to church without….we weren't talking. We got to church and apparently we had a community of fans who came with money cakes, tray of foods outside yeh church.

Me I was saying I am late, I wasn't in the mood. She posted the video and I couldn't fake it, I wasn't happy. My wife pretended that I was emotional but the truth is we weren't talking."
The couple who got wedded in 2021 celebrated their first anniversary on Tuesday, September 14th.
Stan had taken to his verified Instagram page to reveal that marrying his wife was the best decision he has ever made.
ALSO READ: Stan Nze Shares Wise Words With Young People As He Opened Up On His Journey To Forever With Wife
On her part, Mrs. Nze assured her husband of her love. She further added that she loves him even more as he kept his marriage vows for one year and still counting.
In celebration of their anniversary, fans of the couple surprised them in grand style. Stan and Blessing, who were oblivious of their fans' plan, went to church to celebrate their anniversary
The couple were taken aback when their fans surprised them outside the church with mouth watering food and gifts.
The couple were gifted buffet of food, frames, money cakes and lots more.