47 Years Of Bliss And Counting: The Kunes Counsel Couples On How They Can Achieve Success And Longevity In Marriage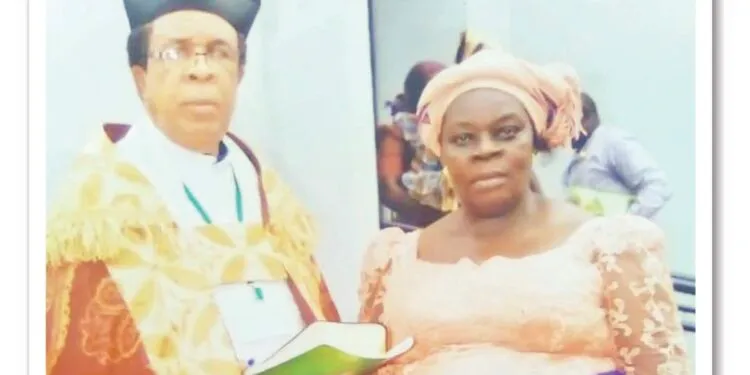 Ven. Ikana Aaron Kune and his wife, Mrs. Maudlyn Cele Kune from Okpoama in Brass Local Government Area of Bayelsa State have been married for 47 years.
In a chat with DailySun, the couple noted that success and longevity in marriage can only be achieved through the couples' dependence on God and staying faithful to each other.
The couple, who believe that marriage is an institution created by God, also talked about how couples can make each other happy by rendering their conjugal obligations in marriage.
They also offered some pieces of advice to both the intending and married couples.
Enjoy!
Do you agree that it is not a mere feat to attain such a number of years in marriage?
Rev Kune: Not at all
What do you think has kept the two of you long in marriage?
Rev Kune: My brother, it is God. My wife and I always depend on the dependable God who does not disappoint those who trust and depend on Him.
So in essence, you believe it is God that sustains marriages.
Rev Kune: Yes that is it. Without God, marriage cannot be successful. He was the one that instituted marriages. And He does not fail anybody who depends on Him solely. He does not disappoint couples who believe in Him. That is just it.
How did you two meet?
Rev Kune: We met each other when we were in primary school in the 70s. It was there and then we got to know one another and later got to marry.
Madam Maudlyn: I met him in school then. In those days, our parents encouraged us to marry each other.
Was there any opposition to the marriage?
Rev Kune: No, there was none. That is why I am proud of my late in-laws, my father-in-law and mother-in-law.
When you say proud, what do you mean? What did they do?
They were in support of the union. They encouraged us.
You are an Anglican priest. How do you balance your busy schedule with that of the family?
Rev Kune: I thank God, my wife, Maudlyn, knew I was a man of God with a tight schedule even before I became an archdeacon. From her father, she has foreseen the business of this ministry.
She has already gotten used to the system. Whenever I am going out, she knows my schedule, and my roaster, part of which takes me out, and she knows when I would be coming back. There has been no problem.
What is the greatest lesson you've learnt in your marriage?
Rev Kune: The greatest lesson is, knowing the likes and dislikes of my wife. This is because she is from a different family background. God brought us from two different families making us to like one another. That has been a wonderful aspect of the whole thing.
Madam Maudlyn: Knowing the kind of man your husband is.
Can you expatiate on her likes and dislikes?
Rev Kune:  She is not angry with constructive criticism. One thing she does not like is that she is always mindful of my speeches. She makes sure I do not misuse words.
She likes me to be constructive in my conversation, even in the church. Whenever I make a mistake, she would not correct me in public. But as soon as we get home, she would point out my mistake. And because I know what she likes, I do not want to annoy her at all.
How can couples raise children in the way of the Lord?
Rev Kune: The word of the Lord says we should train our children in the right way.  You don't give out what you don't have. It is only Christians that can train their children in the proper way.
As Christians, you have to nurture the children in the right way; you are not like the secular people who train their children anyhow. You teach your children about the Lord Jesus Christ, and pray with them. In our house, we hold our family altar every day at 5 am when we wake up and 7.30 pm before we go to sleep.
We study the Bible and sometimes hold vigil in the dead of the night. As a couple, make sure your children go to church. As Anglicans, we make sure they attend all weekly church activities they are involved in.
Some of my children are Boys' Brigade members; my eldest son is a Rev. Canon now. We made sure our children are attached to one programme or the other in the church.
SEE ALSO: Nigerians Share Interesting Lessons They Learnt In Their First Five Years Of Marriage
From your experience, are you saying that prayer plays a prominent role in marriage?
Madam Maudlyn: Yes you have to pray with them so that your children would know that without God, man is nothing.
Rev Kune: The children need to know that man is nobody without God. Others may have other gods, but we have to teach our children that the Almighty God, the Creator of heaven and earth, is our everything. My wife and I made our children know this. We taught them the importance of prayer and Bible study.
How can a couple make their marriage last long?
Rev Kune: Couples can make a marriage last for as long as they like by knowing the likes and dislikes of each other. Another thing is, they should know that since they are from different family backgrounds, that difference would affect the way they think.
The individual difference in the way they think is always there. Your wife cannot think as you do. This understanding should be there. Another thing is relying on God, since he is the giver of life and every good thing. Christian couples should never look at the way unbelievers have their way.
Christians should know their marriages should be different. Like St Paul would say, we should not behave like the unbeliever. They should pray together always and understand one another very well.
What do you consider to be the greatest threat to marriage these days?
Rev Kune: Number one is the high cost of living. Most men think that they can sustain their wives and family. The present high cost of living has posed a very big problem for 85 per cent of marriages. How do I maintain my wife? How do I provide for my children's training? These are parts of what a man thinks about these days.
Madam Maudlyn: How to ensure your children do not go to the wrong side of life. To make sure they are not lured into a life of crime. Sudden death is also a big threat to the family. If a wife loses her husband, it is going to affect her adversely. The same thing to a husband losing his wife; the whole responsibility falls on him, unlike when both parents are alive.
So, invariably, money is important in sustaining marriages?
Rev Kune: Money is good. Without money, you cannot happily live. Money is everything except God. God gives money. He tells us to work hard and that we should not be lazy. Money is good as it enables you to meet up with your responsibilities, and take adequate care of your wife.
Madam Maudlyn: Money is good only if you can use it very well. I won't condemn it as long as we got the money from the right source.
At your age, you are still handsome I wonder what your wife saw in you when you were young to agree to marry you out of all the men she knew?
Rev Kune: When I was in school, I had an interest in basketball. I did Fine Arts. I sometimes picked chalk with which I drew on the ground. These are some of the things I believe she saw in me.
You, what did you see in her that made you go for her?
Rev Kune: When we were in primary school, she was very smart. At home then, I saw her as a serious-minded person. She was never lazy but very industrious. At a point, I came to the conclusion that if I can get her as a life partner, she would make a good wife.
What did you see in your husband?
Madam Maudlyn: He is God-fearing
What is your advice to young couples?
Rev Kune: My advice is, God should be first in their lives. Without God in a marriage, that marriage is heading to nowhere. They should give God the first priority in their union. They should not be attracted to worldly things.
Christian couples should not be attracted to vain things. God should be first. They should not be distracted by the opposite sex. It is one man, one wife.
Madam Maudlyn: There should be no fornication, no lying. Couples should tell each other the truth. When they beget children, they should train the children together.
How can young couples avoid extra-marital affairs?
Rev Kune: This is a problem in our society now. When you are in a marriage, you can easily be distracted. But you should know you are meant for your wife and she is meant for you.
Mostly, wives should not deprive their husbands of their bodies. That is what the Bible says, except for a genuine reason.
Madam Maudlyn: Wives should not deprive their husbands of love-making. Tell your husband the truth, unless he also knows because of a particular problem you would not be ready. Men come across beautiful women every day, even pastors in the church.
There are beautiful widows and other women who would be coming to you and before you know it, you get distracted. Wives should take adequate care of their husbands by not depriving them of love-making lest their husbands are tempted to go outside.
ALSO SEE: From Their 26 Years Experience In Marriage, The Itinagbedias Share Key To A Lasting Marriage
What is your wife's best food?
Rev Kune: Her best food is Eba with any soup.
What is your husband's best food?
Madam Maudlyn: We like the same thing. He loves eba.
Is spirituality essential for success in marriage?
Madam Maudlyn: Couples should be spiritual so that they can ginger each other when it is time for prayer to go to church. Without spirituality, you can't be interested in going to church, bible study, etc
What's your advice for a bachelor/spinster that wants to marry?
Rev Kune: They should be very careful in selecting their wives. They should be very prayerful in selecting their life partners. They should go on their knees and ask God to direct them to the right person. Marriage or picking a life partner is something you can't just wake up and do in a jiffy.