World Of Underage Prostitutes: Nigerian Teenagers Share Their Frightening Experiences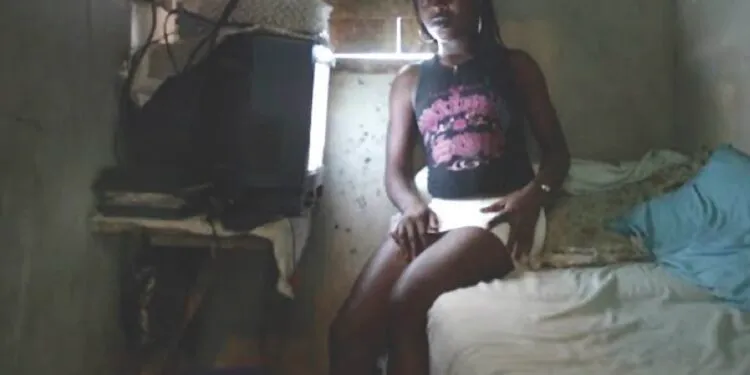 After series of failed promises by family members and others, Josephine gave up on life and prayed for death. At 13, her life was already a mess and heading towards destruction.
She became an easy target for men who only wanted sexual affairs with her. As an orphaned destitute, she was lured into prostitution with the promise of her education being sponsored by her cousin. From the eastern part of Nigeria, she was moved to Accra, Ghana by the same cousin who was discovered to be a notorious pimp.
Months after the inhumane experience of living under the most terrible conditions and forced to sleep with several men every night, Josephine became very sick and was brought back to Nigeria where she was abandoned to die on the streets of Lagos.
15-year-old Destiny Bassey, a primary school leaver, was brought from her village in the South-South part of the country by a woman simply known as Ita on the pretext that she (Ita) would get her a good job. She told Daily Sun:
"I finished primary school two years ago, but I could not continue my study because my parents died. Aunty Monica (Ita) came to the village and asked me to follow her to Abuja. She said she would get me a good job. Some days after I got to Lagos, she took me to the hotel to do prostitution. I was yet to get a room when the police came to pick us up."
Becky Effiong, who gave her age as 25, said she slept with five men per day and collected N2,000 from each of her customers. She added that joblessness pushed her to the act. She said:
"Nobody forced me into prostitution. I have been hustling at the hotel for some years now. I send part of the money I make to my relatives in the village for the upkeep of my child. I don't have parents and my husband is dead.

"I sleep with five men every day, so I make as much as N10,000. I pay the hotel N5,000 every week. I wanted to save enough money for my education."
Udeme Usor, an indigene of Calabar, Cross River State, also said she was lured into prostitution at the age of 14 by a neighbor known as Micheal Akpan, who deceived her with promises of making her become a celebrity actress in the movies industry only to be welcomed with the unfortunate reality of prostitution. She said she went to bed with four men daily, adding that some of her customers paid N1,000.
She narrated:
"My story is that Michael, my former neighbour, who said he is a movie director, promised to make me a celebrity like the popular actresses if I ran away with him from Calabar to Lagos. He sounded too convincing and I believed him since he was close to my family.

He said I shouldn't tell any member of my family because they will be jealous of me and will try to stop me from running to Lagos with him.

I eventually ran with him to Lagos and came to the hotel last year where I was made to pay N3,000 per week for a room. I resorted to sleeping with men for money to survive when it dawned on me that Michael deceived me. I did only one round with each customer."
While some of them make it out alive to share their frightening experiences, others have not been spared, as they either die due to one health complications or due to other worse causes.
Rita Oghenekaro, a native of Sapele in Delta State, was lucky to be alive to tell her horrifying story in the hands of predators after she was pimped at the tender age. She said:
"I have been a prostitute since I was 13 years. I'm in my mid-30s now. At some point, I had to accept my fate and continue with my new line of business. I was also one of those who made sure that the clients were satisfied with my service.

"I told all the clients how lovely it is to see them, how happy I am to be with them, and how they are my favourite clients. I also tried to make myself happy too. The truth is, I was very happy to see their money, and I was also very pleased to see them leave me alone after our sessions.

"I always told them thanks for the money so I can survive another day, even though I was not happy with the miserable job, but I was never ready and willing to get out of it, because I was often told by clients that my service was awesome and perfect. The clients wondered if there were actually some real, hot feelings between us.

"Many of my clients send messages to me, thanking me for the experience. And I never even remembered what had happened. I felt like a robot every day. But it seemed like I was really good at what I was doing.

"The clients didn't know that I was always on drugs because I hid them so well. I became very addicted to painkillers and benzodiazepines to handle the inhumane working conditions.

"After every service and I'm paid, I would just sit on my bed, looking at the money, focusing on it, counting my savings every day to keep myself motivated, and counting how much more I would have to save to retire. To never return, to leave and to forget all that had happened in prostitution and erase every single detail of my past.

"I was one of those who never had any choice. At times I tried to get out of prostitution, but I realized my mental health and emotions had been extremely shattered all my life.

"My self-esteem was very low, starting from my experience of  childhood abuse, which continued into adulthood, a never-ending cycle. I had no education whatsoever. No work experience in any other industry than the sex industry.

"While in the house of prostitutes, I had given birth to a baby girl whose father never cared about. I took a decision on my beloved child, never to ruin her life as I was slowly ruining mine. I know as a matter of fact that I have ruined her life with my kind of lifestyle. All I focused on every minute of my life, was to get the motivation to go on alive, to breathe, because I saw no escape in prostitution.

"There is so much disrespect in the world for prostitutes. This is how it is for those of us, who didn't choose this lifestyle out of pleasure. Whose choices were extremely limited ever since we were children. The children who were always told we are not worth anything. We are lonely. We are ashamed, and we feel like prostitution is all we have to do to survive because no one will accept us.

"Quitting prostitution is not the challenge, the problem is that prostitutes are marginalised and are too scared to speak out their human rights. Whenever we tell people about our struggles in the sex industry, they judge us, criticize and condemn us. But they fail to see that it was never the dream choice for us.

"I am trying hard to quit prostitution gradually, but I appeal that people should recognize that anywhere, all around the world, prostitutes are human beings who exist too. We are just trying to survive from day to day, with our health issues, our addictions and our daily struggles."
These girls end up being caught in a cruel bondage of sexual exploitation and are often times turned into commodities for financial gain, severely abused and physically battered.
ALSO SEE: Do Some Nigerian Parents Encourage Their Underaged Daughters to Travel Abroad for Prostitution? | Find Out Here
Shade Akande's story was no different from other girls as she was promised a good life in the city of Lagos right after her Junior WAEC in Benin, Edo State. She said:
"Right from the start, life has always handed me lemons, but I tried to make the best lemonade I can from them. I grew up with my grandmother when my mother died while I was six months old.

"My mother was only 16 when she gave birth to me and I never learned what it was that she died from. My grandmother couldn't tell me. The official explanation is that she died of 'natural causes'.

"They pimped me for two years. I wasn't able to go back to the village even though I wanted to. I tried to run away but they caught me and when they caught me, they tortured me badly.

"Later, I was pimped to another man. The physical abuse was horrible, but the real abuse was the mental abuse. The things they would say to me that would just stick in my head and would remain unforgettable.

"Pimps are very good at torturing and manipulating their victims for their gain. They told me that prostitution was something glamorous, elegant, but it didn't look like how they described it because the men used my body like a public toilet.

"The men that slept with prostitutes always transferred their anger or whatever it was on them, knowing that they couldn't go to the police and if they did, they wouldn't be taken seriously.

"I actually count myself very lucky. I have escaped gunshots twice living in the brothel and stabbed 13 times. I knew some beautiful girls who were murdered out there on the streets. I prostituted for 14 or 15 years before I went into drug dealing.

And it was at that moment that I began to think about everything that had happened in my life. I remember looking up and saying to God, 'people don't care about me. Please help me come out of this lifestyle alive.' I am 35 years old and retired from prostitution. I set up a counselling NGO where I share my life story and lessons to lead other teenage girls in the right path."
From states across Nigeria, several stories, scarier and more disturbing than that of Josephine, Destiny, Rita, Udeme and Shade, have occurred over the years.
For decades now, this type of tale has become the common fate for many under privileged teenage Nigerian girls deceived into prostitution with high promises of either to be given lucrative jobs, sponsored education or a good life.
Monica Simon, a guidance and counselling expert based in Lagos, described the trend as saddening and called for collective action to have it tamed. He said:
"What we are seeing at the moment in terms of the numbers and scale of the criminal trade in Nigerian teenage girls is alarming. These girls are really sexually exploited and exposed to terrible violence.

"The heartbreaking part is that they are deceived by people they trust, with promises of being given good jobs. They are made to run away from their families and homes, and when they eventually get to the location of the said job, they are surprised with becoming sex workers.

"The government and agencies should collectively work to clampdown these brothels that harbour these teenage girls. These teenage girls end up becoming emotionally, psychologically and physically abused. In most cases, they do not survive the horrifying experience. Some turn out to become a nuisance and a problem in society."
Miss Oluebubechukwu Sharon James, President of We Run The World Girls Foundation, based in Lagos, said millions of young girls were at the risk of being lured into sex slavery noting that, as long as the rate of poverty remains high, more would become victims. She said:
"This absurd trend is destroying the lives of young girls. The United Nations Children's Fund (UNICEF) has estimated that 120 million girls globally under the age of 20 (about 1 in 10) have experienced forced sexual intercourse.

"Prostitution of a minor is an abuse of the rights of children in Nigeria, a form of sexual exploration where children are being forced into hard labour, they are being sexual harassed and they experience all manners of degrading treatments, after being trusting of the wrong person for a desperate reason.

"To curb minor prostitution, the government needs to provide a criminal justice support service for children survivors of trafficking. Community education programmes can be organised to educate children and parents.

"Parents should be careful with who they release their wards to. Children should be taught the red flags: don't accept lifts from strangers, don't follow strangers home or collect things from them, always inform your guardian about your location, and avoid unsafe roads/pathways.

"Young girls should not stay in compromising environments. Parents should build a healthy relationship with their children. The government should provide access to quality health service for children survivors.                 

"Poverty is one of the major causes of child prostitution. Parents with low income can't provide for their wards and are sent off to live with people they don't know, some even sell their children for money. Those children now vulnerable and in need of money would be taken advantage of with false promises of being taken care of and provided for. Girls should be aware and be wise to avoid being a victim."
Based on reports, Nigerian government has made efforts to stem the tide of trafficking into sexual servitude. Aside from aligning with international protocols to prevent and deter, processes were also set up and laws made.
However, many concerned social critics have maintained that all the effort, as long as they are not sustained, would not be enough. They stressed that much should be done as the problem still persists because it is a covert activity.
They have called for massive awareness initiatives to be created, especially in rural areas and densely-populated suburbs in cities. They stressed it was time Nigerians joined hands to fight the rampaging monster.
An Abuja-based lawyer, Mrs. Esther Nwigwe, said no law directly bans prostitution in Nigeria. She said: "This is an issue that has been raging for some time now. There's actually no law that directly bans prostitution as the case may be in Nigeria.
"However, it is important to note that the criminal code criminalizes 'procuring and other related offences,' which although may have a slight affiliation to prostitution, are not one and the same. A careful perusal shows the following sections of the Criminal Code (sections 223, 224 and 225A) only outlaw procuring, defilement by threat and administration of drugs on girls and women."
Abraham Nwodo, a Port Harcourt-based lawyer, also said there is no general law against prostitution in Nigeria. However, he said,
"Issues like prostitution, indecent dressing and sexual assaults do not necessarily need a law to say they are prohibited. When they become prevalent, what the government does is to create a form of indictable offence. You may not try them for prostitution but you may try them for illegal assembly."
Another lawyer, Evaristus Yusuf, said while there is no place in the constitution that prohibits prostitution, there are other laws that the constitution has empowered that provided for the crime. He said:
"There is also the Penal Code Act of FCT, 1990 that prohibits prostitution. It defines prostitutes as vagabonds. And whoever is convicted, has been found guilty of this offence, will be imprisoned for one month or a fine or both. As much as the penal code has made these provisions, the constitution is still clear on the right to freely associate with anybody.

"That is the Right to Freedom of Association as contained in the constitution. If we are to follow this constitution, that means as a Nigerian, you are free to meet with whoever you want to meet with. Therefore, the Penal Code that penalizes people meeting with prostitutes or prostitutes meeting with other people might fail if tested in the court."
SEE ALSO: Worrisome! Advocacy Group Writes To Governor Nyesom Wike Over Growing Use Of Underage Girls For Prostitution In Rivers States
Another lawyer, Mr. Donatus Emmanuel, also said:
"No particular part of the constitution prohibits prostitution in Nigeria. However, sections 223 of the Criminal Code states that any person who procures a girl or woman who is under the age of 18 years to have unlawful carnal connection with any other person or persons, either in Nigeria or elsewhere

"Or procures a woman or girl to become a common prostitute, either in Nigeria, or elsewhere; or procures a woman or girl to leave Nigeria with intent that she may become an inmate of a brothel elsewhere; or procures a woman or girl to leave her usual place of abode in Nigeria, with intent that she may, for the purposes of prostitution, become an inmate of a brothel, either in Nigeria or elsewhere is guilty of a misdemeanor, and is liable to imprisonment for two years.

"A person cannot be convicted of any of the offences defined in this section upon the uncorroborated testimony of one witness. The offender may be arrested without a warrant. The FCT Penal Code Act criminalizes prostitution, solicitation. Chapter 532 of the Penal Code Act, Federal Capital of Abuja, 1990 criminalizes prostitution and solicitation of prostitutes. An 'Idle person' shall include a common prostitute behaving in a disorderly or indecent manner in a public place or persistently importuning or soliciting persons for the purpose of prostitution.

"The term vagabond shall include any male person who knowingly lives wholly or in part on the earning of a prostitute or in any public place solicits or importunes for immoral purposes; and whoever is convicted as a vagabond shall be punished with imprisonment which may extend to two years or with fine which may extend to four hundred and fifty naira or both."
In the same vein, former Assistant Commissioner of Police and former head of the Police Public Complaint Unit, Abayomi Shogunle, wrote on his Twitter page @YomiShogunle:
"Those making noise on the clampdown on prostitutes in Abuja, prostitution is a crime under the law. Prostitution is a sin under the two main religions of FCT residents. Medicine says prostitution is spreading HIV & STD. Prostitution is a lifeline of violent criminals. Prostitutes do not pay tax. Nigeria culture frowns at prostitution. Prostitution is a crime under the law."