Empress Njamah Gets Teary As She Opens Up On Her Heartbreaking Ordeal In The Hands Of Her 'Fiancé'
Nigerian movie star, Empress Njamah has stirred up a major thunderstorm online after she opened up on what's going on in her life and social media pages.
In a video via her business page, the actress narrated her heartbreaking experience in the hands of her 'fiancé'.
On Thursday, December 15, a video of Empress displaying an engagement ring with the caption "finally off the market" was shared on Instagram.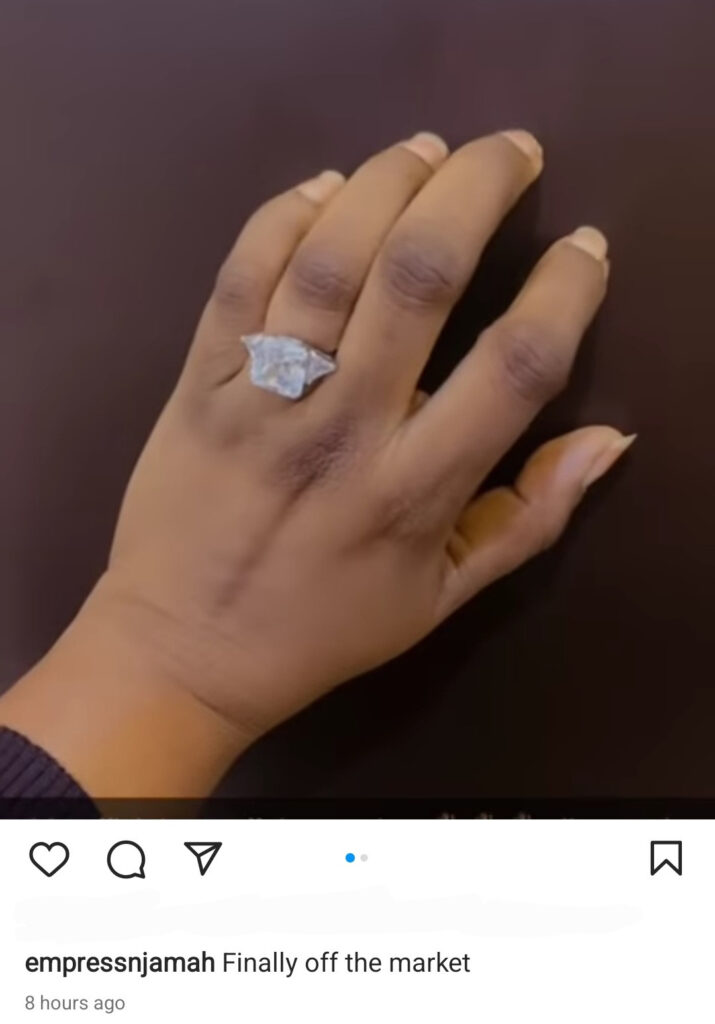 Friends and celebrities trooped to the comment section to congratulate her on her engagement.
However, the engagement had already been called off before the post was made. Also, the engagement post was not made by Empress but by her fiancé, Josh "Babybrother" Wade, who already took control of her Instagram account.
In the new video uploaded, Empress claimed she was being blackmailed by the man who got into her life when she was vulnerable.
The talented actress, 42, alleged that she suffered series of domestic violence and abuse from this man in the past few months.
Empress shared pictures of her blackmailer, and also called on the Nigerian police to help in tracking her blackmailer who she claimed has access to her private videos and also made away with her values worth millions of naira.
SEE ALSO: 'It's Official' -42-Year-Old Elated Empress Njamah Makes A Big Surprise Announcement
Captioning the video, she wrote:
"I would like to bring to the notice of the general public that my account @empressnjamah has been hacked and is susceptible to scam, please refrain from contacting or dealing with this IG account as i have no access to it at this moment.

The previous posts about being engaged is FALSE! Kindly disregard, the post was made by the unscrupulous element from Liberia whose aim is to taint my image 😔 🥹

In the guise of being My fiancé.

That video was made under Duress

The scammer gained access to the IG account as well as my phone, contacts, Email, Bank account and has my car, international passport and other valuables.

I'm being blackmailed, to pay $450,000 🤦🏼‍♀️

Claiming he loaned me the money…

Please beware of such dubious individuals who present themselves as genuine with good intent but underneath are "The Devil" whose aim is solely to ruin, dupe and inflict harm on anyone they come in contact with.
ALSO: Actress, Bimbo Akinsanya Tells Why She Left Her Young Marriage Even Though She Had Just Welcomed Her Newborn Son
He also referenced that he is involved with a couple of celebrities, either for business dealings or personal relationships. However, I have made some investigations to confirm this claim as well as background checks on the information he provided prior dealings, and all were false.

Please be conscious about who you deal with, either for business purposes or for relationships. Some People are out to dupe you. Sadly, I am a victim.

I have contacted the Appropriate security Agencies to assist in tracking and identifying this person as well as provided information where necessary to assist in apprehending him because my life is at risk.

Please be safe out there. NB: Please reach me via my business page @realhouseofempress (This is the only avenue to reach me) and I'M NOT ENGAGED, fortunately I'm still alive after series of beatings & torture."
SEE VIDEO AND POST BELOW…