Mixed Reactions Trail Actor Alex Ekubo's Estranged Fiancé, Fancy Acholonu's Shocking Revelation: 'We Dated For 5 Years, He Refused To Be Intimate With Me'
US-based model, Fancy Acholonu, has made shocking revelation about her former fiancé, actor Alex Ekubo's, sexuality, claiming that he refused to be intimate with her in the five years they dated.
This is coming after the model made another U-turn days after apologising and seeking reconciliation with Alex Ekubo.
While former love birds got engaged in May 2021, Fancy suddenly called off their already-scheduled wedding in August of the same year.
On Friday, Fancy issued a public apology to Ekubo via Instagram, stating that her heart still belongs to him.
Ekubo reacted to the apology with a comment which read, "I appreciate the apology. May God bless us all."
In an unexpected turn of events, Fancy took to Instagram on Monday to declare that she is "free" and that "the chain is broken."
"Happy New Year everyone. 2023 will be my year of strength, being fearless, speaking up for myself & FINALLY no longer under anyone's control. I'm free, the chain is broken. May God bless us all. #SimplyFancy,"
she captioned the post
In a very recent interview with SDK, Fancy revealed that for the five years they dated, he never had intimacy with her, saying he wanted to be celibate because of his religious beliefs.
Fancy said the no-intimate stance of Alex was confusing and difficult for her and that the whole thing affected her self esteem. What is more confusing is why she agreed to marry him in the first place.
ALSO SEE: 'I'm NOT here to pay for your Ex's mistake' Actor, Alex Ekubo, Writes To Future Wife
In her words:
"I tried my best. He wanted to get back with me as much as I did. We've been at this for one year. But he felt since I broke up with him I should do more of the work. I was fine with that but his methods are cruel and constantly public. His sexuality is not the reason I broke up with him.

I'm very open minded so regardless of what he prefers, love is love for me. I loved him for his personality and heart nothing more. He didn't want to be with me intimately which was confusing and difficult for me to understand especially for 5 years so it did affect my self esteem as I kept myself for him and when he would cheat with curvy women he wouldn't perform with them either so I don't know, I can't confirm or deny his sexuality but for me, I loved him despite all and he still found ways to hurt me.

When I met him I didn't have much experience so it was easy to convince me that his decision was because of religion. But as he would constantly cheat and yes I caught him, it would hurt me because that's not part of the religious believe he made our celibacy to be.

Honestly this whole thing has been complicated beyond words so it's unhealthy for me to continue this relationship. I guess I needed this post he begged me to do so that I can see his intention was just to clean up his image."
READ ALSO: Nollywood Actor, Alexx Ekubo On 'Why Love Is Not The Only Basis For Marriage
When asked to say something to Alexx through this interview, Fancy said:
"Honestly I don't know what to say to him. This has to be the most devastating thing I've ever been through, and for it to be so public; I pray we both find healing and peace because it won't be an easy journey.

One breakup statement shouldn't have led to all this. I wish I never said anything but I am human; I was fed up with good reasons. I pray he doesn't only focus on people's reactions but evaluate his actions too.

I also pray he learns to be real and more forgiving with his next person and not be so consumed with having the perfect image because it's draining to keep that up. My mental health can't tolerate our relationship anymore."
Reacting to Fancy's shocking revelation, popular Nigerian doctor, Dr Penking, in a series of Tweet, wondered what women want as most always frown at men who demand for sex during relationship.
See his post below…
"Women always say they want a man who doesn't ask them for S3x but Alex told Fancy let's wait till marriage and because of that she said he is g@y. If I see a book on how to understand women I'll buy at any prize.

Now that you've seen one you are complaining. Na wao. What do women really want? So Fancy said that Alexx refused to have S3x with her for 5 years and insisted they wait till marriage and this messed with her self esteem. Same Women always say they want an intentional men who is after them not for their body but for something permanent .

A woman can reject a man's sexual advances for a millennium and we don't call her a lesbian but if a man rejects her sexual advances once he is automatically gay. Make it make sense. Not all men are cheap. Straight men with self control still exist. Know this and know peace."
SEE ALSO: Nollywood Star, Ik Ogbonna Clears The Air On Allegations Of Homosexuality & Marriage Crisis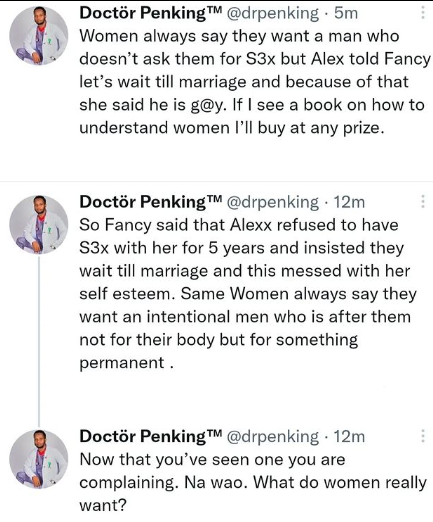 Also reacting, Daddy Freeze wondered how a woman can be in a committed relationship for 5 years and not have intercourse with her partner.
He further said that the scripture never considered it sexual immorality for a couple who are betrothed to have sex before marriage.
Freeze said the word "fornication" was "born out of ignorance" of the linguistic expression of the original Greek word for prostitution.
He added that "never in the history of scripture has concubinage, polygamy, or an engaged or betrothed couple having intercourse been referred to as sexual immorality."
Read his statement below…