Davido Happily Speaks On His Marriage To Chioma Rowland, His Challenging Times And Future Plans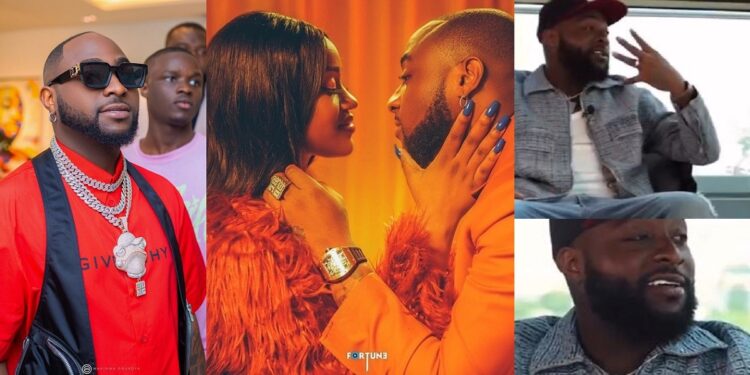 Nigerian superstar, David Adeleke, popularly known as Davido, has confirmed his marriage to his longtime girlfriend, Chioma Avril Rowland.
You will recall that the pair were reported to have secretly tied the knot following the tragic demise of their son Ifeanyi, but it wasn't confirmed by either of them.
In his first interview since his break from the spotlight, the beloved singer touched on his marriage to Chioma Rowland, his album Timeless, his challenging times and his future plans.
The exclusive interview which was conducted by skit-maker and mother of one, Kiekie, also saw him touch on music, his label DMW, his talented new signees and his upcoming concert.
For the first time since he got wedded, Davido happily announced to the world that he is married. Showing off his wedding ring, the proud father of three told viewers that he got married to Chioma during his break.
Also, the music star revealed that he spent the break reflecting on family, remaking his album and thinking.
Speaking on his break from music, the music star revealed that it enabled him to reflect on his family, music, and other aspects of his life.
On his future plans, Davido stated that he is ready to get back on the road, hit the stage and go on tours.
On his new album, "Timeless," Davido said he had the album and tour planned before his 4-month hiatus from music. He noted that he had to remake the tracks in the album following the demise of his son.
READ ALSO: Heartbreaking! Davido And Chioma's Son, Ifeanyi Is Dead
He said:
"Just being away, I have had a lot to think about, time to rest, reflect on a lot of family time, and definitely a time to make music again and remake the album. Before I went on break, I actually had an album ready. I travelled, it was cr@zy.

I am married. A lot of different things but we're ready to get back on the road, tour…..".
When Kiekie asked if he missed his fans, lovers and well wishers. Davido said,
"Definitely, I have never taken these kind of break".
It was earlier reported in November last year that Davido and Chioma had their traditional wedding following the loss of their son.
Gistlovers blog had alleged that the singer secretly got married to Chioma after their son's death. The traditional wedding which was done in his father's house, had few family friends in attendance with no camera allowed.
According to the blog, Chioma's bride price had been paid in full. Before then, Davido had vowed to marry Chioma next year, but after the tragedy happened, the singer speedily wedded her.
ALSO SEE: 'I Felt Pressured To Marry Chioma' – Davido Tells It All On Relationships, Marriage & Future Plans On This Episode Of "The Juice"
The traditional wedding was held on November 6th, to console Chioma and assure her of her place with Davido, the source revealed.
Because of the tragedy surrounding their marriage, Davido couldn't perform his Umunna rites, and as such he and Chioma weren't fully married according to the Igbo laws.
In January, Davido finally paid Chioma's bride price (Umunna) in full at Ezeala Odu, Imo state. The singer had paid in full to Umunna group in Owerre, Nkworji Ezeala ofu Nkwerre Local government area in Imo State.
In photos and video posted online, Chioma's dad could be seen performing the Umunna rites and Umuada rites.