Organ Trafficking: UK Court Sentences Ike Ekweremadu, His Wife And Doctor To Jail | See Details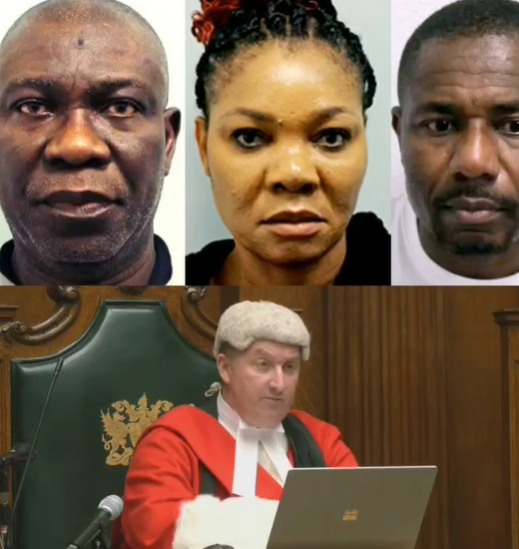 A judge at The Central Criminal Court, also known as the Old Bailey, has sentenced former Deputy Senate President Ike Ekweremadu, his wife Beatrice, and doctor, Obinna Obeta to jail.
At a sentencing hearing on Friday, Ekweremadu was jailed for nine years and eight months while his wife was sentenced to four years and six months imprisonment for organ trafficking. The doctor helping the couple out, Dr Obeta was sentenced to 10 years in prison.
The sentencing follows their conviction in March for organ trafficking. The Ekweremadus' sick daughter, Sonia, was cleared of any wrongdoing.
Recall that on March 23, the court found Ekweremadu, his wife and their doctor guilty of trafficking a trader from Nigeria to the UK to harvest his organ, a crime under the United Kingdom Modern Slavery act 2015.
The jury held that they conspired to bring the 21-year-old to London to exploit him for his kidney. The verdict is the first of its kind under the Modern Slavery Act 2015 of the UK.
READ ALSO: 'Nobody Told Me About Kidney Transplant' – Victim Testifies Against Senator Ike Ekweremadu's Organ Harvesting Trial Continues  
The sentencing comes after pleas from multiple prominent personalities and institutions, including former President Olusegun Obasanjo and the Economic Community of West African States (ECOWAS).
Other petitioners included both chambers of the National Assembly; the Chairman/CEO, Nigerians in Diaspora Commission (NIDCOM), Abike Dabiri-Erewa; and the International Human Rights Commission (IHRC).
The charges were preferred on the Ekweremadus on June 23, 2022, when their arrest was announced. Obeta was later arraigned on July 13, 2022. While his wife was granted bail, the senator was refused.
After months of a pre-trial, the trial commenced on January 31, 2023 and lasted about six weeks, culminating in a guilty verdict against Ekweremadu, Beatrice, and Obeta.