Amazing! This New Mum Didn't Know She Was Pregnant Until She Welcomed Her Baby Girl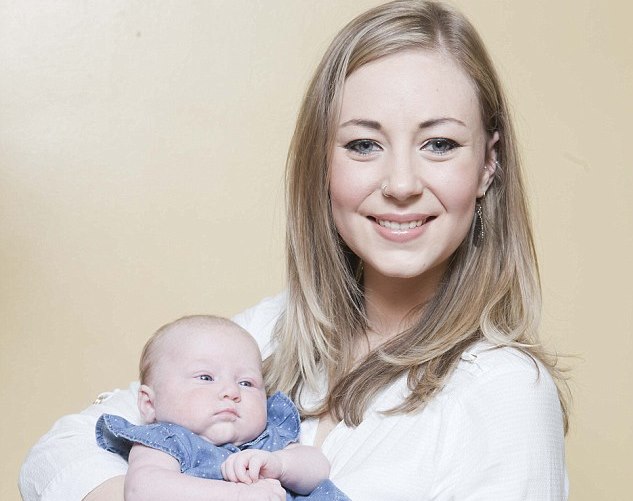 A woman has been left dumbfounded after she suddenly gave birth without any visible baby bump, morning sickness and other signs of being pregnant.
Metro reports that Klara Dollan, from Cricklewood, who was 22 at the time, had cramps on the morning of the birth, but thought she was having a painful period. She headed for work, which included standing through a 2 hour meeting, before heading back home. When she got home, she found she had forgotten her keys, so she had to wait another 2 hours for a locksmith to arrive.
An hour later, the pain became so intense that the only place Klara felt comfortable was on the toilet. She continued,
"I heard a knock at the door and managed to drag myself off the toilet and open it – by this point I was bleeding heavily.

My neighbor came in and I asked her to call an ambulance. Then I had this extremely painful urge to push: that's when the head came out. My neighbor was in the corridor and I was screaming: "It's a baby, oh my God! It's a baby."
Some minutes later, Klara was cradling a 7 lb baby girl.
Klara had broken up with her ex-boyfriend, Kris, 5-months before the birth of the baby.
READ ALSO: Woman Gives Birth To Baby Boy Without Knowing She Was Pregnant
She added 28 lb weight over the course of the pregnancy but she felt the weight gain was due to comfort eating.
"Most women at nine months are huge – my mum gained nearly six stone with me," she said.
Dr. Helen Stokes-Lampard, a clinical senior lecturer and spokesperson for the Royal College of General Practitioners said the phenomenon is known as cryptic pregnancy. In her 20 years as a GP, Dr Stokes said she has seen half a dozen cases of this sort.
"It'll be happening every week somewhere in the UK. These are often women who are very busy, leading crazy lives and so they often miss the signs that they are expecting," she said.
Cryptic pregnancies typically affect either young women, who have never experienced a pregnancy, or women who believe they've gone through the menopause and who choose not to use contraception.
The new mum is now adjusting well to life with her baby, Amelia, who is now 2 months old. "I was looking forward to having a normal nine-to-five job, then my life changed overnight, in the blink of an eye, with one long, hard push," she said.
In all of it, she has her family and ex-boyfriend, Kris, who initially didn't believe her story, to help out.