Proud Mum Of 14-Year-Old Who Helps Save Lives Gushes About Her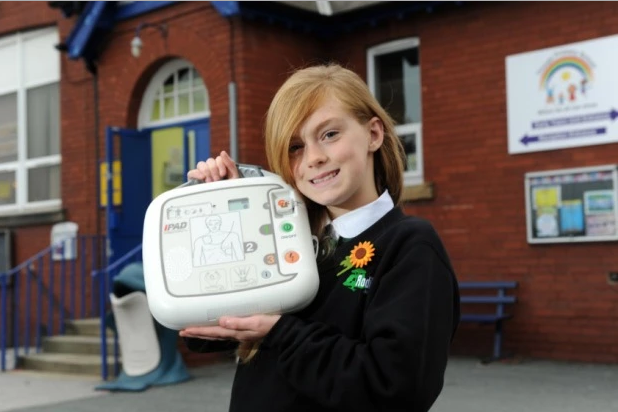 Cody Hartley, a 14-year-old girl from Thorpe, England, has been shortlisted in the Community Hero category of the 2016 St John Ambulance Everyday Heroes Awards after raising money for six life-saving defibrillators in local schools and a karate club.
The Yorkshire Evening Post reports that Hartley began her campaign to put defibrillators (lifesaving machines known as AEDs that can restart the heart, into schools three years ago) after hearing about a 12-year-old schoolboy who died tragically from an undetected heart condition.
From sponsored events and sales, the teenage girl has been able to raise more than £6,000 since then and has supplied primary schools, a secondary school, and her Wakefield karate club with defibrillators.
Karen Hyams, the headteacher of Hilltop Primary in West Ardsley, one of the schools that recently benefited from Hartley's fundraising, praised her efforts.
READ ALSO: "I want to be the best in the world" Inspirational 15 Year Old Tennis Player Who Overcame Adversity
She said, "We are thrilled to have received the AED from Cody. We now have ten members of staff trained in how to use it and it's also available to the community when the school is open. Cody is more than deserving of an award – what an incredible inspiration she is."
The teenage girl's proud mum, Sheree Hartley, said, "I don't think there's any stopping her now. I'm unbelievably proud of her."
Also a finalist for an Everyday Hero Award is the Yorkshire Evening Post's First Aid For All campaign, which succeeded in training 500 residents in first aid.
Halifax AED campaigner, Lizzie Jones, the widow of Keighley Cougars and Wales rugby player, Danny Jones, who died from a heart condition while on the pitch, are other Yorkshire heroes on the shortlist.
This year's St John Ambulance Everyday Heroes Awards will be presented at a London ceremony on Wednesday, 7th of September, by musician Myleene Klass, who saved her daughter from choking.
"Everyday Heroes is the very essence of what St John Ambulance is about – ordinary people doing extraordinary things through first aid," said Simon Dunn, regional director for St John Ambulance North.