"Infidelity can never take me away from my home because I know how to handle it" – Actress Foluke Daramola-Salako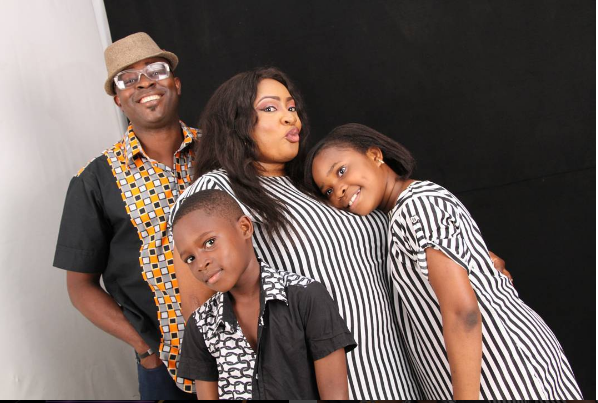 Celebrity mum of two, Foluke Daramola -Salako has told people to stop poke-nosing into her marriage as no amount of infidelity will make her quit the marriage.
This warning came after a man who knows her saw her husband, Kayode Salako, at an outing with his female friend,  sent a text message to the actress (read here).
The Nollywood star in a chat with Saturday Tribune clearly stated that she wants people to mind their business concerning her marriage as she knows how to handle things in her home perfectly.
"This was not about someone sending a text to me about seeing my husband with another lady, it is about people insinuating that whatever he does on social media means that I am having problems with my marriage. He was just reacting to the fact that our marriage is intact. I want people to mind their business concerning my marriage. It's over-flogged already, everything about me is my marriage, my marriage, marriage!

The pressure that Nigerians put on all celebrities and our marriages is not making the relationship healthy, when everything about you is let out to the media, there will be a problem, there will be pressure from all angles, even if they see my husband with a woman, does it mean he has anything to do with that woman? And even if anything should go wrong at the end of the day, if someone tells me about it, what does the person want me to do? Does the person want me to say I'm not interested anymore?" she asked.

I've always said that the only thing that can take me away from my home is critical and emotional abuse. Infidelity can never take me away from my home because I know how to handle it. I always tell him that he can never find anybody like me. I know my man, I know myself and I know what obtains in my home, so what's the fuss about?

My husband is a public commentator, he talks about politics, social issues, education, and even featured in my last film, the cobweb, nobody even talks about all these aspects of him, it's just my marriage, it should have been over flogged by now. I don't talk so much about my marriage, except when I post lovely photos because I'm grateful to God for my family, only for people to start saying when are these people going to break up or get separated.

I have found that a lot of Nigerians are sadists and just want to bring people to that place of sadness that they are, unfortunately, no one will bring me to that place of sadness because my marriage is intact, I'm happy with my life, it doesn't mean we don't have our challenges because we are human beings, but if I have any challenges with my husband, it will never be on the pages of newspapers or social media. No matter what happens, it cannot degenerate to me leaving my husband because he is not a wife beater or an abuser, but as for infidelity, I can handle it very well," Mrs Salako affirmed.
The proud wife and her man will be marking their 4th wedding Anniversary on the 15th of February.
Photo credit: Instagram