Priceless! See What Amazing Single Mum Did So Her Son Could Have 'Donuts with Dad' Day at School
A proud and supportive mama's love for her child is priceless! This single mum, Whitney Kittrell, has received immense amounts of praise on social media for dressing up as a man to take her son to a "dads and doughnuts" event at his school.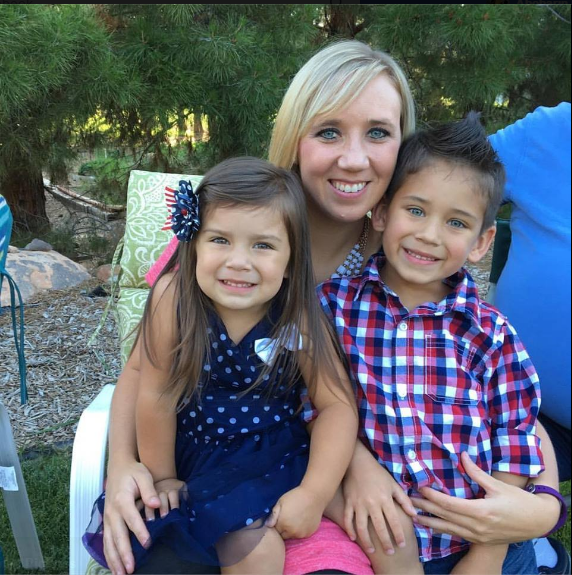 Read her touching note below…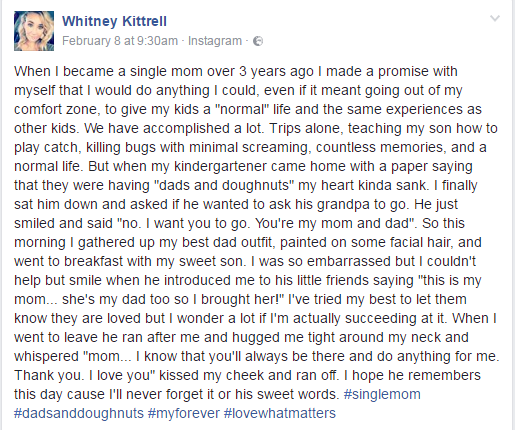 "When I became a single mom over 3 years ago I made a promise with myself that I would do anything I could, even if it meant going out of my comfort zone, to give my kids a "normal" life and the same experiences as other kids. We have accomplished a lot. Trips alone, teaching my son how to play catch, killing bugs with minimal screaming, countless memories, and a normal life. But when my kindergartener came home with a paper saying that they were having "dads and doughnuts" my heart kinda sank. I finally sat him down and asked if he wanted to ask his grandpa to go. He just smiled and said "no. I want you to go. You're my mom and dad".

So this morning I gathered up my best dad outfit, painted on some facial hair, and went to breakfast with my sweet son. I was so embarrassed but I couldn't help but smile when he introduced me to his little friends saying "this is my mom… she's my dad too so I brought her!" I've tried my best to let them know they are loved but I wonder a lot if I'm actually succeeding at it. When I went to leave he ran after me and hugged me tight around my neck and whispered "mom… I know that you'll always be there and do anything for me. Thank you. I love you" kissed my cheek and ran off. I hope he remembers this day cause I'll never forget it or his sweet words. #singlemom #dadsanddoughnuts#myforever #lovewhatmatters."
This is what parenting is about.
She is such a wonderful mom and dad! LOL
Photo credit: Whitney Facebook