Tonto Dikeh Breaks Down in Tell All Interview On Her Marriage, Career and Motherhood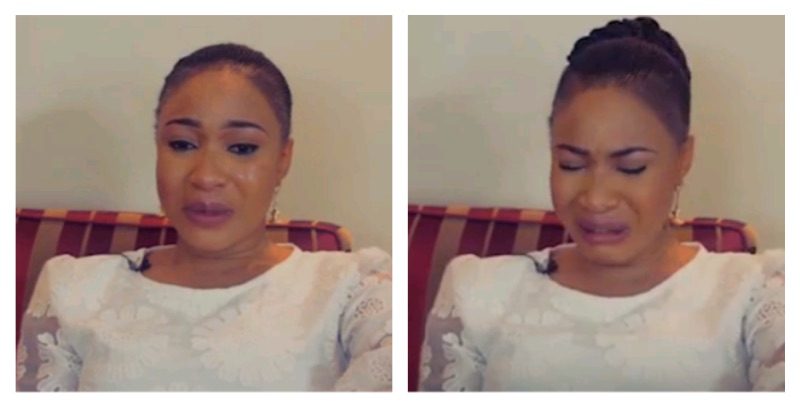 Nollywood actress and super mum, Tonto Dikeh talks about motherhood, her marital crisis, her foundation and career in a recent interview with Azuka Ogujiuba of Media Room Hub.
On motherhood, Tonto said she breastfed her child for a whole year and a week and was not in a hurry to return to work because of the love she has for her son.
When she is away, the pretty mum said she has competent nannies who takes care of her son on those rare occasions when she is away.
Responding to questions about the issues all over the internet about her the crisis in her home, Tonto Dikeh took a deep breathe and said, "I have read them too, they hurt."
After breaking down in tears, the talented mother of one revealed that if she had her way, she would like to delete everything that has been written about her and her whole existence from the internet because of her child.
On biggest life lessons, Tonto says, "My biggest life lesson has to do with not letting anything bother you, going through whatever you are going through and not letting anything bother you."
"I have heard a lot of things about myself…..but something that has really hurt me in recent times in someone coming out to associate me with drugs as a mother. This hurts me so much because no one sees how good a mother I am. I write a son every month to my son and tell him how much he has changed my life. That really destroyed me and broken me in a million pieces. That is the worst I have heard," she says and breaks down crying.
On her marriage, Tonto addresses some of the things she has previously written about her husband. She confirms that the domestic violence she was faced with was real but she endured it because she loved her husband with all of her heart. "I stayed because I just didn't want to give up on the marriage like that."
She reveals pictures and videos to prove this domestic violence claim and on one occasion had to run to the  Nigerian Embassy in Ghana stark naked.
The embattled mum also confirmed that Rosy Meurer is sleeping with her husband.
READ ALSO: "I personally blocked his access to me for the sake of my emotional stability" –  Tonto Dikeh Confirms Marriage Breakup in Open Letter to Concerned Fans
Watch…
Photo credit: MRH