Business Mogul Toyin Lawani Trolled for Having 2 Kids with Different Fathers | Read her Epic Response
Few hours ago, popular fashion designer/stylist and single mum of two, Toyin Lawani took to social media to slam those criticizing her for having two kids, Tiannah, and 'Lord Maine,' from different fathers.
Read below…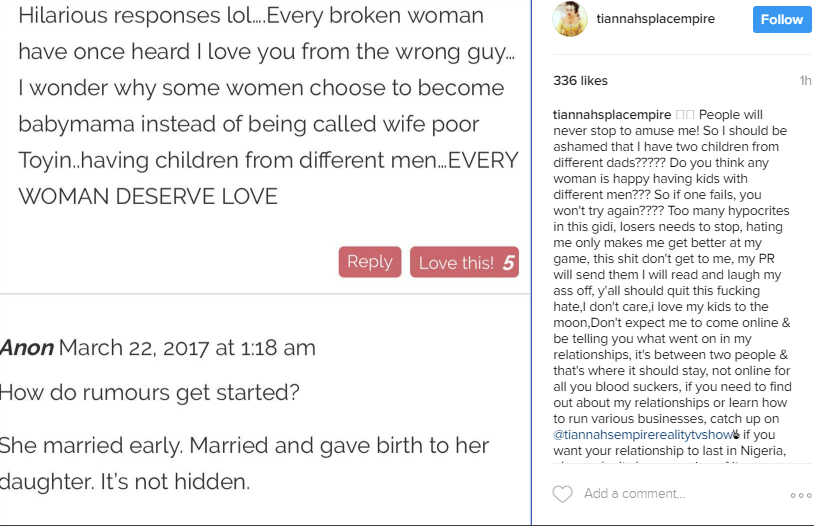 "People will never stop to amuse me! So I should be ashamed that I have two children from different dads????? Do you think any woman is happy having kids with different men??? So if one fails, you won't try again???? Too many hypocrites in this gidi, losers needs to stop, hating me only makes me get better at my game, this shit don't get to me, my PR will send them I will read and laugh my ass off, y'all should quit this fucking hate, I don't care, i love my kids to the moon, Don't expect me to come online & be telling you what went on in my relationships, it's between two people & that's where it should stay, not online for all you blood suckers, if you need to find out about my relationships or learn how to run various businesses, catch up on @tiannahsempirerealitytvshow✌ if you want your relationship to last in Nigeria, please don't show any sign of it online,they will keep looking for a fault, ur matter won't rest.

They don't feed u & your kids, they just sit and judge your life all day, overlooking the impact you are making on various lives, and society. No one is perfect & you have flaws too. Do u think it's easy for a single mom to raise two kids with International standards alone?? Can you feed 60 mouths in a day?? You should throw the 1st stone if you don't sin.

Some people just know how to hide theirs better, i'm me, I don't hide shit, love me or hate me, i'm still gonna wake up and hustle for my kids & if God wants me to have another baby again before my final surgery, I will do so again with no regrets and you lots can help me count the 3rd baby again, wahala igo lonpa ala'icewater.

Go and focus on your own life and problems and leave me and my kids alone, this is why loads of stars don't put their kids out there, but I'm not going to cover up my kids' various talents, just because society got something to say, love me or hate me, I'm Still here & will keep working hard to reach my goals, it's all a dream until you make it happen, joblessness makes people hate, if you are looking for a job, i'm hiring, atleast i give employments and better this country, but you sit behind a toy & waste your data on writing shit about people you can't level with ????"
READ ALSO: Toyin Lawani Shares Her Story About Being Pregnant For A Younger Man
She also has some words for those criticizing her Reality Show 'TIANNAH'S EMPIRE' which will be airing on the 4th of April.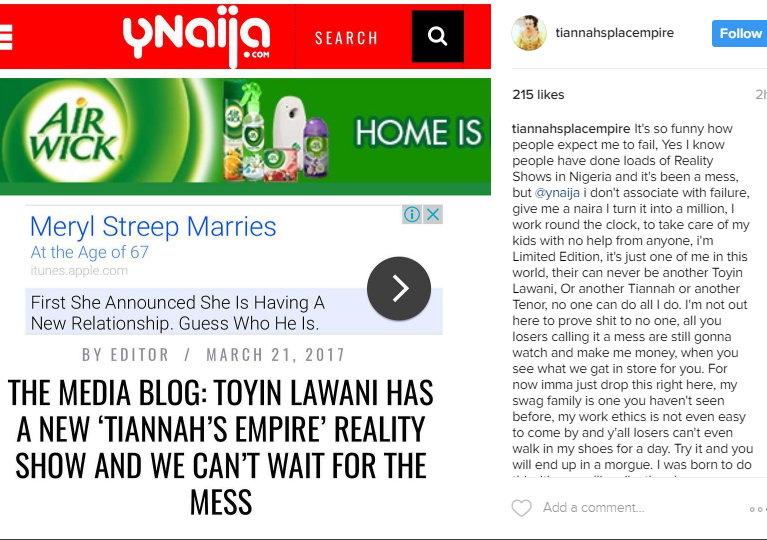 "It's so funny how people expect me to fail, Yes I know people have done loads of Reality Shows in Nigeria and it's been a mess, but @ynaija i don't associate with failure, give me a naira I turn it into a million, I work round the clock, to take care of my kids with no help from anyone, i'm Limited Edition, it's just one of me in this world, their can never be another Toyin Lawani, Or another Tiannah or another Tenor, no one can do all I do. I'm not out here to prove shit to no one, all you losers calling it a mess are still gonna watch and make me money, when you see what we gat in store for you. For now imma just drop this right here, my swag family is one you haven't seen before, my work ethics is not even easy to come by and y'all losers can't even walk in my shoes for a day. Try it and you will end up in a morgue.

I was born to do this, it's my calling, i'm the chosen one, it's not forced, it comes naturally, I'm a business mogul by pedigree, destined to be great like my late mum, wore her shoes and it fits right. She built a girl of 9 into a machine at an early stage, with God by my side and various talents, I will not fail, you are waiting to see your own mess not mine.

The believe and fire ???? in me can never be shut down by negative comments, I was born to do this, where others fail I succeed and you ain't seen nothing yet, when you start seeing Hollywood celebs making appearance on @tiannahsempirerealitytvshow then you start shaking, mofos. They will never support their fellow Nigerians, always pulling each other down.

What kind of fucked up country is that, and y'all expect change, we are far from change. The change starts from you, lift each other up and support your fellow hardworking woman, when you create stupid headlines, you are feeding your followers with negativity, I can't deal, I'm out of here ✌#Atmfashionista ????????Mofos see you at the IMAX cinemas on the 28th of March."
Photo credit: Instagram