Read Tonto Dikeh's Message to Those Slamming Her for Celebrating Dissolution of her Marriage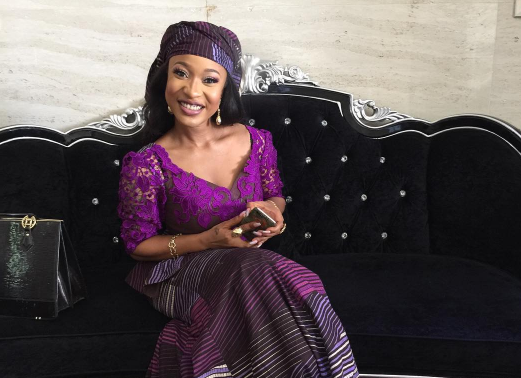 Following the dissolution of her marriage after a huge marital crisis that has been a hot topic in headlines across the country, Tonto Dikeh took to the dance floor to celebrate her freedom (read here).
At least on the customary side in which Churchill's family refunded the bride price. Reports state that legal divorce proceedings haven't been finalized yet.
However, Tonto's fans slammed her for dancing over the end of her 2 years marriage. In reaction, Tonto, mother of one, slammed her haters with the following remark.
READ ALSO: Tonto Dikeh Expresses Remorse Over Failed Marriage In New Interview
She wrote:
"ATTENTION:::
I get to See some awful comments and I am here to say I will never reply to any negative or Bad vibes. I have had my own fair share of Clapbacks, Saucey with rice replies in the past and Believe me I have grown Up so much I wouldn't elude such SADNESS and classlessness again.

Please if you have nothing positive to say I advice you restrain from my page, PLEASE.
I mean you can insult me in your hearts and minds but not on my page and still put me through the stress of blocking and deleting. C'Mooon Thats brutal..

It's said that you can't give what you don't have "I DONT HAVE HATE, Nor clapbacks or nasty reply So I can't give you that… All I can how ever give you is LOVE..

Regardless I Love you all with the Love of God ????????????#KINGTONTO #Radical for Jesus."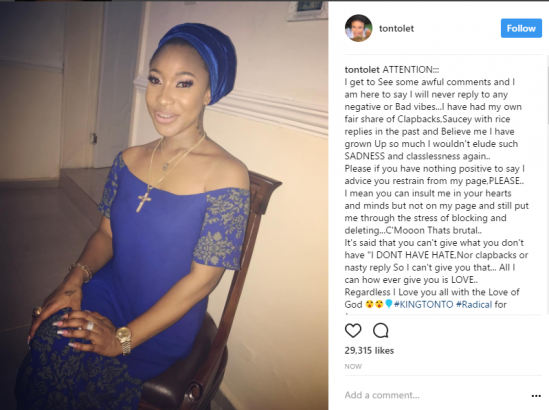 Photo credit: Instagram