Reality Star Audrey Roloff Reveals Postpartum Struggles, Fears "Failing" Her Newborn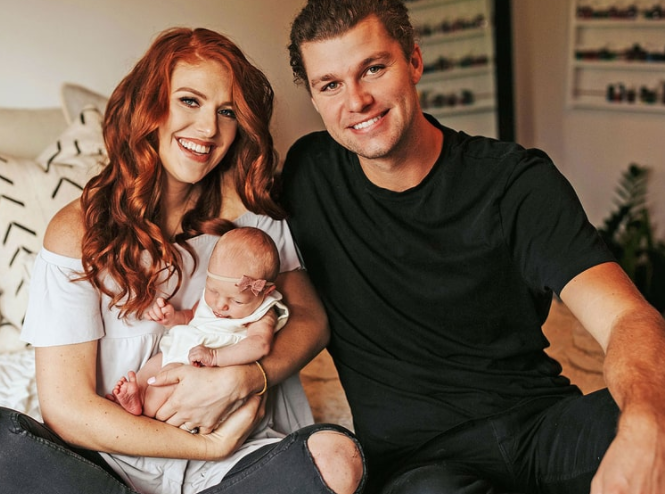 https://www.instagram.com/p/BZcwpG0Aqp4/?hl=en&taken-by=audreyroloff
For so many moms, postpartum struggle is real. Audrey Roloff isn't mincing words.
Two weeks after the birth of her daughter, Ember Jean Roloff, the new mom is struggling to keep her head above water and is worried that she's failing as a mother.
The reality star, 26, and her husband, Little People, Big World star Jeremy Roloff, 27, welcomed their first child on September 10. And now, she is getting candid about first-time motherhood.
"Our little Ember is two weeks old today! She's likes cuddling on our chests, swaying, and when her daddy sings to her," she Instagrammed the image of their newborn.
READ ALSO: Lauren Conrad Talks About Motherhood- "It's the best and hardest thing you'll ever do"
She continues;
"While I am overflowing with love for my daughter and husband, I won't sugar coat it… these past two weeks have been HARD.

The first 24 hours with Ember were bliss, but after that it was as if I went back into labor again… I was well prepared for the pain and suffering that comes with childbirth, but I was not prepared for the pain and suffering that comes afterwards."
READ ALSO: Post Partum Depression: A Nigerian Mother's Experience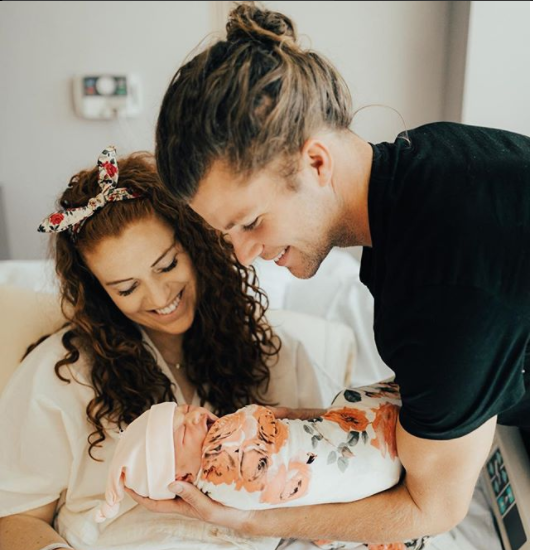 Breastfeeding has been a nightmare for Roloff, who shared that she's been struggling with mastitis (infection and inflammation of the breasts), clogged milk ducts, blisters and severe engorgement from too much milk.
"I got all the things… the common "TMI" postpartum hurts, along with severe engorgement, too much milk, not enough milk, blisters, bruises, clogged ducts, and mastitis. I can't believe I'm saying this, but the pain that I've experienced while breast feeding has been comparable to unmedicated labor contractions.

Inevitably, all of this has left me feeling like I am failing my baby, frustrated, discouraged, and heart ached."
READ ALSO: Mum Who Conceived 3 Kids in 11 Months Delivers Honest Message About Postpartum Body (Photo)
Still, Roloff is determined to press on despite the pain and exhaustion, saying,
"But even though the tearful sleepless nights persist, so will I.

I will continue to pour myself out in sacrificial love for this baby girl who makes every hurt worth enduring. And not by my strength or striving, but in Christ alone.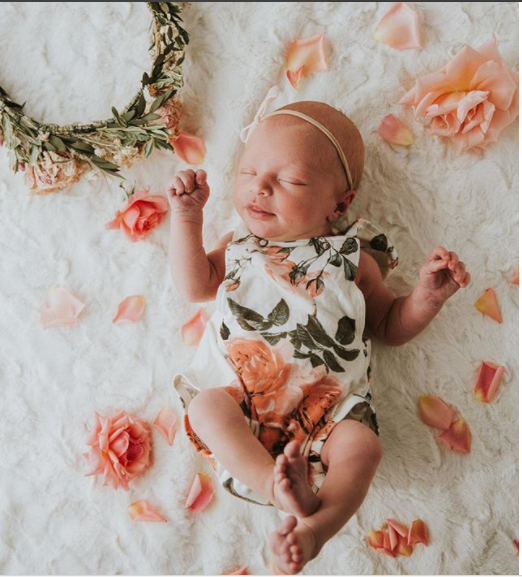 I've been humming the these lyrics while I nurse and pump through the nights, "Lord, I come, I confess, Bowing here I find my rest, Without You I fall apart, You're the One that guides my heart, Lord I need you oh I need you, Every hour I need you, My one defense, my righteousness, Oh God, how I need you…"

Motherhood is already refining me so much and I am blessed. #journeyofjerandauj#emberroloff "
READ ALSO: Chrissy Teigen Talks About Experiencing Postpartum Depression & Anxiety in Moving Personal Essay
Some days after Ember's birth, the new parents introduced their newborn on social media, where Roloff shares on her birth story.
READ ALSO: Memoirs of A Mum: Mother of 2 Opens Up On Overcoming Postpartum Depression
"Our precious baby girl – Ember Jean Roloff – is finally here!!! 7.13 lbs 20.25″ long and born on September 10th. Wow.

Natural labor was the hardest thing I've ever done, but holding our baby for the first time was undeniably the most empowering and rewarding moment of my life.

Of course, I wrote "always more" on my hand when I went into labor, but never have these words carried more meaning. The whole time I just kept reminding myself of the MORE that was within me through Christ – that I could keep enduring, surrendering, trusting, and pushing more and more because of Christ's strength within me.
READ ALSO: Adele Opens Up On Overcoming Postpartum Depression After Son's Birth As She Covers Vanity Fair Magazine
The second she was out of my belly and into my arms, the tears of pain ceased, and Jeremy and I looked at our daughter and each other with tears of uncontainable joy.

We are in complete awe of the miracle of life, and feeling so blessed to be entrusted with such a beautiful daughter.

Sweet little Ember, may you always be a light in the darkness, glowing in all you do, enduring, fierce, and hard to extinguish;) May you always believe in the more that is within you, and when stoked and kindled by your Creator – may you be able to burn and glow even MORE than you ever could on you own ???? We love you so much Ember Jean Roloff.

Thank you for making us "mom and dad" 😉 ????"
Photo credit: Juliagreen/ Instagram