Caroline Danjuma Takes on Davido over Death of Tagbo Umeike | See Details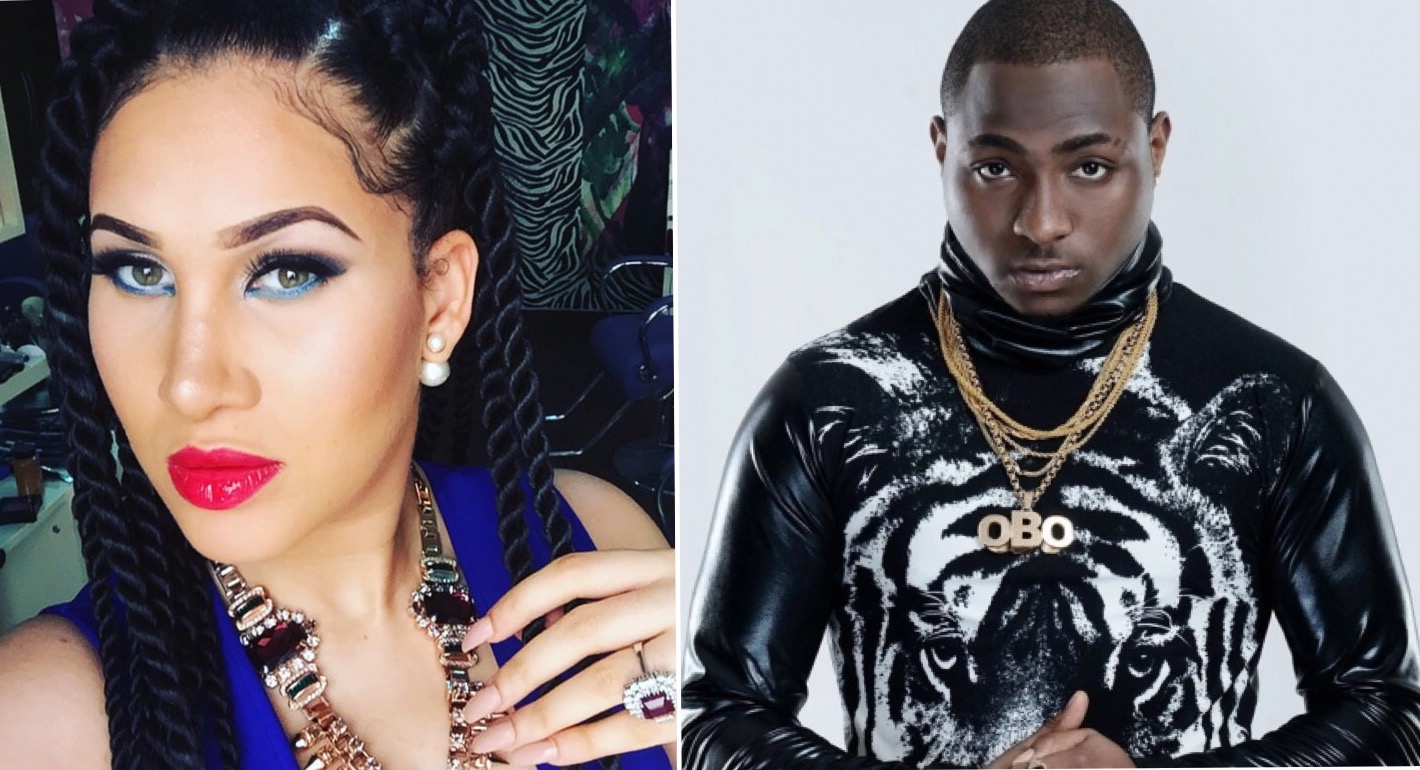 Nollywood actress 'Carolyn Danjuma' is making a serious allegation against Davido who was friends with a dead man who mysteriously died in his car.
In a post on Instagram (that has now been deleted), Danjuma accused Davido of dumping the body of a man, identified as Tagbo, who allegedly died in his car at the General Hospital in Lagos.
She wrote in an instagram post on Tuesday night,
"Davido where is Tagbo? … he was with you and ur crew last night … you all wore face caps to hide your identities after he died in ur car.. u dumped him at the general hospital and ran away.
READ ALSO: "If only he had listened to me and worn a condom" – Davido's Alleged 3rd Baby Mama 
The law must play its role this time .. you all better provide Tagbo alive .. @davidoofficial. After you all abandoned him at general hospital you continued your stupid grooving at DNA and had the nerves to promote ur show.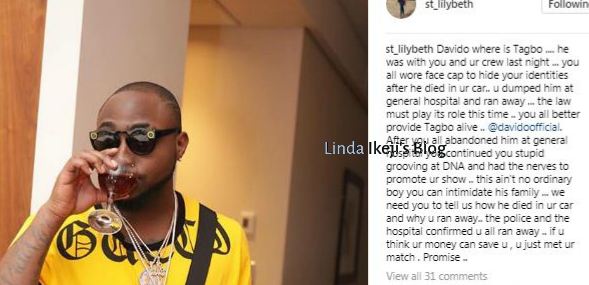 This ain't no ordinary boy you can intimidate his family … we need you to tell us how he died in ur car and why u ran away.. the police and the hospital confirmed u all ran away .. if u think ur money can save u, u just met ur match . Promise," she wrote in a now deleted post.
The actress posted another photo of the deceased with the caption:
READ ALSO: Why You Should "Never put any woman before your mother." Says Davido's Brother, Adewale Adeleke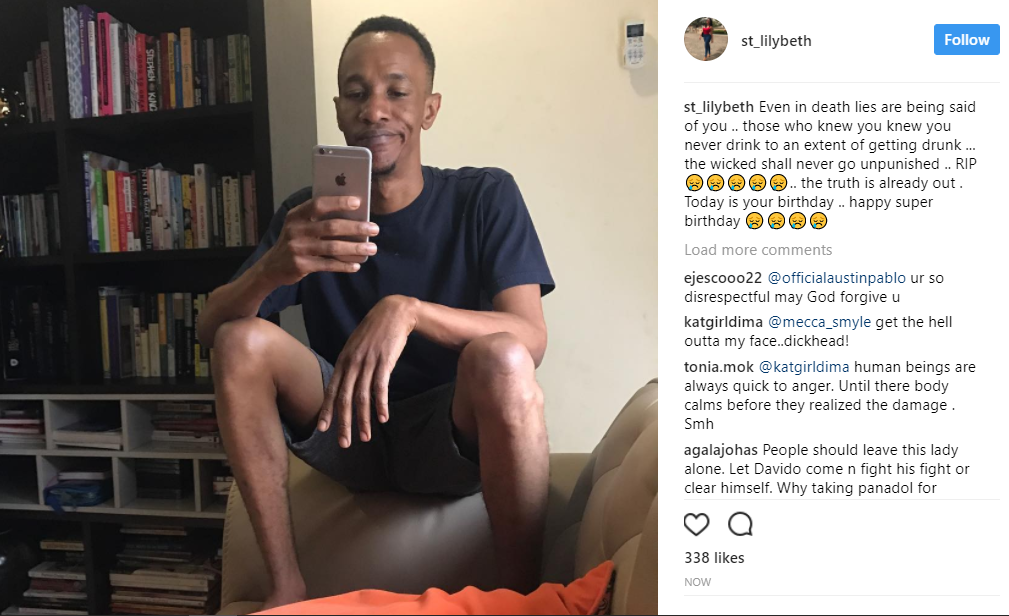 "Even in death lies are being said of you .. those who knew you knew you never drink to an extent of getting drunk … the wicked shall never go unpunished .. RIP ?????.. the truth is already out . Today is your birthday .. happy super birthday"
Caroline alleges late Tagbo never drank but a new video has been released by LIB which shows Tagbo seemingly having rounds of alcohol and his friends cautioning him. Watch below:
READ ALSO: Caroline Danjuma Goes Celibate as She Rededicates Her Life to Christ | See Photo
https://instagram.com/p/BZzNt2XjCm_/
In a newer post, Caroline continues to mourn the deceased. She insists the deceased was not a heavy drinker as is implied by his friends and says she warned him about keeping such friends that left him to die.
READ ALSO: "My joy… heaven blessed me with an angel" – Caroline Danjuma Sends Touching Birthday Message to Son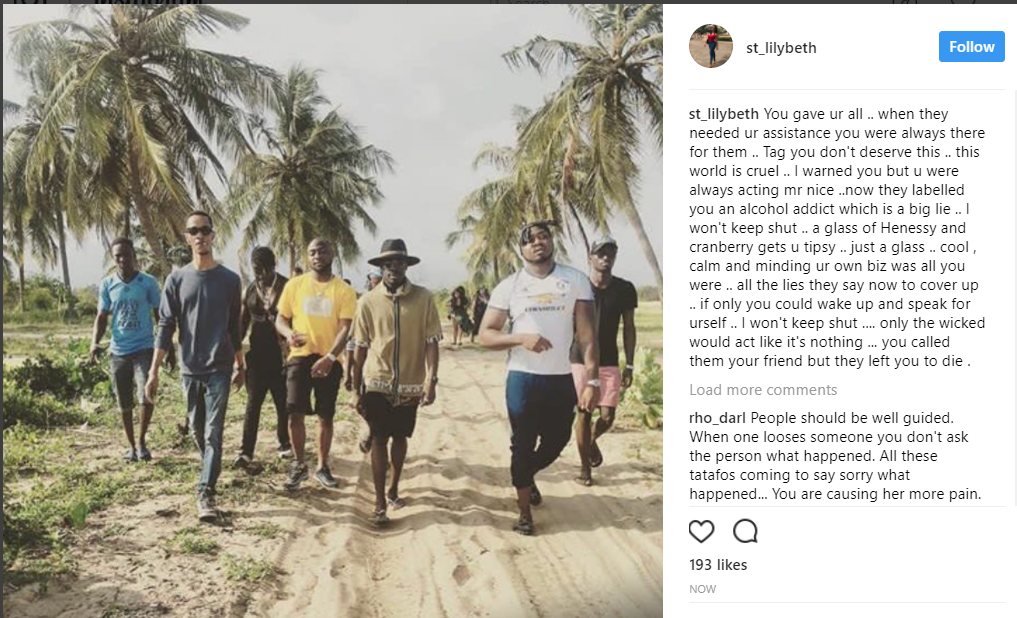 Tagbo Umeike is the son of former NADECO member, activist and administrator of Anambra State, Late Meschak Umeike.
Davido is yet to comment on this allegation. We will bring more information as details keep unfolding.