MIB Fair & Conference | Meet the Speakers: Abimbola Balogun, Co-Founder SO FRESH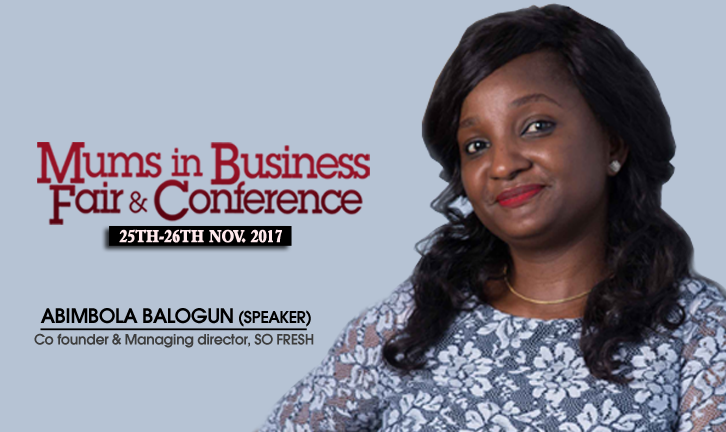 Abimbola Balogun is a lawyer, mom, wife, entrepreneur and Co-founder of SO FRESH.
SO FRESH is a Nigerian premium fresh healthy food brand established in 2010 with a great vision to be the prime destination for people to make clean, safe and healthy food choices. With four branches across Lagos and Abuja and a staff strength of 55 employees, her contributions has no doubt being pivotal to the growth and profitability of her company.
READ ALSO: MUMS IN BUSINESS: Nurse Turned Businesswoman Shares on Balancing Family & Business
So Fresh was nominated among the 25 most innovative Indigenous businesses organized by Business Day in 2017.
Abimbola has used her position to develop her employees and improve their personal effectiveness on the job and in their lives by encouraging a growth mindset. She is a Goldman Sach scholar with certificate in Entrepreneurial management. A conference speaker and human resource professional with impressive leadership and people development skills; she was listed among the 100 most innovative female-owned businesses in Nigeria earlier this year.
READ ALSO: MIB Fair & Conference | Meet the Speakers: Osayi Alile, CEO Aspire Coronation Trust Foundation
She is married to her Co-founder, lover and sweetheart, Olagoke for a decade now and together they have a burning desire to take So fresh from Nigeria, to Africa and to the rest of the world.
They are blessed with two uniquely remarkable sons; Olamide and Damisola.
READ ALSO: Mums In Business Series: Meet Ngozy Ezeka-Attah, Creative Director JAGA BEAUTY STUDIO & MAKEUP ACADEMY
Don't miss the Mums In Business Family Fun Fair & Conference:
Date: Saturday, November 25th and Sunday, November, 26th, 2017.
Time: 9 am daily.
Venue: King's College Annex, 1-5, Adeyemo Alakija Street, Victoria Island, Lagos.
To reserve a booth or attend for free, register at www.motherhoodinstyle.net/mib or call 08091363389, 08164484656 and 08091443394.
For more information, sponsorships and partnerships, please visit www.motherhoodinstyle.net/mib
#MumsInBusiness2017 #MumsInBusinessSlaying