Wizkid's First Baby Mama Reveals How She Copes With the Knowledge of Him Having More Baby Mamas
Nigerian superstar singer, Ayodeji Ibrahim Balogun a.k.a  Wizkid's first baby mama, Ogudu Oluwanishola, disclosed how she copes with the singer having more children from other baby mamas.
The single mom-of-one revealed this on Instagram when one of her followers asked how she manages to remain strong, seeing her baby daddy, Wizkid having babies with other women, and flaunting them on social media.
The follower wrote to her via DM;
"Hi Mama Tife, following you all the way from Kenya. How do you do it??? How do you manage to stay so strong in the midst of all these trials. How do you watch your **** move on, have children with other women, fall in love with other women and flaunt them allover social media?

I need strength, its happening to me right now. What a strong woman you are, May God continue blessing you and Tiffe. Please talk to me, I need strength to move on and take care of my son."
READ ALSO: Single Dad Wizkid Confirms Birth of 3rd Child | Plans to Father More Babies Soon
She responded;
"Hey Y'all,

I been getting messages like this for the longest..
And today I felt the need to share a little something❤❤❤ Words are singularly the most powerful force available to humanity.

We can choose to use this force constructively with words of encouragement, or destructively using words of despair. Words have energy and power with the ability to help, to heal, to hinder, to hurt, to harm, to humiliate and to humble.
Yehuda Berg
READ ALSO: DRAMA: Wizkid's 2nd Baby Mama, Binta Throws Shade at Him After He Acknowledges Third Son
"Hi Celine

First off, I'd like to say I'm sorry you have to deal with whatever you're dealing with.. I pray God takes control of your situation.

P.s: No one is responsible for your Happiness except YOU.

Secondly, I love myself too much to let anything or anyone get to me lol. Overtime, I have come to a realization that no matter how much good you do in life, there are some people that'll still treat you badly or have something negative to say about you (And that's life lol) But that don't mean you got a problem or you're not good enough..

As a matter of fact, it has nothing to do with you or your good deeds, but everything to do with them and their insecurities.. evil would not do evil to evil (Like poles repels and unlike poles attracts).
READ ALSO: "I am a mother, not a baby mama" Mother Of Wizkid's 2nd Son, Binta, Tells The Difference
So my darling; Inhale the positives and exhale the Negatives, Appreciate those who appreciate you, Turn deaf ears to those who constantly look for people to blame misfortunes.

Love yourself more everyday.. So your happiness can be full and you can have inner peace, which is all you need. You have a child.. You need to be and stay happy for him.. You're raising a king sweetheart.. That should be your Focus and top priority.

Yes, I have really really bad times, I'm human.. But I never let it get the best of me, Instead I get on my knees and talk to God with so much faith and watch him come through for me as always.

And Never Forget, SUCCESS IS THE BEST REVENGE.

I wish you all the best darling and my love to your lil man."
READ ALSO: Wizkid Reveals Why his Parents Still Live in the Ghetto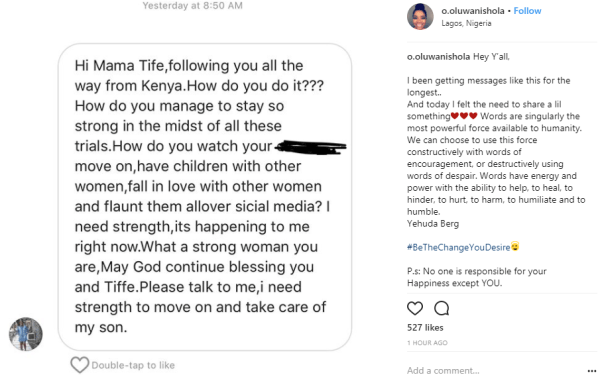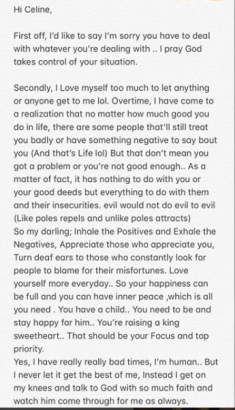 Recall that Wizkid is a father to three lovely and handsome boys from three different mothers which well, doesn't come as a surprise to many.
Here's a brief post about Wizkid's children below;
Boluwatife Balogun
Boluwatife is the first son and child of Wizkid. His mother, Sola Ogudugu gave birth to him in 2011 when she was just 19. According to Sola, she was surprised when she found out she was pregnant with Bolu.
Wizkid and Sola have a cordial relationship and the pop star is much involved in the life of their son Boluwatife.
Ayodeji Balogun…
Ayodeji is the second child of the music icon and born in 2016. Well even though at the beginning Wizkid didn't accept the child, the mother, Diallo Binta insisted that Wizkid was the father and even came up with a paternity test to buttress her point.
READ ALSO: You Don't Have to be Book Smart to Succeed: Wizkid's Transcript From LASU Shows Poor CGPA
Zion Balogun…
Zion is the latest addition to the Wizkid dynasty. He was born in late November 2017.
It came as a surprise to us all as it was revealed that Zion's mother is Wizkid's manager, Jada Pollock. The relationship between these two was unknown until the arrival of the baby. The birth of Zion makes him the third son and child of the music star.
Pollock recently shared new photos of her son on Instagram and it came with a heartfelt caption of motherhood. She wrote;
"Motherhood is something that takes time and preparation, mentally, emotionally and physically. Everyone told me that this kind of love would be one I have never felt before, which I didn't quite understand until I held him in my arms #Zion❤

Zion Ayo-Balogun… We forever Boy!"
Photo credit: Instagram